Questions abound for the Colorado Avalanche heading into the 2011-12 season. Will fans see the team that looked like a playoff lock until January of last year? Or will the losing carry over from a team whose second half free-fall enabled them to pick 2nd overall in Minnesota on June 24th.
Consensus seems to be that the Avs will struggle again, with most experts pegging them anywhere between 9th and 12th in the Western Conference.
The offense should be at the very least good, but without a drastic improvement from the net out (Colorado allowed 287 goals last year, placing them 30th overall in GA) the playoffs remain unlikely.
OFFENSE: The Avs should at least score like a playoff team. They possess a young, skilled group of forwards who are already productive and who are still brimming with potential.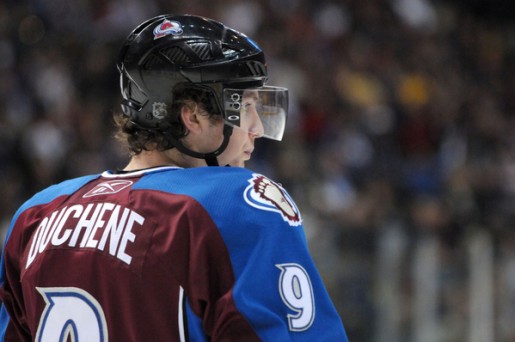 Matt Duchene is clearly the cornerstone, and we can safely expect a jump in his numbers as he continues to emerge as a justified number one centre. An 80 point season is not out of the question.
Paul Stastny is a producer, but remains a question mark up front. Can he return to the form that saw him notch 79 points for the playoff bound Avs two years ago? If his offense regains its consistency, the team could have a one-two punch down the middle that rivals anyone in the league. Stastny is an elite-level playmaker, and helped turn mid-range prospect David Jones into a 27 goal scorer. Having productive wingers is essential for Stastny's success. The Avs will experiment with players alongside Stastny in the preseason, with Joakim Lindstrom, Peter Mueller, and maybe even 2nd overall pick Gabriel Landeskog getting shots. If Stastny doesn't produce on the level that he is capable of, then he becomes an extremely expensive option weighing down the salary structure on the second line. Expect trade rumours to circle if Stastny struggles early. The team may be willing to wait for Joey Hishon as heir apparent to that second-line spot behind Duchene.
Speaking of Landeskog, early talk was that he should earn a scoring role on a second line. However, in camp and the early preseason, it has become apparent that the "Kog" could easily fill an important role on the third line and still make the team. He is clearly NHL ready: he hits, he skates well, provides hustle, grit, speed, sound positional play and offensive upside. A third-line wing spot alongside Ryan O'Reilly and T.J. Galiardi could create one of the most effective checking/secondary scoring units in the entire league.
Fans are grateful for Milan Hedjuk's consistency. Lock him in for 20 goals and at least 20 power play points. His veteran presence is sorely needed on the front lines and the team can't afford to have him slow down now.
The rest of the forward unit remains less promising. Brandon Yip is in danger of not making the team after another poor camp. Jay McClement will be an ideal 4th line centre, and grind-it-out wingers like Cody McLeod and Kevin Porter may not hold down permanent spots.
DEFENCE: The math here paints the picture. The Avs entered camp with 10, maybe 11 NHL-ready defencemen. Seven will make the opening day roster. The pairings are not set either. We know what to expect from Erik Johnson, and alongside his likely partner, newly arrived Jan Hejda, he provides an elite-level shutdown pairing. Coach Joe Sacco can deploy these two with confidence against the monster-talented centres of the West (the Thortons, Datsyuks, Sedins, and Toews of the world).
Beyond that though, there is nothing but a mix of average, underachieving NHLers and young upside. The youngsters are showing more promise early: Stefan Elliott and Tyson Barrie have been as advertised so far in camp (and Barrie dominated a pre-season game against a veteran-laden lineup from Dallas). Both have the potential to replace the offense that was offered by Kevin Shattenkirk last year, but it is unlikely that both make the team. 21 year old Cameron Gaunce is also making a strong push to earn a spot after an impressive first season in Lake Erie (AHL). And Colorado's other first round pick, Saskatoon Blade Duncan Siemens, will have a chance to shine in at least one pre-season game before most likely being sent to Junior.
The two Ryans (Wilson and O'Byrne) showed enough last year to most likely start the season on the roster. Incumbents Kyle Quincy and Kyle Cumiskey (both coming off injury-laden seasons) might have a spot reserved for them, but surely the leash must be short. Cumiskey especially will feel the pressure to produce after signing a new contract late in the summer and with two young puckmovers with huge upside beating down the doors for his spot. Newly arrived Shane O'Brien (from Vancouver) and Matt Hunwick are also in the mix.
The Avalanche can't afford the type of defensive lapses that peppered their in-zone play last year. With young prospects seemingly ready to make the jump, underachieving veterans will have to perform or Sacco and GM Greg Sherman will have some interesting decisions to make.
GOALTENDING: Oooh boy, speaking of Sherman, has a GM ever stuck his neck out more than him in making that July 1st trade from Semyon Varlamov? Giving up a first and a conditional second for the young former Capital could backfire in a huge way should Colorado repeat their plummet down the standings; seeing Capital General Manager George McPhee earn a lottery pick in a strong 2012 draft would really really sting.
Still, the rationale behind the risky trade is understandable: after moody and inconsistent Craig Anderson, and the purely horrible Brian Elliott (whom we can partially thank for Landeskog *cough* tanking *cough*,) the Avs needed to address their goaltending. Varlamov is brimming with talent. He is a big, fast puck stopper who could easily be a top ten keeper in the league. He has shown the tendency to get off to good starts in a season and if goes on an early roll fans could easily jump on the Varly bandwagon. His stats have been consistently excellent (.917 career save percentage; .924 last year,) although admittedly he has been playing for an elite Eastern Conference team. The biggest concern is injury: he only played 27 games last year. Sherman signed veteran J.S. Giguere to act as backup, but that hardly offers confidence as Giguere is past-his prime and was basically unable to play the second half of last year with Toronto due to groin issues. Offseason surgery was apparently successfully, but "Giggy" is no longer a viable starting goalie; the hope is that he can provide some leadership for his young partner and basically act as another goalie coach (a role he filled with success with James Reimer last year). Calvin Pickard may be the long-term answer after having a solid junior season in Seattle, but he needs another year at least. Brass hopes that he starts to dominate the WHL and then work his way up as a pro through Lake Erie.
The ball is fully in Semyon's hands, and expectations are huge.