by Jas Faulkner, senior correspondent
Getting from there to here…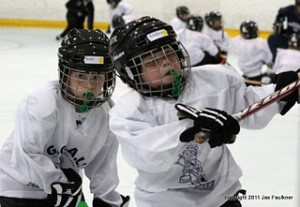 For the child who acquires a lifelong passion for hockey, the first time the blades of their junior size 8 skates touch the ice is a transformative moment. A possible future, one spent devoted to the game, floods their youthful inner vision. In the uninhibited childish imagination, the flipcard scoreboard becomes a high-resolution jumbotron, short toddling scoots that inch along the dashboards fade into long, strong strides that carry him from the blue line at 64 kph and the billowy, oversized sweater, festooned with a silkscreened sponsor's logo on the front and his name and number ironed on the back becomes a much heavier affair with an embroidered twill logo whip-stitched across his chest. When this happens, another little boy or girl joins the legions of hopefuls who may one day pursue a career in the NHL.
Family, friends and the brave souls who volunteer to facilitate leagues all over North America enable young athletes along the way. In the first century of hockey's history, the identity of those people and the extent of their personal and professional investment was more often than not determined by geography. Growing up in areas where hockey was deeply ingrained as part of the culture meant easy access to venues, equipment and people who knew the sport well enough act as mentors.
"It doesn't matter if you're a fan or not. Everyone has at least some rudimentary knowledge of the game. Most of us played it in the street as kids." Hamilton, Ontario writer and educator Nanette Morton reflects on the cultural ubiquity of the game and the ease with which many children in Canada find outlets for watching and playing hockey. "I'm not a fan, have never even tried to ice skate, but like everyone else here, I can sing the theme song to 'Hockey Night in Canada'."
Historically the way has been a bit more complicated for young hockey players on other parts of the continent. NHL expansion into what is often called "nontraditional markets" has led to at least two generations of children watching teams like the Kings, the Coyotes, the Predators, the Lightning and the Capitals with interest. Shane and Shea and Ovi inspire awe in young fans. They also instill desire in these kids to get on the ice and try it out for themselves.
The NHL has created a number of programs for this demographic. Most of these initiatives are strictly charitable in nature, two of their longstanding efforts, "ComePlayYouthHockey" and "Hockey Is For Everyone" have addressed the challenges met by children who want to play but have faced barriers based on accessibility and cultural bias. By dint of necessity borne of the need to continue growing a fanbase, newer NHL franchises expanded their presence within their respective communities. As the scope of local involvement has grown, so has the demand for dedicated funding and staff to keep these burgeoning programs going.
Arguably, youth outreach is not a recent innovation within the league. Nearly every NHL franchise offers a way for young fans to get a taste of what it's like to play hockey. Some programs are as elaborate as Vancouver's Canucks Centre For BC Hockey, which is part of a larger, province-wide network of hockey schools. In cities where the cultural saturation of hockey is less intense, clubs often offer shorter term activities that appeal to a range of ages and levels of skill and interest. As enthusiasm develops, growing the game and growing the fan base can entail fostering interest in play that could last beyond a season. For example, the youth development programs offered by the Nashville Predators concentrate on providing introductory experiences for very young skaters as well as clinics that serve as an entry to league play, a youth travel team and material support for existing youth programs within the city.
Institutionally these were originally viewed as side activities, often funded by individual players or as a subset of the teams' promotional efforts. As enthusiasm for hockey in warmer climates has grown and the profitability of such clubs is proven, organisations are now earmarking increased funding for the operational costs of fan and/or youth development departments that take into account the expenses incurred with freestanding promotion, salaries, and equipment and facilities maintenance. In turn this has led to a demand for qualified people who have the passion and needed skills to run the programs. The challenge for these organisations -especially in newer markets where there is not always a clear vocational or educational path to this line of work- is finding the person who can meet the technical needs of the program while operating with a clear understanding of the specific needs of the local sporting community.
S/He Who Wears the Whistle and Brandishes the Spreadsheet Rules the Rink
The best outreach coordinators have a combination of social literacy of the local culture and pedagogical and sports technical acumen. How they gain this is as varied as the cities and organizational cultures where they work. Some of the directors profiled for this story spent years in relevant educational programs while others gained the needed experience through both traditional and less conventional avenues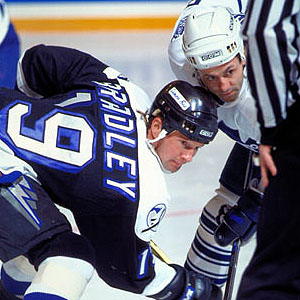 "Growing up in Kitchener, there were plenty of opportunities to play hockey. It's everywhere. You play it on the street. In the winter there's pond hockey." Brian Bradley talks about the beginning of his journey from being one of millions of Canadian boys who idolised Bobby Orr to an athlete whose own professional career spanned almost two decades. A childhood devoted to mites and midget leagues and pavement and pond pickup games led to the path followed by many young men who show promise. The juniors beckoned, then the OHL and the AHL. Eventually Bradley found himself moving even further away from his Ontario home to play for Vancouver and after a two season stint in Toronto, spent the remaining six seasons of his career in Tampa Bay.
Life on the other side of the dasher boards led Bradley to a return to his roots. Sort of. He's devoted the last three years of his life to helping everyone from the squat little munchkins whose shorts graze the tops of their skates to budding varsity players find their way to and through the system, and he's doing it in sundrenched, football-and-baseball-mad Tampa Bay, Florida.
On the other side of the continent, Hillary Hodding is starting her sixth season with the Los Angeles Kings. During her Southern California childhood, Hodding was aware of hockey, but would not have considered herself a fan, much less predicted she would one day have a career with an NHL club. She witnessed the state's love affair with Wayne Gretzky, her family watched the Stanley Cup Finals and her brother played roller hockey.
"Growing up in Southern California I really had no idea hockey was a sport outside of street hockey in our PE classes."
Hodding's undergraduate internship gave her a glimpse of the work she would pursue later on. "I went to college for Sports Business, so I posted my resume on a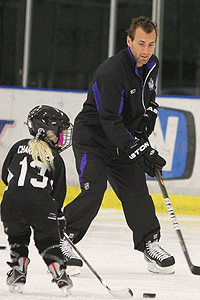 sports job board in order to get the interview. It helped that I interned with a major-junior team during college (the Portland Winterhawks). When I started with the LA Kings, I had already worked the same type of events that our part-time staff does now – my priority after getting hired was organizing and managing this staff. From that starting point, I gradually worked my way into a lot more responsibility.
"When I started working for the Kings, not only did I not watch the sport, but I didn't know any of the organization's history or how to pronounce the names. I really just listened to the sales reps who surrounded me in order to learn the basics. I think the most beneficial thing for me was actually participating in our Women's Workshops because you start to understand what it's like to play the game, how the rules work, and positioning. I also got to see what it is like as a participant, rather than organizer, which helps me produce better events."
In between the extremes, Bradley's NHL veteran and Hodding's one-the-job training, people like the Nashville Predators' Andee Boiman, the Phoenix Coyotes' Kevin West and Peter Robinson of the Washington Capitals Organisation represent various points on the spectrum of experience. Robinson grew up in Maryland and has played hockey continually from the time he was four. Working in sports in some capacity as never a question.
"I have a strong teaching and coaching background and a master degree in sports marketing. Hockey has always been a part of my life and I have been around the sport since I was very young which has also helped."
For Boiman and West, the path was not quite as open. "Youth hockey was available but not very accessible," says West. "I grew up in a small town in the mountains in CO and skated on a pond until I was 14."
Once West gained access to rinks and training, he would find life on the ice suited him. "Playing hockey helped. My summer job coaching hockey and hockey camps has also given skills I've needed." Like many people who work in NHL front offices across the league, West got his start in sales. When the youth hockey position opened up, he saw his opportunity to share his love of the game with the Coyotes' youngest fans. "For the most part people in the front office have not played the sport so having a solid understanding of the sport, the participants, and the fan base has helped immensely"
Like West, Nashville's Andee Boiman lived in a city where youth hockey was just getting started. "I grew up in Las Vegas. I started playing at age 12 in 1996. They were just starting an organized program at the Santa Fe Hotel & Casino. I was 1 of 4 girls that played hockey back then.
Boiman grew up seeing hockey develop in places where many wouldn't have considered giving it a chance. She also saw cultural boundaries pushed as Manon Rheaume would make inroads as a goaltender for the Tampa Bay Lightning.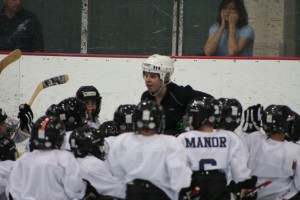 " Having the passion as a youth player, turned college player was an amazing experience. Then taking that passion towards a college degree in recreation programming was a great move. During college I worked at the rink on campus and as a coach.  In my last year of college I did an internship with the Nashville Predators in their youth hockey development department (which I now oversee). After the internship I earned a full-time position in the same field with the Florida Panthers. Unfortunately my job was cut during the NHL lockout, but during the lockout I worked at the Panthers practice rink."
The lockout was an obstacle to working more directly on the ice, but only a temporary one. After some consideration, Boiman decided youth hockey was what felt like home. . "Working in the NHL and also seeing the inner working of program development at the local rink level has really prepared me to succeed in what I do today. I knew I wanted to stay in hockey, but as a female player I knew my career would be over after college, so I looked into how to stay involved and came across the internship posting for Nashville Predators on NHL.com."    (continued)
page one / page two / page three
Jas Faulkner is a minimally socialised writer and artist who lives and works in Nashville, Tennessee. She hearts her attitude problem.