Sebastian Aho was the hero in giving the Carolina Hurricanes the win Thursday night. It was memorable not just for him, but also for those of us who cover the 'Canes. The game itself was one to remember, also, as the home team Hurricanes defeated the visiting New York Rangers 4-3. At this point in the season, memorable moments are hard to come by, and Hurricanes fans have to grab hold of whatever good they can find.
Side note: The 11,404 in attendance were zealous in their support, with possibly more Rangers fans present than Hurricanes fans. The Rangers' fan base in Raleigh is fairly large, and they typically turn out en masse to support their team. (Hurricanes fans would do well to be so loyal.) Rangers fans, however, might learn some respect and not scream "Let's Go Rangers!" multiple times during the singing of the National Anthem. Just a thought.
Aho and Steel
The youngster Aho is proving to be quite the NHL player, with plenty of skill and a lot of steel. Steel in this sense meaning unflappable nerves, grit, and determination. He has what some people call, "that it," which is an immeasurable and unteachable steel inside that says "give me the puck" and I'll take the winning shot.
It is a rare quality that only a handful of professional athletes have or had. Kobe Bryant in the NBA had "that it," as does Tom Brady in the NFL. It is that little something extra that true champions possess, and I believe Aho is one of them. He is still a teenager, but already he has shown that he is not afraid of the moment, no matter the tension or situation.
So far this season, Aho has shown that he can score. In the face of great adversity against the Rangers, he did so two times. The first on a power play:
The long-range blast by Aho was challenged by the Rangers as goalie interference, but the goal held after the official review. The goal tied the game 3-3. A few minutes later, Aho did it again, scoring another power-play goal that was the game-winner:
Though young, Aho is not to be taken lightly by other teams. He is growing in his confidence and with each spurt of growth, will become more dangerous as an offensive force for the Hurricanes. The second goal scored against the Rangers was certainly the result of great teamwork and effort, especially by Jordan Staal. But, Aho was in the right place, ready to shoot the second he got the chance.
Aho More Than Numbers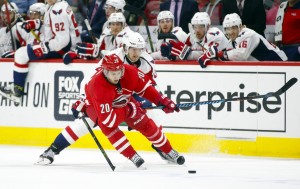 Aho did not score until the 14th game of the season. Since that time, he has moved into second place on the team with 20 goals, one behind Jeff Skinner's 21. Of course, having a couple of 35-plus goal-scorers on the 'Canes would be nice, but for where they are right now as a team, Aho's numbers are especially encouraging.
The team has expected Skinner to score, and he started out on fire as a rookie. Unfortunately, concussions have knocked him off center a bit, and it is questionable if he will ever be a 30-plus scorer again. Certainly it is possible, but for my money, the future of the Hurricanes is gaining focus on the young Aho. He is a champion at heart. He has the steel, the "it" to make him great.
Aho's only limitations will be from three areas: if he has a run of injury situations like Skinner has had, if the team does not improve and he becomes frustrated, or if he places limitations on himself (which I do not see happening). If he were not so young and a rookie, I'd plant the "C" firmly on his sweater and not think twice about doing so.
Sebastian Aho is the 2nd teenager since the @NHLCanes moved to NC to score 20 goals in a season for the team https://t.co/NThlCfbElk pic.twitter.com/8bxeGiZ7VQ

— Hockey Reference (@hockey_ref) March 10, 2017
These observations are not just based on what he did to beat the Rangers. I've watched him all season and his confidence is growing. When I talk with him after games I can see the steel in his eyes. He is a young player that has potential that is extremely high. He brings steel to the Hurricanes, and if it can rub off on a few of the players, they just might break the streak of non-playoff appearances that they are in. This kid is for real.