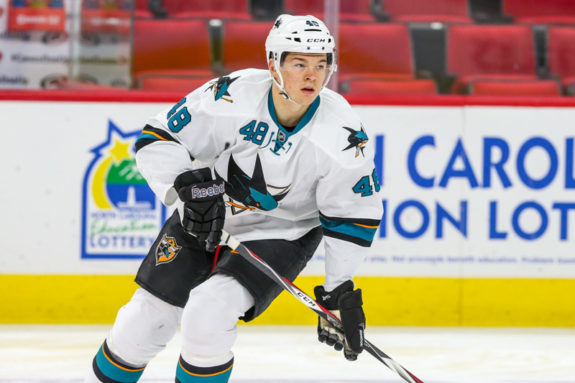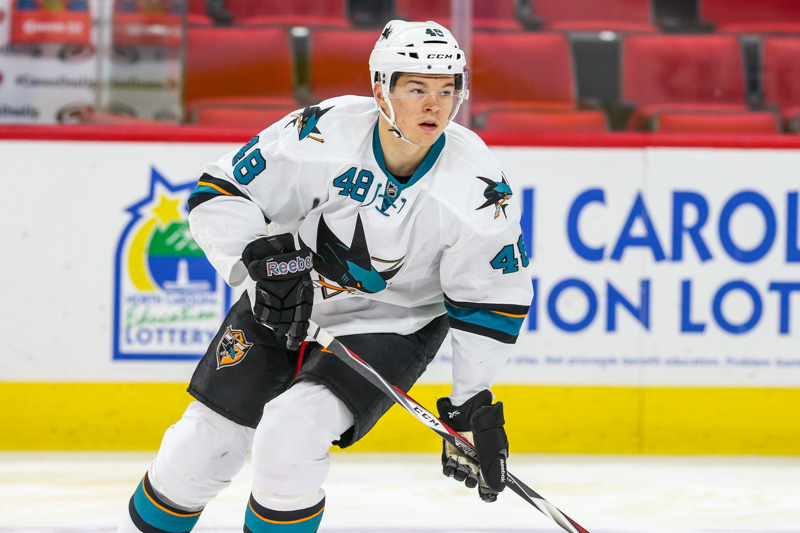 With injuries to Justin Braun and Tommy Wingels set to sideline the duo for "weeks," the outlook seems grim for a team battling for a playoff spot. The Sharks are a number 2 seed currently, but only because they have played more games than the teams around them. They are only 3 points in the postseason picture. If San Jose wants to remain competitive, the young Sharks will need to step up.
Young Sharks Return to San Jose
Before the All-Star break, Doug Wilson sent Tomas Hertl, Barclay Goodrow, and Mirco Mueller to Worcester. In lieu of the 8 day vacation the other Sharks enjoyed, the youngsters stayed at work. Mueller, recovering from a wrist injury, spent his time in Massachusetts on a conditioning assignment. But, per Kevin Kurz, the kids are coming back in time for Thursday's tilt against the Ducks.
Mirco Mueller
The first round pick, still only 19-years-old, started the season strong but has since fallen off. He has seemed at times overwhelmed by the speed of the game in the NHL. With the patchwork defense of the Sharks already straining to keep scores close, Mueller needs to regain his confidence. If he wants to win his spot back from Matt Tennyson or Matt Irwin, he needs to produce.
This is where Todd McLellan steps in. Mueller, while possessing potential to be a top defenseman, is still very young. It is up to the coaching staff to utilize Mueller in the best way. Obviously Marc-Edouard Vlasic would be the best option as a partner, but he is occupied making up for the puck-mover Brent Burns. And with Justin Braun out, no other right-handed veteran d-men are available. So how does TMac shelter him effectively? By matching him up against opposing third lines. For instance, avoiding Corey Perry and Ryan Getzlaf while facing Cogliano and Silfverberg would be a good start Thursday. While in the NHL, he will gain valuable experience, but if he is getting turned around constantly, his confidence will plummet and wipe all that out.
Barclay Goodrow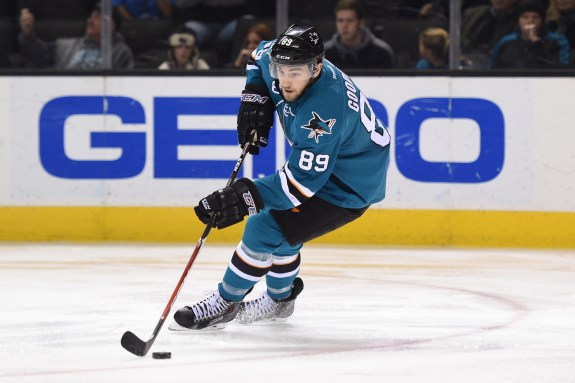 The time Goodrow has spent in the NHL has taught him a lot. But he has also been well-managed by Todd McLellan. This is coming from his expectations of the rookie. Whereas Hertl and Mueller have heavy reputations to live up to, Goodrow has just merely been a pleasant surprise. He isn't lighting up the scoresheet, but he hasn't been a liability like other players. I'm sure most teams would rather throw Goodrow on the ice than John Scott.
Getting back to the point, McLellan is keeping Goodrow relatively sheltered so far. He is spending time on the fourth line with Andrew Desjardins and whoever else TMac decides going forward. Of the young Sharks, Goodrow is the heaviest at 215 pounds. He is learning to throw his weight around and playing smarter hockey. His confidence on the ice is well ahead of his time. Look for the skill set to follow.
Tomas Hertl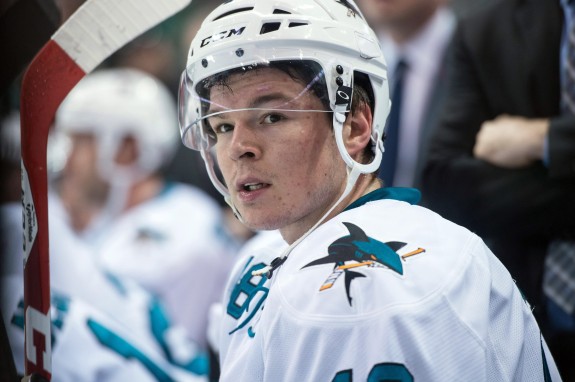 The saga of Tomas Hertl is long from over. He is probably still recovering from his knee injury mid-way through last season and it would be unfair to pass judgement on him fully now. But his slump this season isn't beyond reproach, but as mentioned in a previous article, his deployment on the ice was too much for Hertl.
Since that article came out, his competition has dropped nearly 50% from 0.727 to 0.458. Hertl recently moved to third line center and continued that position in his short stint in Worcester. He earned two assists in as many games at center. The third line position allows him to use his invaluable experience with Joe Thornton last year as a jumping point on the third line. With Tommy Wingels out, Hertl is now faced with being the primary point earner in the bottom six. Centering Tyler Kennedy, James Sheppard, or others will put pressure on the young Czech forward but not nearly as much as he folded under earlier this season.
Melker Karlsson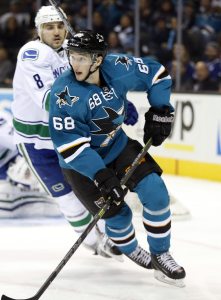 If there is one person on this current Sharks lineup that should get fans excited, it is Melker Karlsson. The forward that enjoyed a five game goal streak has now earned a spot on the top line. His momentum has carried him all the way up to the Joe's. With Joe Thornton and Joe Pavelski garnering so much attention, Karlsson has been free to cause havoc in opponents' creases. His seven goals is good for 8th on the team despite not even playing 20 games yet. His average distance from goal when he shoots is the lowest among players with at least 10 games played. It's that kind of fearlessness that the Sharks desperately need going forward.
Karlsson can be a leader on Team Teal but it again comes down to his deployment. McLellan overstepped his usage with Tomas Hertl and needs to allow Karlsson to grow before he starts lining up against Jonathan Toews. It is worrisome that he has taken this position on the first line, but time will tell and he may surprise us all again with how well he can handle it.
The Lost Season
We're not talking about tanking for Connor McDavid here. The Sharks are still fighting for playoff positioning as it stands. But, at some point, you have to admit that this Sharks team is one of the least dangerous that San Jose has produced. Even if they do make the playoffs, they can't be expected to do any real damage. With Tommy Wingels and Justin Braun out, expect the Sharks to drop more points in the coming weeks. As bright as the future can look, you can't deny that Wingels for any of these forwards is a drop off.
The young Sharks must see this "lost season" (lost as in they are no longer contenders for a Cup) as an opportunity to secure a place among the NHL. It is a time to get acclimated to the speed of the NHL. With lowered expectations, the young Sharks have a chance to surprise everyone. If these players are managed correctly, the Sharks can sneak a playoff spot out of the cutthroat Western Conference. Even if they fail to win anything, those playoff games are even more important to the growth of a young player. Tomas Hertl did well in his first playoff series and more playoff experience can't hurt development. And in the end, it really seems like Doug Wilson is getting his wish to be a "tomorrow team."