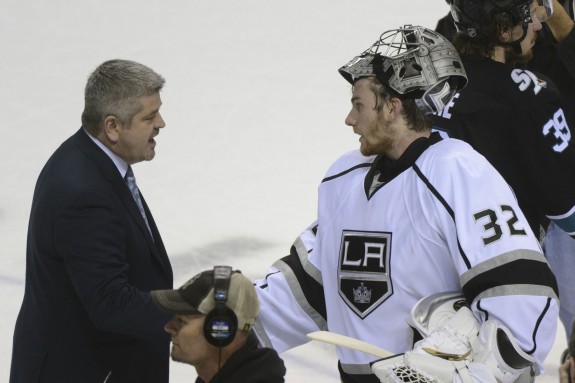 Road to the NHL Stadium Series
As most San Jose Sharks and Los Angeles Kings fans know, the company EPIX is creating a show– titled Road to the NHL Stadium Series– following the two teams competing in the outdoor game at Levi's Stadium in Santa Clara, CA. Similar to HBO's 24/7 series, the crew documents the atmosphere of both clubs as they prepare for their much-anticipated showdown on February 21st. This will include locker room footage, player and coach interviews, and on-ice chatter, which is sure to give fans a new perspective on both the game and the teams. With the rivalry and the playoff history between the Sharks and the Kings, this production is poised to be one of the most entertaining of its kind.
The series is being produced by 52-time Emmy Award winner Ross Greenburg, who was part of the Disney production "Miracle," as well as a number of other sport-related films. It is set to premier on Tuesday, February 3, at 10:00 PM.
Behind the Boards
The EPIX team recently released two sneak peek videos of the show on their YouTube channel, titled Behind the Boards. Each team has their own, separate clip and features commentary from players and coaches from their respective clubs (including a rare interview of San Jose goaltender, Antti Niemi). You can view them below.
San Jose Sharks:
Los Angeles Kings:
Series Schedule
The series will come out with a new episode every Tuesday for four weeks (February 3 – February 24). You can stream them on a number of media, including the teams' websites, NHL.com, and epix.com/nhl. The full schedule is listed here:
Premiere – Tuesday, Feb. 3 at 10pm ET/PT, 9C
Episode 2 – Tuesday, Feb. 10 at 10pm ET/PT, 9C
Episode 3 – Tuesday, Feb. 17 at 10pm ET/PT, 9C
Episode 4- Tuesday, Feb. 24 at 10pm ET/PT, 9C
This is set to be an exciting matchup against two division rivals that despise one another. Now fans have the chance to not only see the game, but go behind the scenes with their favorite club.