By this time of the season last year, even after suffering a horrific knee injury, Tomas Hertl had taken the hockey world by storm. He also had 25 points with 15 goals (including a certain game against New York) while playing 8 less games by this point. The slumping Hertl has been adversely affected by many factors. What can he do to bust out of it?
Freshman vs Sophomore
He started his career as a teenager in San Jose and came flying out of the gate. Here is a quick comparison of his stats in his first season through January (cut short by injury) and this one.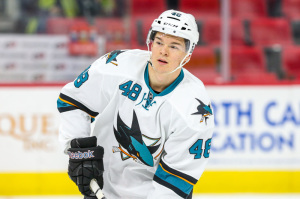 | | | |
| --- | --- | --- |
| | 2013-14 | 2014-15 |
| GP | 35 | 43 |
| Goals | 15 | 7 |
| Assists | 10 | 8 |
| Points | 25 | 15 |
| Diff. | 11 | -3 |
| Shots | 94 | 75 |
| Shot% | 15.9 | 9.3 |
| CF% | 55.8 | 56.3 |
| GF% | 53.6 | 45.8 |
| | | |
Hertl's struggles can be attributed to a multitude of issues. He's coming off a knee injury from last season, he shot way above what he should have, and he was cursed with great beginner's luck. The league took notice of this talent in San Jose and clamped down hard.
Slumping Hertl and His Second Season
The first season in San Jose went incredibly well. But there is a reason for that. Advanced stats tell the story.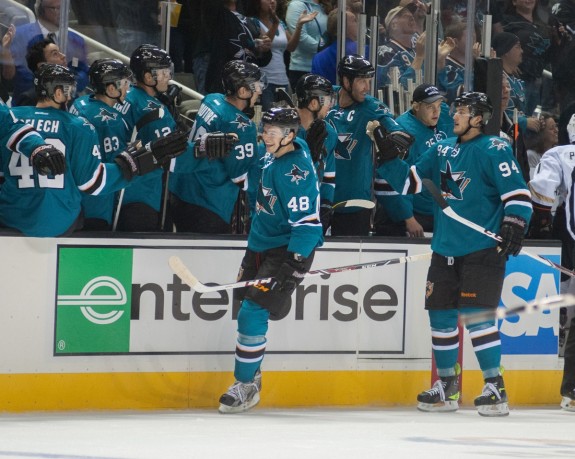 Todd McLellan treated Hertl like a rookie last year in his usage. Starting with his zone starts, a stat that tracks where a player starts, Hertl began his shifts in the offensive zone 53.5% of the time. This implies that not only did McLellan keep Hertl from the difficult defensive situations, but he also gave Tomas many more opportunities to shoot. But this season, his zone percentage has dropped to 48% and subsequently lowered his offensive output. It only makes sense as he has spent more time playing defense this season than last.
As for his luck, it seems to have run short. Last season, he shot nearly 16%. That's elite levels in his first season. Over the course of a full season, that shooting percentage would definitely have come back down to Earth. So far, his shots haven't hit the mark nearly as much. But maybe 9.3% is what we should expect from a kid who just hit legal drinking age two months ago. Maybe that's not a slumping Hertl. It could just be typical Hertl.
The more reliable stat is his on-ice team shooting percentage. Last season, shots with Hertl on the ice beat the goalie over ten percent of the time. Now, his team shooting percentage is at 7.72. By that story, it is clear that something has happened to not only Hertl, but his lines. And, you guessed it, we have a stat for that too!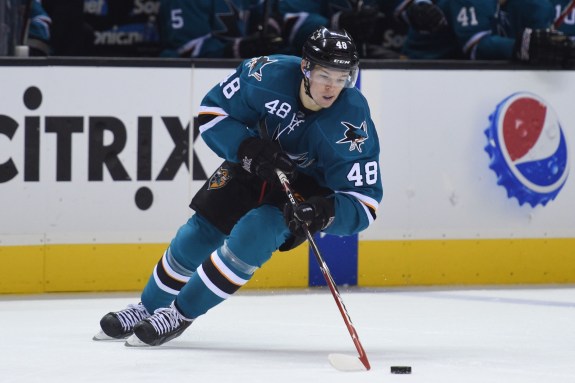 Facing Stiff Competition
The last, and most important, indicator of Hertl's decline in production is his opponents. As the stat-lovers call it, Quality of Competition is the stat that analyzes how tough a player's opponents are. For example, top liners are more likely to face shut-down defensemen and elite forwards while grinders and fourth liners are more likely to see other grinders and guys with cinder blocks for hands. The range goes from around -2 to 2 with the tougher competition sitting at the higher numbers. While he has lost Brent Burns, it is something Hertl has gained that has changed his season.
Thats a colossal drop in EVS scoring. Yes Marleau & Hertl havent produce at expected pace but not having Burns up front is a huge loss.

— Andrew Bensch (@ViewFromBensch) January 10, 2015
Corsi Relative QoC is an average of the opponents Corsi Relative ratings. Hertl's rookie season was barely above zero (0.137). This implies that he spent a little more time against tough competition than the rest of the Sharks. This season, that number has jumped to 0.727. In roughly the same amount of playing time, Hertl has all of a sudden been thrust into more common opposition of "good" players. While still not up near his elite teammates (Couture:1.664, Marleau: 1.680, and Pavelski: 1.258) he has elevated by a huge margin.
How Does He Adapt?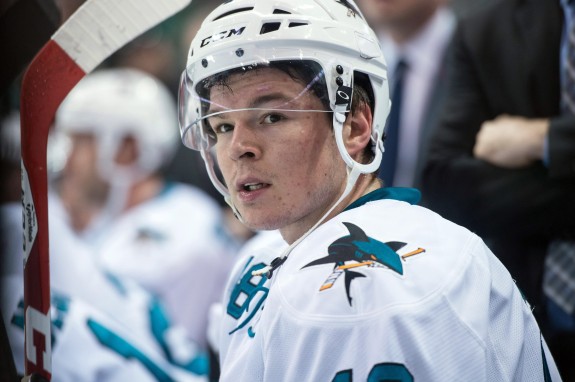 Bringing Burns back to Hertl's line may not solve the issue, however. The slumping Hertl may have to solve this one himself.
But the clearest problem lies in his shot selection this year. In 8 more games, Hertl has shot 19 less times this season. And according to behindthenet.ca, Hertl's average shot distance has climbed since last season. The slumping Hertl shoots from over three feet further away than last season. It follows that it is easier to score when you're closer to the net. As expected, great scorers typically have lower average distances. As for his shot totals, as a really good hockey player once said:
"You miss 100 percent of the shots you don't take"

–Wayne Gretzky, guy who scored lots of goals
To compare, the distance itself may not be the problem, but the margin is the worrying factor. Hertl's shooting teammates are good comparisons. Some guys may naturally shoot from further away, but when the average gets farther from goal, it creates a drop in production. For example, Tommy Wingels, Joe Pavelski, and Matt Nieto have all dropped their average shot distance this season.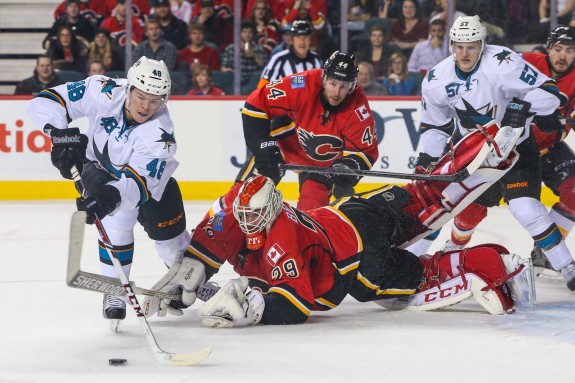 The slumping Hertl has been shy around the crease. He is not crashing the net, perhaps protecting that knee. By keeping away from the dirty goals that earned him so much in his rookie year, the points have fallen off. If he were to start sitting in front of the net and looking for rebounds, setting screens, and the like Hertl power would return to San Jose.