Today, the Ottawa Senators finally waived Colin Greening. The move should prove to be the first of many that Bryan Murray needs to make in what are likely his last days as a General Manager.
That's right. It's time for the Ottawa Senators to sell—and sell hard.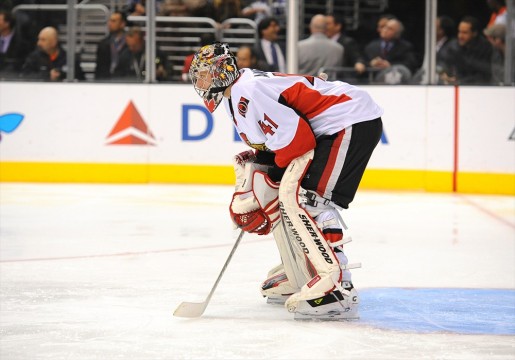 The last time the Senators were this far out of a playoff spot at the end of January (2011), Murray picked up the phone and made several trades that changed the makeup of the hockey club, including Mike Fisher, Alexie Kovalev, Chris Kelly, and Brian Elliott.
And it worked, for a little while.
After two playoff years that included a wildy entertaining seven-game series against the top-seeded New York Rangers (2012) and an upset defeat of the Montreal Canadiens (2013), the Senators are right back to where they were in 2011—the drawing board. And if Murray doesn't paint a pretty picture over the next month, Sens fans will have a tough Spring to swallow again next year.
Here are the top 5 Senators that Murray should deal in the next month (in no particular order).
     1. Craig Anderson
Murray has stated that Anderson isn't going anwhere, according to the Ottawa Citizen. His reasoning is that the Senators don't have an NHL-ready backup in the system to support Lehner. While that argument is valid, I don't buy it—he could always ask for a surplus goaltender as part of a returning package. The Senators have been trying to get a top-six forward for a long time, and I say that doesn't happen without letting Anderson go—no matter how much the team might need him right now.
     2. Chris Neil
Chris Neil is a guy you want with you—not against you. But he's lost some steam out there, and he deserves another chance to lift the Cup while he can still contribute. Although tough-guys who can play the game are still a commodity, the Senators have a bigger team now—they don't have the young Havlats that need Neil's protection. We might not get much in return at this point in his career, but even a late-round pick is better than paying players to sit in the stands.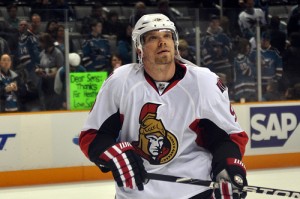 3. Milan Michalek
Six goals and nine assists in 42 games: this has been Michalek's worst season as a pro by far. But no matter how poor Michalek's play gets, you have to feel for the guy. Last summer, he turned down more money and a longer contract to stay in Ottawa—just to see his stock fall right off the charts this season. The Senators would probably let him go for a cup of Gatorade at this point, were his 4M cap-hit not so crucial to keeping the team above the salary floor. If Michalek is moved, the Senators are going to have to take some salary back.
     4. Chris Phillips
The Big Rig's days in the NHL are numbered, and like Neil, he deserves another shot at the Cup. It's believed that teams have inquired about Phillips, but Murray isn't going to uproot him without his consent. He has been a healthy scratch often, rotating in and out of the lineup with Patrick Wiercioch and Mark Borowiecki (while Borowiecki was still healthy, that is).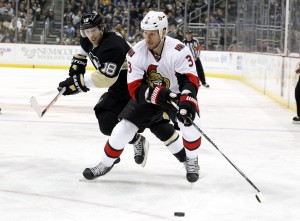 5. Marc Methot
The defence-starved Senators will try to sign Methot for less than the Brooks Orpik money that he wants. I don't think it's going to happen. If Murray opts to trade him at the deadline, he could be an attractive piece for a contender—and there have been rumblings that Los Angeles is interested.