Recently colleagues Tom Mitsos and Prashanth Iyer put together an incredibly entertaining All-Time Detroit Red Wings fantasy draft article. In the spirit of their fantastic piece, fellow Sharks writer Drew Weber and myself went ahead with the Sharks version of an All-Time fantasy draft. The only couple of differences are that we decided to not put a minimum on games played (with the Sharks being a much younger franchise), and we rated players based only on their play while with San Jose.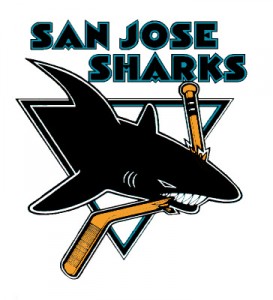 The draft went as follows:
Weber                                  Bensch
Joe Thornton                                        Joe Pavelski
Patrick Marleau                                  Logan Couture
Owen Nolan                                        Igor Larionov
Evgeni Nabokov                                 Brent Burns
Marc-Edouard Vlasic                        Dan Boyle
Sandis Ozolinsh                                 Vincent Damphousse
Mike Ricci                                            Jeff Friesen
Ryane Clowe                                        Teemu Selanne
Pat Falloon                                           Milan Michalek
Marco Sturm                                        Brian Campbell
Tommy Wingels                                  Jonathan Cheechoo
Christian Ehrhoff                                Ray Whitney
Alexander Korolyuk                           Justin Braun
Gary Suter                                            Sergei Makarov
Antti Niemi                                          Rob Blake
Matt Carle                                            Doug Wilson
Kelly Kisio                                            Douglas Murray
Jason Demers                                      Johan Garpenlov
Dany Heatley                                       Arturs Irbe
Stephane Matteau                              Vesa Toskala
Projected Lines & Pairs
Team Weber:
Korolyuk—Thornton—Nolan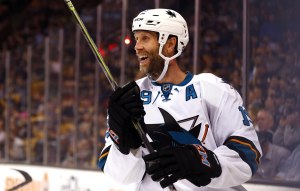 Sturm—Marleau—Falloon
Clowe—Kisio—Heatley
Matteau—Ricci—Wingels
Vlasic—Ozolinsh
Suter-Carle
Ehrhoff-Demers
Nabokov
Niemi
Team Bensch:
Michalek—Pavelski—Burns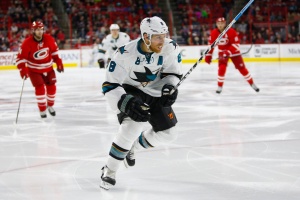 Whitney—Couture—Selanne
Friesen—Damphousse—Cheechoo
Makarov—Larionov—Garpenlov
Boyle-Murray
Campbell-Braun
Wilson-Blake
Irbe
Toskala
Weber's Draft Strategy
I got the first overall pick, so naturally I chose Joe Thornton – possibly the greatest player in Sharks' history. He is the perfect person to center my all-star team's top line and set up some beautiful goals. I then rounded out my first five selections with Patrick Marleau, Owen Nolan, Evgeni Nabokov, and Marc-Edouard Vlasic. This is as strong of a start that I could have asked for in a draft like this; I was able to get two of San Jose's most prolific goal scorers, one of the greatest playmakers in the league, the winningest goaltender the team has ever seen, and the most suffocating defenseman to wear teal. Sandis Ozolinsh was my sixth pick, but after that I drafted more forwards to give my team some more offensive firepower. I was very happy that I was able to snag Marco Sturm tenth because I really wanted to line him up alongside Marleau. Their speed combined with their playmaking and scoring abilities was going to make my second line lethal even against the best defensemen and goaltenders.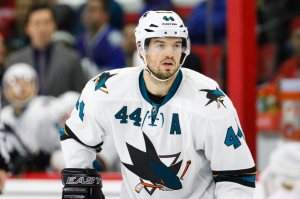 For selections 10 to 15, I tried to focus a bit more on defense. I picked up the underrated Tommy Wingels here because he is an incredibly smart hockey player and a skilled penalty killer who isn't afraid to block shots. I got two more defensemen in Suter and Ehrhoff, and stole Korolyuk and Niemi (I don't know how they dropped down that low either). By taking Niemi, I effectively destroyed Andrew's goaltending, leaving him with practically nothing but losing netminders. My finals picks were spent filling any holes I had left in my lineup. San Jose's defensive unit has been subpar historically so I had to have Jason Demers on my third pairing. Don't get me wrong, I loved him when he was a Shark and thought he was a good defenseman, but he sticks out like a sore thumb compared to the likes of Boyle, Ozolinsh, and Suter. Ultimately though, I was very happy with the team I assembled and think they stand a chance against Team Bensch.
Why Weber Thinks His Team Will Win
Goaltending. Vesa Toskala and Arturs Irbe were decent, but they're not Evgeni Nabokov. The only way Andrew could possibly makeup for not having Nabby would have been to select Vlasic and put him on the top pairing. Instead, I was able to pick him fifth and take away one of the few D-men that could have seriously helped his goaltender in the defensive zone. His forward group has a little bit more depth than mine and he is decent on defense, but my pairings can be equally effective and my goaltending is significantly stronger. It would be a close series, but Nabokov being backed up by Niemi is much better than a tandem of Toskala and Irbe. They can steal a game or two for me, and in a seven-game series with two very evenly matched clubs, that may be enough to emerge victorious.
Bensch's Draft Strategy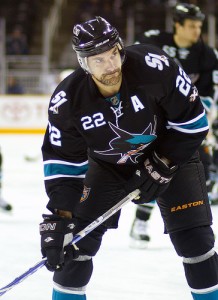 With Drew going first my strategy was simple. The idea was to take the best player available and try to throw in some chemistry in the process. I kind of figured he would take Thornton first as he is without a doubt the best player ever to wear a Sharks sweater. Knowing that, I certainly wasn't going to allow him the opportunity to pair him with Pavelski on his top line so my counter pick in the first round was easy. After that my idea was pretty much just to roll off his choices, we went in the same order, never snaked liked in fantasy drafts. Therefore, knowing his selection each round I was able to make sure I countered when appropriate. Those of you who know me well know I'm not a big fan of goaltenders so I bypassed them altogether early on. However, I made sure to pick up Dan Boyle after Drew surprisingly went with Marc-Edouard Vlasic as his first defenseman. Obviously a deep and balanced team of skaters is more important to me than getting the best goaltender on paper and I believe my team is much better overall.
Why Bensch Thinks His Team Will Win
My team will win because I have the advantage in lines and pairs. At worst the top lines are a push with Thornton and Nolan very comparable to Pavelski and Burns and Michalek and Korolyuk mostly a wash. However my second line is much better than his. For crying out loud I have the Wizard and the Finnish Flash sandwiching Logan Couture. Whitney was young and Selanne had down years of his time with the Sharks but even then they were both playing better hockey with the Sharks than Sturm or Falloon. The third lines are another wash but my fourth line is the famous "OV" line that would skate circles around the Sharks versions of Stephane Matteau, Mike Ricci, and Tommy Wingels. Defensively Drew has the better top pair with Vlasic and Ozolinsh, but the built in chemistry of Boyle and Murray is a solid top unit. Plus Campbell as a Shark was on fire in his short stint here, him and Braun make for a better second pair than Suter and Carle. Plus Wilson and Blake are savvy vets that are way more reliable at both ends than Ehrhoff and Demers. Just like the forwards, the blue-line is well in my favor. Going by career save percentages my goalies aren't great in comparison, but in a seven game series, who are we kidding? It's not like Niemi nor Nabokov were playoff studs. Irbe didn't have the nick name "Like Wall" for nothing, he would be good enough with the timely saves to back my team of superior skaters to victory in six or seven games.
Who do you think has the better team? Which squad would win in a best-of-seven series? Leave your thoughts in the comments below!