In a not-so-blockbuster yet eyebrow-raising move on Jan. 27, the Blues shipped Maxim Lapierre to the Penguins in exchange for Marcel Goc. Although at first glance this seems like a "meh" transaction, remember that the Blues employ arguably the metrics man in sports — Jim Corsi. This deal is completely built around his type of statistical analysis.
As this graph indicates, Goc plays better against better competition. That should be enough to quell most confusion regarding this deal, at least on the Blues' end. But, as with most transactions, this doesn't tell the whole story.
Corsi Is Making His Impact Known
Whenever a player like Lapierre isn't apparently doing anything overtly "wrong," it's easy to look at a transaction like this and scratch your head. This isn't a trade simply for the sake of it. Jim Corsi, the current goalie coach for the Blues, doubtlessly had a hand in this move. Something the above graph doesn't show is that despite having a lower faceoff-winning percentage, Goc has taken far more, adding another dimension that was diminished with the departure of Vladimir Sobota to the struggling KHL. And he's been this type of player his entire career: one that not only plays strong defensive hockey with just enough offensive touch, but one that enables favorable line matchups across the duration of a contest. Marcel Goc is a sleeper win trade for the Blues that should make itself more apparent as the season marches on. In other words, he's the type of player that is acquired by a team that looks in-depth at a player and the way he's been utilized using a broad sample size, something not every GM does.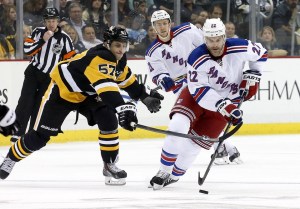 Lapierre for Goc is All About the Playoffs
If you ask a Bruins fan what one of the galvanizing forces in the 2011 Stanley Cup Finals was, it was the nastiness of one Maxim Lapierre. Ironically, this type of play precisely one of the elements Pittsburgh GM Jim Rutherford quoted as a reason for acquiring Lapierre. The hits, allegedly borderline dirty play and general mouthiness of Lapierre. A biased fan could chalk this all up to "grit", which is usually shorthand for "aggressiveness sans skill." Marcel Goc is plenty gritty, but happens to be superior in terms of puck possession and is routinely rewarded with faceoff starts against upper-tier lines. In the playoffs — and especially in a Ken Hitchcock system — the ability to plug a player into any line combination as needs dictate is essential. By all metrics and apparently Blues' management's eyeball testing, Goc fits our system (potentially) better than Lapierre.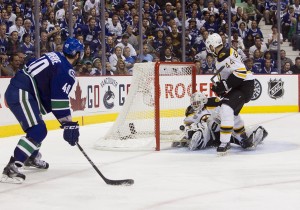 Trading Lapierre Fits Both Teams' Needs
This isn't necessarily a lopsided win for the St. Louis Blues, since each player named in a transaction must be a fit for their new team. Both Lapierre and Goc fit this profile. Lapierre will provide additional grit and a little toughness on a team with arguably higher offensive upside than the Blues — so his point-generating abilities are less important than what he can do on the dot and to free up space for stars Crosby and Malkin. Goc's influence is in his versatility and ability to maximize above-average if not world-class offensive talent, something that neatly describes the Blues on most nights. Goc can score but when examining the Blues' issues on the penalty kill, something had to give. Goc should improve those numbers. All told, the Lapierre-Goc trade should help both teams, with the advantage to the Blues when examining Corsi metrics and a potential greater overall impact in his new lineup.