DJ Smith was hired as head coach of the Ottawa Senators after the 2018-19 season and has been with the team through some of the darkest times, as the team had a complete teardown and rebuild under him. All of the players in Ottawa seemingly love playing for Smith, but the results are not good enough, especially after general manager Pierre Dorion did a fantastic job improving the roster over the most recent offseason.
The Senators have plenty more talent than any other season under Smith, but they are still struggling to take a step forward. Fans have been calling for a coaching change for the majority of the season, and there is certainly an argument to have a new voice behind the bench. Dorion acknowledged the conversation of firing Smith, but backed his coach and said there is no plan for a coaching change.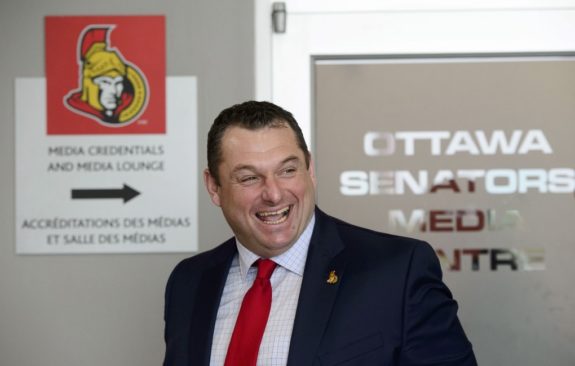 During a press conference on Nov. 7, Dorion stated "I am happy with the job D.J. has done…obviously at 4-7, it's a bit tougher, but I think it's the first time we've given him a team that can compete for the playoffs.".
The Senators record hasn't gotten much better since then. Their record of 20-23-3 is not where the team planned on being. After preaching the importance of playing important games in March and April, they're all but out of the playoff race in January. After a November record of 4-9-1 and currently 4-6-0 in January, the team needs to be better, and that may start with a coaching change.
DJ Smith Was the Right Coach for the Rebuilding Years
There are a lot of positives about Smith as a coach. Players love playing for him. His top players have publicly defended him on multiple occasions, and players always mentioned how much they appreciate having a voice like his behind the bench.
He did a great job of giving young players the opportunity to develop, gain confidence, and be put into a position to succeed. His relationship with a young Tim Stutzle gave the German star the ability to get comfortable in the NHL and transition to center when he felt comfortable. He spent his first season on the wing and the beginning of his sophomore season, too. Smith waited for Stutzle to make the call and say he is comfortable switching to center full-time. That was the last time Stutzle played on the wing, and he has taken a giant step forward since making the transition.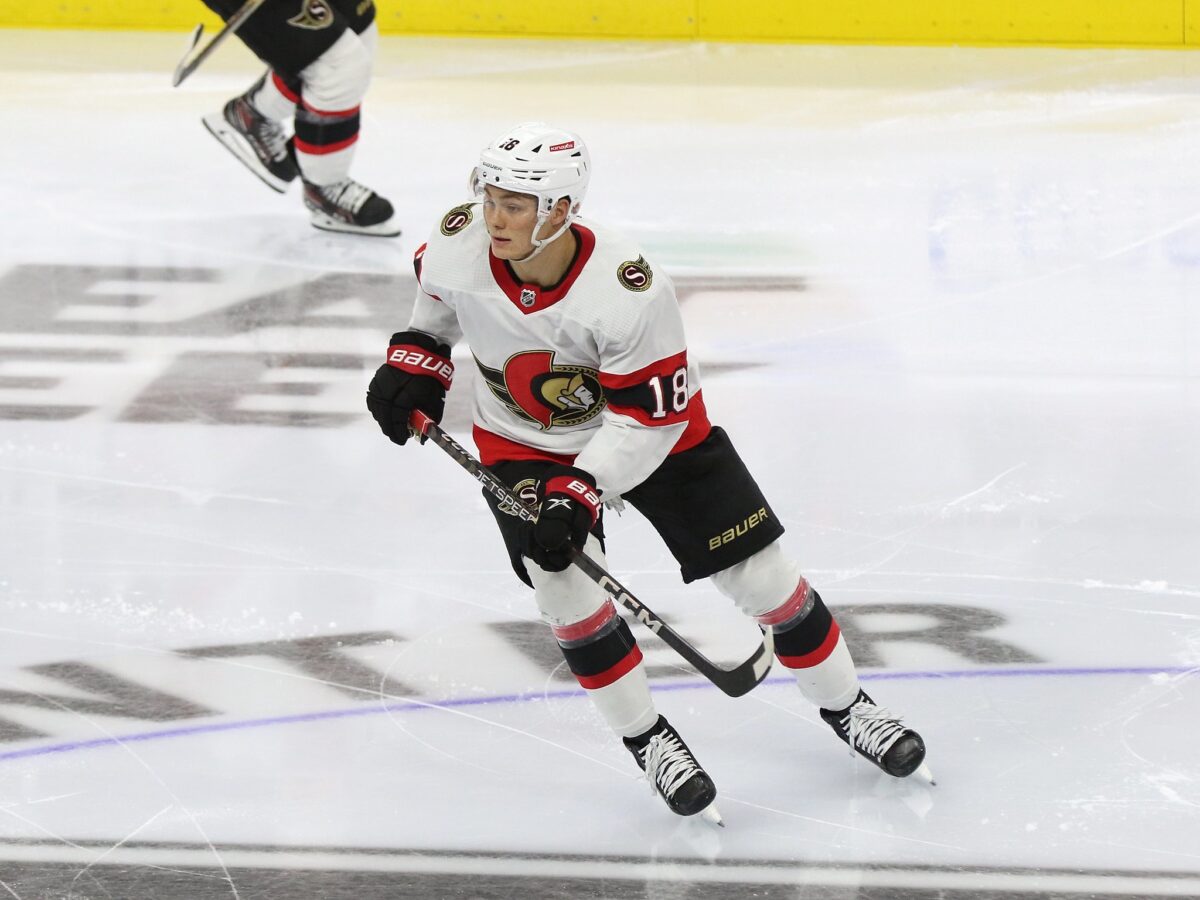 This is a perfect example of why a coach like Smith makes players appreciative of the kind of transparency they can have and how it creates a positive atmosphere. For the majority of his coaching tenure, the Senators were a team that was very tough to play against, and even without a talent-ridden roster, they were always able to play spoiler and out-work their opponent.
A Change to Take the Next Step
The Senators added Alex DeBrincat and Claude Giroux, welcomed Jake Sanderson and Shane Pinto to the lineup this season, and everybody expected them to take the next step. There were a few concerns about the roster construction, but they were planning on being significantly better. The system that Smith has the team playing does not work for a lineup that has as much skill as they do.
---
Latest News & Highlights
---
With elite forwards like DeBrincat and Giroux joining the core that Ottawa already has, they should be able to play a transitional game with ease, but they are sticking to the dump-and-chase tactics that clearly aren't working. As of today (Jan. 24), the Senators are ranked 24 in the NHL in 5-on-5 goals. Their power play is what is keeping the offense afloat.
After 46 games, the Senators' 20-23-3 record is only a five-point increase over last season's totals at the 46-game mark, and their production is still close to the same.
Josh Norris missing most of the season, Artem Zub being in and out of the lineup, bottom-six injuries, they all account for some of the struggles. But on any given night, the Senators have enough talent to generate more wins than they have been. I go back to the point of the goal to play meaningful games down the stretch. That is not going to happen this year, and there are no excuses.
There was a recent exchange at practice on Monday (Jan. 23) that had Giroux, DeBrincat and Smith all huddled around a whiteboard that lasted over ten minutes.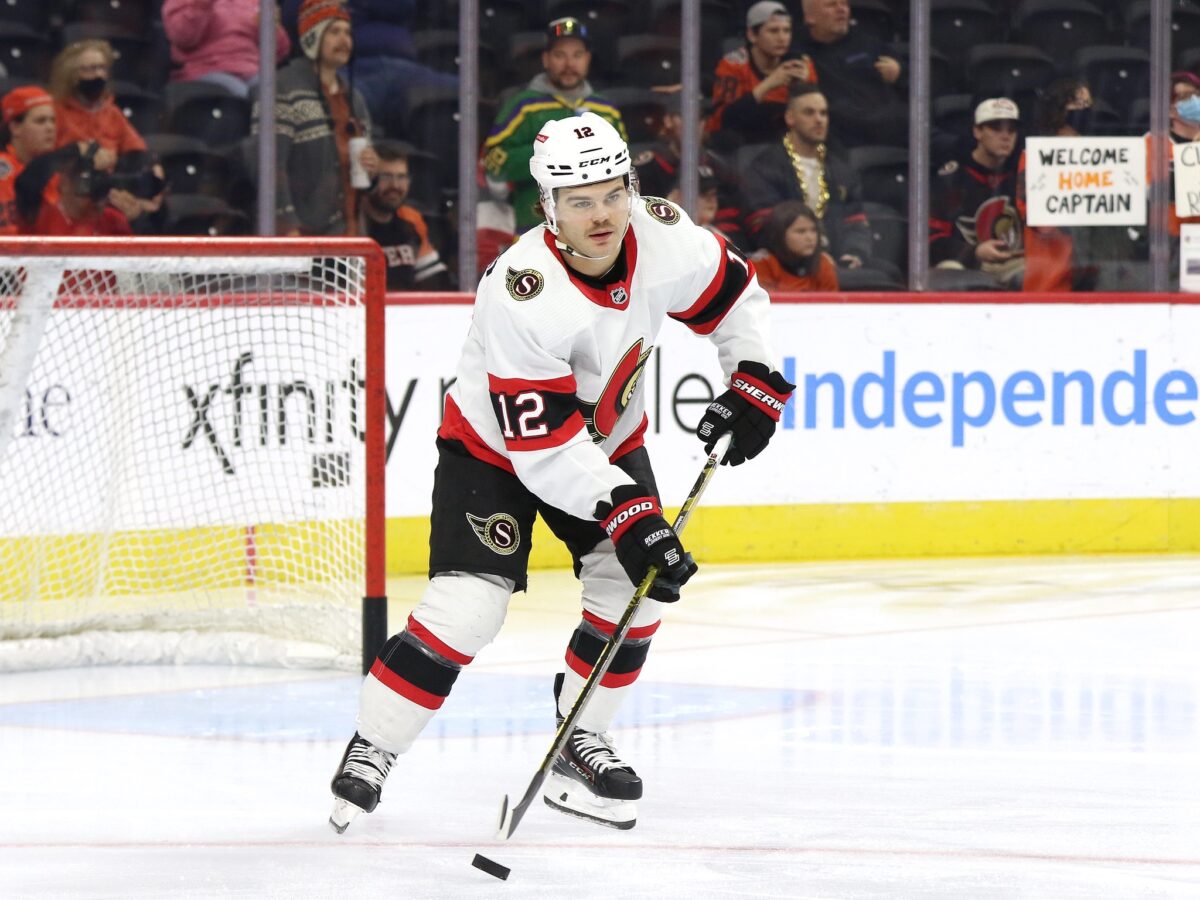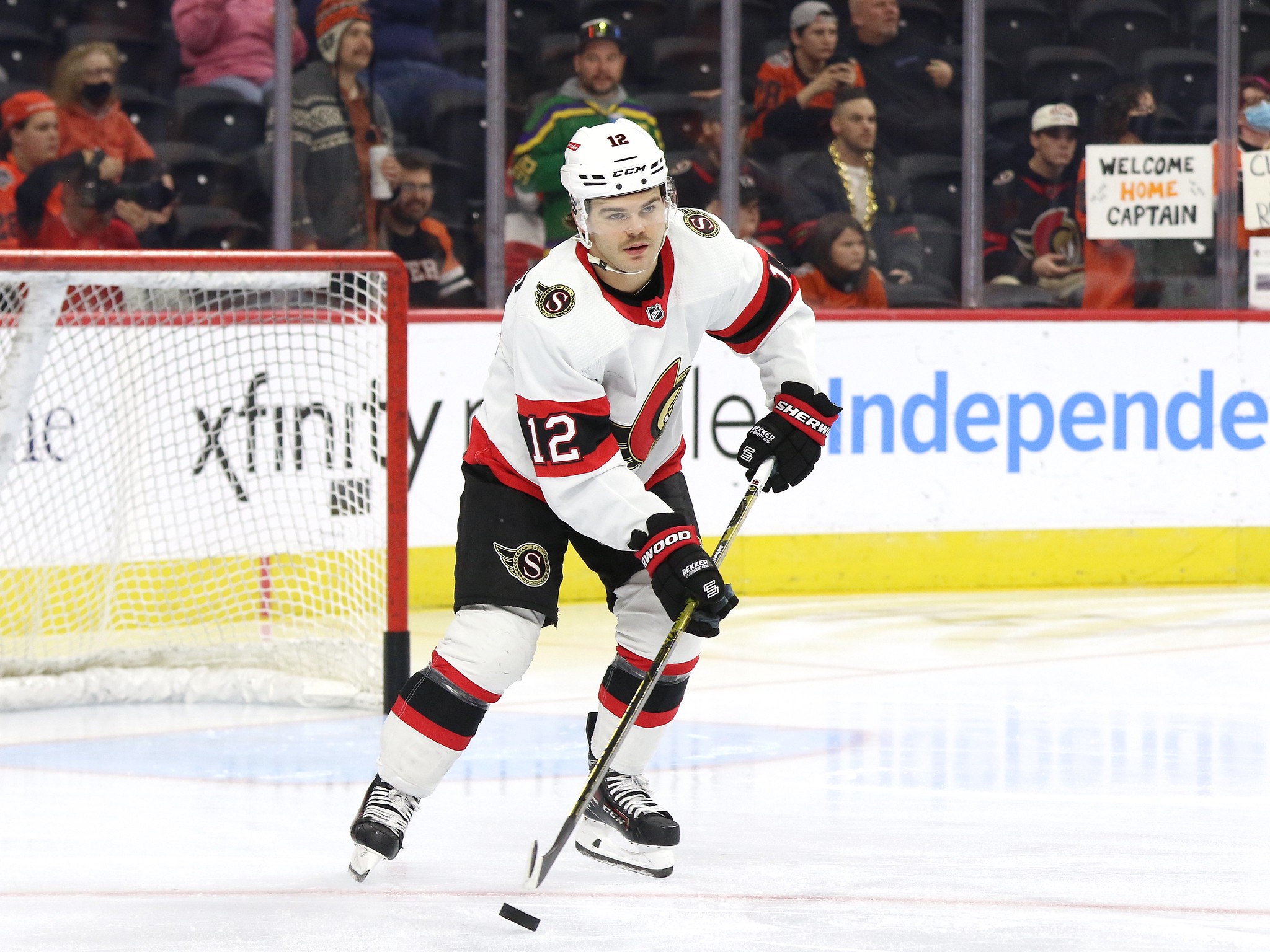 Ian Mendes from The Athletic tweeted the following: "This conversation went on for 12-13 mins. As long of a chat as I've ever seen with a head coach and player(s) at the NHL level. I asked D.J. about this afterwards, and he said the focus of this chat was talking about ways to generate more offence. And Giroux/DeBrincat had ideas."
There could be a lot of takeaways from this, and it could be as little as a regular conversation that just typically takes place in the locker room. On the other hand, it could be the fact that two new faces that know how to produce are having trouble with the system and the way things are going, and they are taking control of the decisions.
Related: Pierre Dorion's Top 5 Trades as Senators General Manager
Regardless of whether it results in a philosophy or a personnel change behind the bench, things need to turn around if the Senators are committed to taking the next step.
Replacement Options
Smith's hiring in 2019 was his first NHL head coach job, and Ottawa typically goes for newer, less experienced coaches rather than trying to get the big fish. With a new ownership group coming soon, if a change is made, now would be a good time to start looking at some proven options.
Troy Mann
Troy Mann has been head coach of the Belleville Senators in the American Hockey League (AHL) for five years now and was for four years with the Hersey Bears before that. He has done a fantastic job developing the Senators' prospects that have come through the system, and he knows the team as well as anyone.
The inexperience at the NHL level will throw some people off. But I do not doubt that he will make a great NHL coach when he makes the transition. It's just not worth the risk right now.
Bruce Boudreau
After a messy situation in Vancouver that ultimately led to the firing of Bruce Boudreau, it seems like Boudreau is headed to the television market for now. He hasn't indicated if he wants to continue coaching or not, but if he does, he could be worth a job offer with the Senators.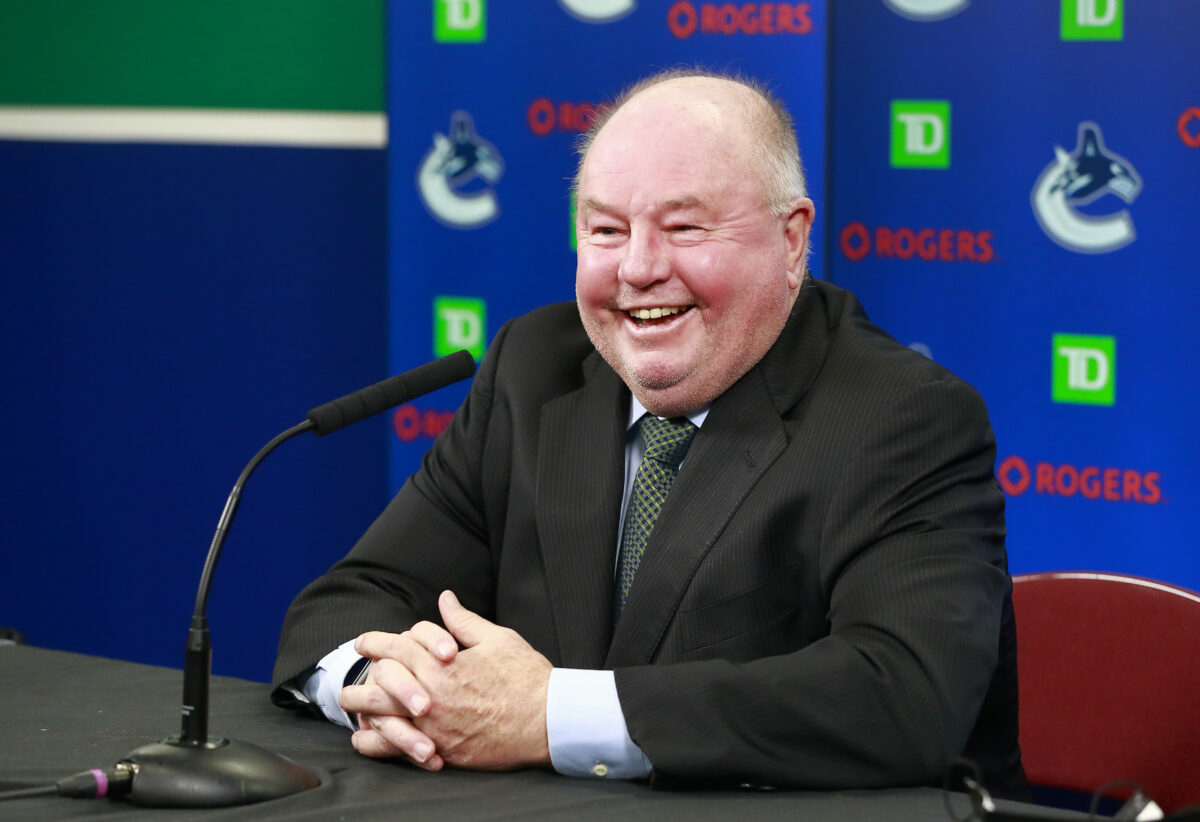 With a career points percentage of .626 and over 600 wins, he has the pedigree that a team like Ottawa needs right now. It is unfair to point to his short tenure in Vancouver as a red flag, as the new management team did not want to keep him around from the get-go. He did have a decently successful time in his 102 games with the Canucks, accumulating a .549 points percentage, and had the team playing an excellent stretch of hockey to conclude his first season. Boudreau likes his teams to play with lots of energy to utilize their skill. It could be a great fit for the current group.
Barry Trotz
The likelihood that Barry Trotz returns to the NHL and coaches the Senators is pretty small, but if they could convince him to, he would be perfect. He doesn't necessarily fit the mold that matches perfectly with this group, but he is a master of creating defensively responsible teams. With this team, defense is the biggest struggle. If they could get that fixed, create more accountability and develop better habits, they would be much better off.
A knock on Trotz's style is that his forwards don't flourish offensively, but with the most recent example of the New York Islanders, they didn't have the kind of talent that Ottawa does up front. I wouldn't be concerned about the risk of sacrificing the offense, as even though right now they struggle at even strength, they are still producing. With better defense equating to more offensive opportunities, it would set them up for more success.
Claude Julien
Claude Julien is a fantastic NHL coach. He has had a lot of success behind the bench, and you can find a perfect summary of what makes him valuable here.
His ability to get his team on the same page is what brought his teams to success. He holds his players to a certain standard and keeps them accountable for their play. He knows what it takes to win and gets every one of his players to play to the best of their ability. A coach like Julien might be the most ideal fit for the Senators, as they have most of the pieces needed to contend for a playoff spot, but they just can't get everything to click together to string a strong stretch of games.
There has to be a change behind the bench in Ottawa. And as I mentioned, if the change can come with DJ Smith himself, great. But I believe at this point, the change is going to have to be external to really let the team know that things need to be going better at this point.
---
---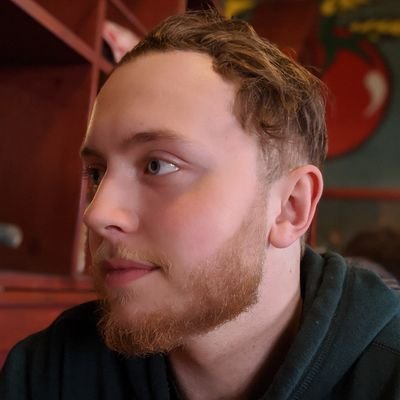 My name is Jacob Billington, and I cover the Carolina Hurricanes here at The Hockey Writers. Born and raised in Nova Scotia, becoming a hockey fan was quite easy. Falling in love with the game in the early 2000's, and taking in as much knowledge as I could since then. I appreciate everybody who reads my content, and I take pride in creating the best experience for readers. Feel free to reach me on Twitter, I am always active and talking about anything hockey related!