One fear relating the lockout between the NHL and the Players' Association is what comes after the resolution.
The NHL is in its second lockout in seven years (third work stoppage in 20) and on a personal note, Ottawa Senators owner Eugene Melnyk is obviously far from happy.
Melnyk told Prime Time Sports on Wednesday that he once was a huge baseball fan until the strike in 1994 ended his fandom.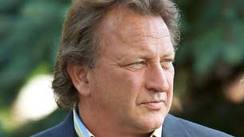 "Back in '94, I was a rabid baseball fan, I'm talking like a 40-45 game guy when I still lived in Toronto, I saw the World Series and (the Blue Jays) winning it, went to Atlanta; I was a crazy, crazy baseball fan and after the strike I was gone," Melnyk said. "(I'm) extremely disappointed like any fan of where we are, we should be playing hockey by now."
Hockey fans are in uproar over the current situation with backlash aimed towards both the owners and players, although Melnyk said the bottom line is there's no hockey.
"Everybody can finger point all they want but at the end of the day I don't think anybody cares who's at fault, all they know is we're not playing hockey," Melnyk said. [via SportsNet.ca…]