by Steve Laidlaw at Dobber Hockey
The Final Four – Fantasy Hockey Goalie Tournament
It's Week Eight in the inaugural Cage Match Goalie Tournament and we've now reached the semi-finals. That means the brackets are finished. We are done with them. One goalie has emerged from each bracket with the hopes of claiming the top honours in the tournament, which, just to remind you, makes him the fourth best goalie in fantasy hockey this year. Yes that is because we held Henrik Lundqvist, Jonathan Quick and Pekka Rinne out of this tournament to make it fair for everyone else and frankly, it's worked like a charm. The final matchups of each bracket were hotly contested affairs. Let's see how they played out.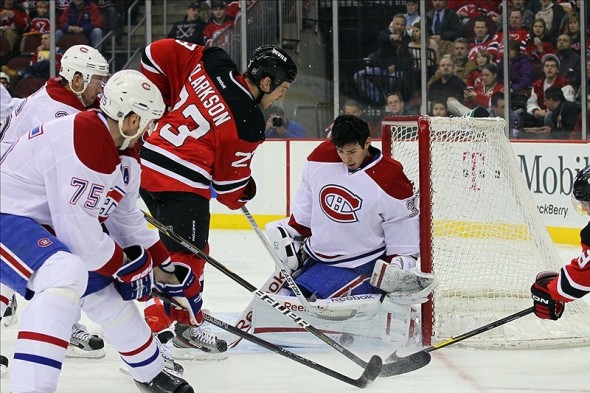 #2 Carey Price over #1 Tuukka Rask – 51 votes to 29 votes.
It is pretty hard to call this an upset but I'm going to call it one anyway. UPSET! WOOOHOOO! UPSET!
Sorry, allow me to compose myself. It's just that we haven't seen too many of these in the goalie tournament and it is extremely nice to see.
What was particularly interesting was how wide the margin of victory for Price was. I didn't realize he had that many backers. I actually thought he was something of a disappointment. The argument from Price voters was that we simply haven't seen enough of Rask to know for certain if he can produce over a full season. Price on the other hand, has proven he can put up elite numbers even behind a terrible team.
I'm not sure Rask really needed to prove to us that he can produce over a full season. We already know that this season is not going to have 82 games in it so we can scratch off some of the workhorse concerns. We also know that Rask has rebounded from his groin injury and is back playing. I really think that the timing for Rask was just bad. When voting for this matchup opened last week the news of Rask's groin injury resurfacing had just been released. I'd wager a good portion of votes were swung by that news alone. It's a shame but at the same time fantasy hockey isn't played in a vacuum. Things happen and poolies react. Them's the breaks!
Check out all the other fantasy goalie matchups at Dobber Hockey.