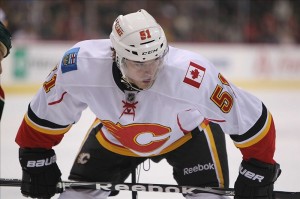 Last summer, the Calgary Flames were in a jam. With the June 1 signing deadline for 2009 draft picks rapidly approaching and hot-shot Swedish blueliner Tim Erixon refusing to agree to terms with the club, the team was facing losing his rights for the paltry return of a second round pick. His back against the wall, general manager Jay Feaster called the New York Rangers and swapped Erixon and a fifth round draft pick in exchange for a pair of second round picks (used to grab Tyler Wotherspoon and Markus Granlund) and 2009 fifth round choice Roman Horak.
A native of Ceske Budejovice in the Czech Republic, Horak had been a teammate of Flames draft pick Ryan Howse with the WHL's Chilliwack Bruins. Despite only playing in North America for a couple of years, Horak showed a strong ability to learn the game on the smaller ice and developed great chemistry with Howse, contributing to Howse's 51 goals and Horak's 52 assists in the 2010-11 campaign. At worst, the youngster would provide the Flames with some depth options up-front.
Last year, Horak surprised everyone by making the Flames roster out of training camp and spending 61 games in the National Hockey League. This year, he's found his old scoring touch. He's currently sharing the American Hockey League lead in goals, having scored seven times through the first seven games after only lighting the lamp five times in 75 games last season between Calgary and the AHL's Abbotsford Heat. Horak explained that he hasn't really changed much in his approach to the game.
"I'm scoring goals right now, so I'm just going to try to keep it going," explained Horak. "Last year I played bottom-six, it was a little bit tough to transition to the NHL and the AHL. It was my first year, right, so I was still learning what's going on. This is my second year, so I'm a little more experienced and know what to expect from hockey, from [Abbotsford coach] Troy [Ward] and the guys here. I think that might be the biggest change."
At just 21 years old, Horak has a lot of NHL experience for someone of his age. With 61 NHL contests under his belt, he has more experience than all but four of his Heat teammates (T.J. Brodie, Krys Kolanos, Steve McCarthy and Quintin Laing). Despite having some big-league time under his belt, Horak noted that he's still got a lot to learn, but tries to help his teammates when he can.
"Obviously I've played a few games in the NHL, which is great, but here you've got a bunch of guys who've got even more experience than I do, for sure," noted Horak. "Those guys, they have more experience than me, but I'll do my best and obviously if somebody's going to ask me to talk about stuff and how's it going, especially rookies, I had the chance to play here last year… I'm going to try to help them."
Between Calgary and Abbotsford over the past year or so, Horak has played in a lot of different situations. He's not only played on both ends of special teams, he's also suited up on all four lines for the Heat (a product of Troy Ward's tendency to shuffle the deck) and played all three forward positions. So far this season, he's made the best of the various in-game situations he's being placed in.
"Some people don't like it, but I don't mind it," said Horak. "It's different to play all three positions. If you play wing, you're stuck on the wall. But it all depends on who you play with. I had the chance to play with Max Reinhart. He's a great centreman, so it's a been a pleasure to play with him and he made it kind of easy for me. And last year I played with Ben Walter also on the wing. Those guys, they make it really easy for you."
With uncertainty on the NHL labour front and the Abbotsford Heat off to a good start, Horak and the rest of the club hope to continue their strong play. One thing's for sure: the eyes of Calgary Flames management will be watching.