With the playoffs being in the late stages, Ottawa Senators' management should not only take notes on what worked and what didn't for them this season but also what seems to be working for teams that are still in contention.
The Dallas Stars, Vegas Golden Knights, Carolina Hurricanes, and Florida Panthers make interesting case studies for the Senators when it comes to the way their rosters are constructed. They all have their skilled finesse players, notably Roope Hintz, Jack Eichel, Sebastian Aho, and Aleksander Barkov. This is not a department the Senators are lacking in.
In addition to this, they also have their fair share of depth players who make their presence known by getting in their opponent's heads. These include Max Domi, Nicolas Roy, Jordan Martinook, and Sam Bennett.
Related: Senators: 3 Depth Free-Agent Forwards to Target This Offseason
---
Latest News & Highlights
---
The Senators are already fortunate to have a one-of-a-kind player that combines skill and grit at an elite level. Captain Brady Tkachuk plays a pivotal role in bringing energy and getting in the opponent's head, similar to what we are witnessing his brother Matthew do in Florida.
Every general manager knows it is pivotal to have multiple players that have this combination of skill and grit. After all, this was a key reason the Tampa Bay Lightning were so successful in recent postseasons.
To acquire these types of players, most teams make their moves at the trade deadline. When they are close to contending, the Senators will be no different and likely make some moves come deadline day. But when it comes to a player combining skill with grit, could they already have a homegrown player in Ridly Greig to assist Brady Tkachuk in filling the role?
The Junior Years
Ridly, son of former NHL winger Mark Greig – who now has a role as an amateur scout with the Philadelphia Flyers – is best described by one word: relentless.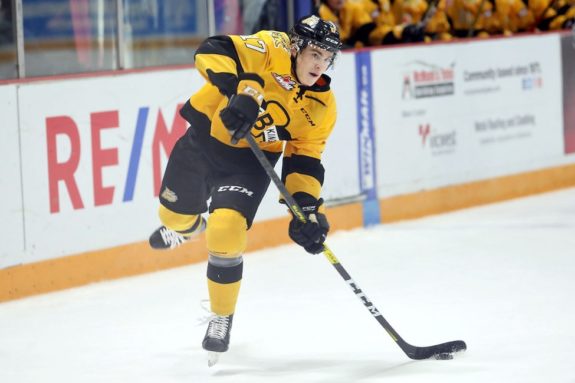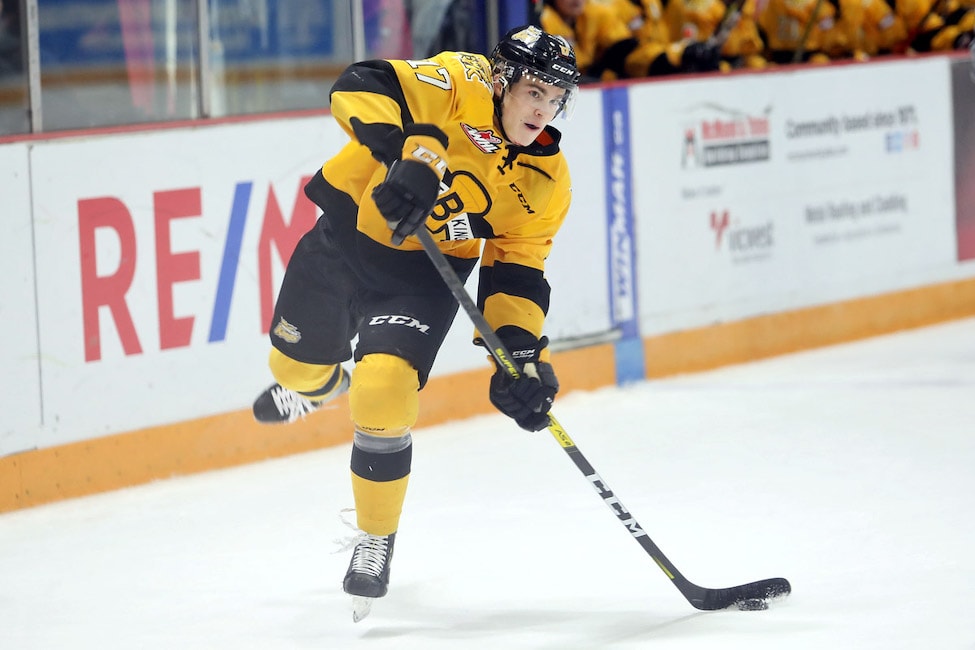 The former Brandon Wheat King is a high-energy player who never stops skating and trying to make the best plays. He's also an intelligent two-way player, which he's often received praise for. These qualities are the reason the Senators jumped at the opportunity to draft him 28th overall in 2020.
While COVID-19 took away some valuable playing time for Greig and other players in his draft year, fans had the opportunity to see him play on the international stage when he represented Canada at the World Junior Championship in the summer of 2022. Before being injured, he played an important role for the team, putting up three goals and six points in the five games he suited up in.
Looking Back at Greig's Last Season
This season, Greig put up 15 goals and 29 points in 39 games for the Belleville Senators. This impressive rookie season in the American Hockey League (AHL) earned him a call-up to the big leagues. And once again, he did not disappoint.
Already in his first game after being called up, Greig stepped up with his energetic play. In a game that saw the Senators fall short 2-1 to the New York Islanders, one of the teams they trailed in their quest for the playoffs at the time, the rookie not only put up one assist but also had eight shots on net – an impressive statistic that could show what kind of player they will get in the future.
The 20-year-old ended up registering two goals and nine points in 20 games – very solid. However, it's the other statistics that continue to prove his playing style and his character.
Greig had 12 penalty minutes in his short stint, which followed up on the 46 he had in the AHL. He isn't afraid to get physical, chirp, and get in his opponent's head.
Greig also put up 30 shots on goal and even got some time on the power-play, where he put up three assists. Similarly to his performance on the international stage, he isn't afraid to make the best of his opportunities and step up his game in order to get the job done. If he can keep these tendencies up, he should become an important high-energy player for the Sens.
However, this isn't the only thing that makes Greig an asset – after all, everything is always about the money. He is still on his entry-level deal until the end of the 2024-25 season. This means Ottawa could have an impact depth player at a very small cost – something general managers look for when building playoff-contending teams. The Senators need to find a way to capitalize on this.
Signs of Promising Times to Come
Senators fans may have been frustrated for the sixth straight year after yet another disappointing season, and rightfully so. But despite them being in a strong division, the best years with this group are coming up as the team is expected to make a strong playoff push next season. They are starting to acquire the pieces for when they finally make the playoffs.
While players like Tim Stutzle, Claude Giroux and Josh Norris will be very important with the skill they provide, it's equally as important to have players that can bring energy and get in their opponent's heads to back them up. The Senators are setting themselves up to be in a good position, as this is exactly the role that Tkachuk and Greig are set to fill – and expected to succeed in.
---
---