Eleven games into the season, which in 2020-21 equates to almost 20 percent of the schedule, the Ottawa Senators were not where they thought they would be.
They piled up nine straight losses after an opening night win against the Toronto Maple Leafs. There were a couple of games they could have won, one against the Winnipeg Jets they should have won, and a string of games where surrendering early goals made them play uphill.
Thursday night, they stole a win from the Montreal Canadiens and stopped the bleeding, as they were outshot and outplayed. Maybe it was a trap game, or maybe the Canadiens were looking beyond the Senators. Either way, goalie Matt Murray finally stole a game for the Sens instead of giving one away.
The goaltending has been a problem. Defending has been a problem. Breakouts have been a problem. Special teams have been a problem. Staying out of the penalty box has been an even bigger problem. And finishing scoring chances has been beyond a problem.
Simply put, after 10 games, Ottawa was only three points ahead of the Seattle Kraken in the standings.
Stützle and Young Stars Not the Problem
The fans are patient and understanding that the team is in rebuilding mode. They know that Tim Stützle is going to be a star. Thomas Chabot and Brady Tkachuk are already franchise cornerstones. Josh Norris has been the most pleasant surprise of the young season.
Against Montreal, Stützle had his first multi-point game in the NHL with a goal and two assists. He made a highlight reel stretch pass to set up Chabot's goal, and he became the third teenager in club history to score goals in three straight games. The other two were Alexandre Daigle and Alexei Yashin.
Unfortunately, the play of the kids and prospects has not been the problem.
After the team's ninth straight loss in Vancouver on Tuesday night (Feb. 2), Senators coach DJ Smith made a very direct comment that the young players would be getting worked into the lineup. The veterans who had been expected to carry this team through the rebuild have underachieved. And while they have been falling short of meeting expectations on the ice, future Senators Erik Brannstrom, Alex Formenton and Logan Brown have essentially been mothballed.
Heading into the Feb. 4 Montreal game, Brannstrom was added to the lineup after the team put veteran Braydon Coburn on waivers. Brannstrom's season got off to a rough start. When he arrived to training camp from Europe, he had to quarantine for 14 days. After one day of practice, he was exposed to someone with COVID-19 and had to quarantine again.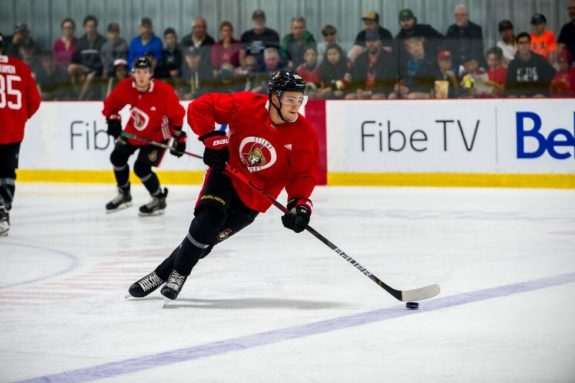 Fortunately, Brannstrom had already played some hockey this season. He played 10 games for the Langnau Tigers in Switzerland and was impressive, with eight points and a plus-five rating. There are high expectations for him since he was the prize in the package that Ottawa received from the Vegas Golden Knights for Mark Stone. Smith said before the Montreal game that Brannstrom would greatly help on breakouts and in getting the puck out of their zone.
In his first game, he had an assist and had a plus-two plus-minus rating.
Coburn is the first veteran to have his leash shortened by Smith. He won't be the last.
Defenceman Josh Brown brought some size and grit to the back end when he arrived from the Florida Panthers. In eight games, he has eight penalty minutes and a minus-five rating.
In 10 games, offensive defenceman Mike Reilly has four assists, but the glaring statistic is his plus-minus rating of minus-11. At that rate, if Reilly played in all 82 games, he would be on pace to set the new standard for the worst plus-minus record ever. Bill Mikkelson of the 1974-75 Washington Capitals, widely considered the worst team in NHL history, finished the season with a record low rating of minus-82.
More Needed From Stepan, Dadonov
Up front, Derek Stepan and Evgenii Dadonov have been disappointing.
Stepan has seen his productivity drop over the last three seasons, but having just a goal and two assists through 10 games is disappointing.
Even more disappointing is Dadonov's production. Like Stepan, he has a goal and two assists. The Sens brought in Dadonov to become a marquee offensive player and to strengthen the power play. Eleven games into the season, he may be the biggest bust on the Senators' roster so far.
Three other veteran forwards – Austin Watson, Connor Brown and Chris Tierney – each have five points through 11 games. For Watson and Tierney, that is acceptable production. For Brown, more offence is expected with his contract. His tip-in goal against Montreal Thursday was his first marker of the season.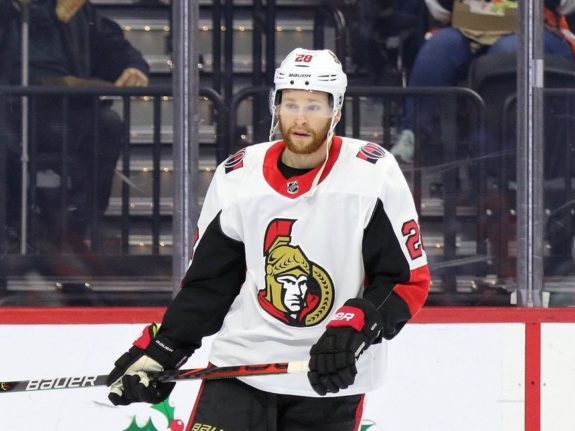 Until the win in Montreal, Murray, not Dadonov, was considered the biggest bust of the season. The win improved his record to 4-2-0-1 with a 4.40 goals against average (GAA) and a save percentage (SV%) of .866. They are still at the bottom of the league among NHL starting goalies, but they are better than they were at the start of the week.
Backup goalie Marcus Hogberg is not faring any better than Murray. He is 0-3-0-0 with a 4.54 GAA and an .844 SV%.
The Senators have Joey Daccord, who emerged as a blue-chip prospect for the Senators last season, gathering dust on the taxi squad. At some point, the Senators are going to have to ask themselves if giving Daccord a chance to play might stabilize their goaltending situation, or will it worsen it?
As the season progresses, the Senators' veterans are going to be watched with much scrutiny. They have to get more offensive production from Stepan and Dadonov, and they need better defensive play from players like Reilly and Erik Gudbranson.
If the veterans don't start producing, the Senators will have no option but to clear some of these players out before the trade deadline to make room for the team's future stars who are patiently waiting for the chance to play.
---
---
Jeff Morris has been a hockey writer for more than 30 years. He began his career working for small town newspapers in Eastern Ontario before becoming the editor of Canadian Sports Collector magazine in St. Catharines, ON. While there, he also freelanced as a Buffalo Sabres beat writer. Morris would move on to Dallas to become the NHL brand manager at Pinnacle Brands, Inc. From there, he worked in the sports trading card and collectibles division at Shop At Home TV in Nashville and Denver, and then moved to Seattle to be the VP of Marketing at Pacific Trading Cards, Inc. in Seattle. He had continued to cover the NHL as a freelance writer, and while in Seattle, he became a weekly hockey columnist for ESPN.com. During the 2005 NHL lockout, he returned to Ottawa and became a newspaper and magazine publisher and editor, and was also an NHL contributor for Fox Sports Radio. He also began covering the NHL for Hockeyology.com, and also covered the Ottawa Senators for his own publications. He went to Carleton University to study journalism, and graduated as the school's all-time scoring leader in football and was a conference all-star three times. He had several pro tryouts and played semi-pro football for 10 years while pursuing his career as an NHL writer. He remains involved in football as a coach and referee, and is a Canadian Football League off-field official.