It's been four months since Justin Williams retired from hockey, but in many ways, it never really felt like he left. On Friday, the Carolina Hurricanes made that official and announced the hiring of Williams as a special advisor to president and general manager (GM) Don Waddell.
Williams played 19 seasons in the NHL, including seven with the Hurricanes. He was an integral part of Carolina's one and only Stanley Cup championship in 2005-06. He's also been at the helm of the Hurricanes' major culture shift the past three seasons, and captained the team to the Eastern Conference Final in 2018-19. Williams' esteemed career includes a total of three Stanley Cups and a Conn Smythe Trophy for playoff MVP in 2014.
At the time of his retirement, there was buzz that Williams would soon return in some other facet. With his ties to the Hurricanes and friendship with head coach Rod Brind'Amour, it always seemed inevitable that Williams would be back with the organization in some capacity. Now that it's official, he'll get the opportunity to learn about the inner workings of hockey management as he tries to bring a championship back to Raleigh.
Keeping the Culture
Williams is one of the most iconic players in Hurricanes history, but also one of the most revered. When he returned for a victory lap and signed a one-year contract in January of 2020, it was primarily seen as a character signing because of his high-standing reputation and integrity. As great a player as he was, the most important thing was having him around the team.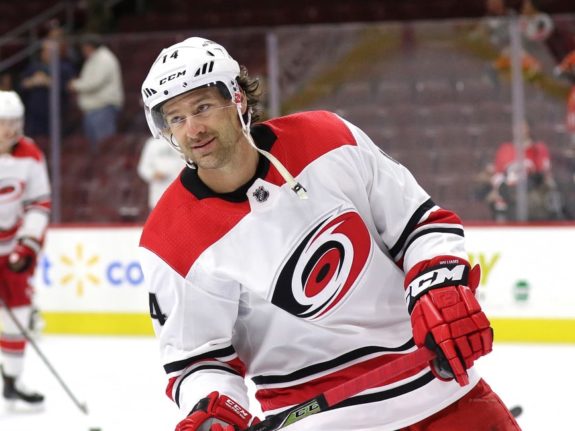 While many thought he would gravitate to a position in coaching, he bears certain qualities that will make him an immediate asset in management.
"Being a player that's just recently out of the game, he's got a lot of knowledge and a lot of contacts within the game – knowing the players as he does and respected by players around the league," said Waddell. "Having that kind of asset with your hockey club is something that we certainly can use."
"If Justin Williams picks up the phone and calls a player, he's going to get a call back for sure."

– GM Don Waddell
Waddell said he's looking forward to having Williams be a part of team meetings, as well as front office meetings where they'll take part in scouting prospects and evaluating players around the league.
"I'm excited just to see the behind the scenes and what goes into all the decisions that are made," said Williams. "Certainly, building a hockey team is something I feel like I have some pretty good interest in."
Williams offers a unique outlook of a guy who was living the player lifestyle just months ago. The Hurricanes' roster is not much different from when he was a part of it last season. He knows the players, he knows the dynamic of the locker room, and with a new perspective watching the team from the outside, he'll have the full scope of what he can provide to help improve the team.
"My end goal is really to learn as much as I can," said Williams. "There's a lot of work these guys put in, and I'm just slowly going to try to learn it as best I can."
Guiding the Next Wave of Leaders
Although Williams' new position may not have him working as closely with the players as a coach would, having him accessible is what truly matters. Young Hurricanes like Andrei Svechnikov and Sebastian Aho already possess the essential talent, work ethic and leadership qualities so early in their careers. Having two outstanding role models in Williams and Brind'Amour, each of whom can offer their own unique experiences, will help mold them into the new leaders of the franchise for years to come.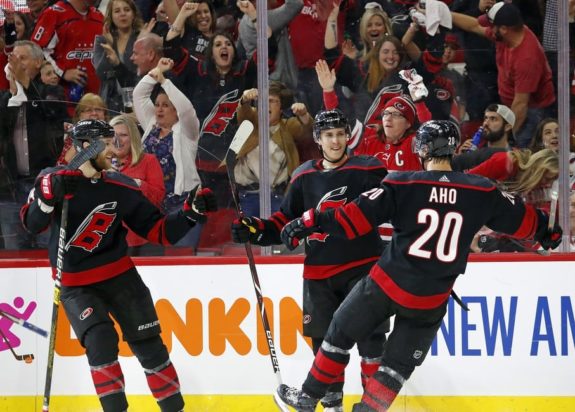 An ambassador like Williams will not only help attract free agents to North Carolina, but his presence will also soften the rough terrain that comes with contract negotiations. The Hurricanes have two stars due for new contracts at the end of the season with Svechnikov and Dougie Hamilton, as well as several others approaching unrestricted free agency. Having Williams in the room – a person both Hamilton and Svechnikov have a respectful history with – will be nothing but beneficial for both sides.
"I want to put him into the first contract negotiation I can, so I can show him all the pain (he) and his agent put me through," Waddell joked. "We'll get him broken in right away."
---
---
Matt Cosman is a Sheridan College print journalism graduate from Oakville, Ontario. I've been with THW since 2019 covering the Carolina Hurricanes, one of my favorite childhood teams. When I'm not in my hockey bubble you can probably catch me jamming out on the piano or losing money at the poker tables.