What better word describes Justin Williams' career than legendary? While the saying holds true: "Legends never die," the time finally came for the 39-year-old Cobourg, Ontario-native to announce his retirement on Thursday.
Related: Carolina Hurricanes' Jersey History
Even among his illustrious achievements and awards, he leaves behind an immeasurable impact on the city of Raleigh, the Carolina Hurricanes franchise, and the NHL.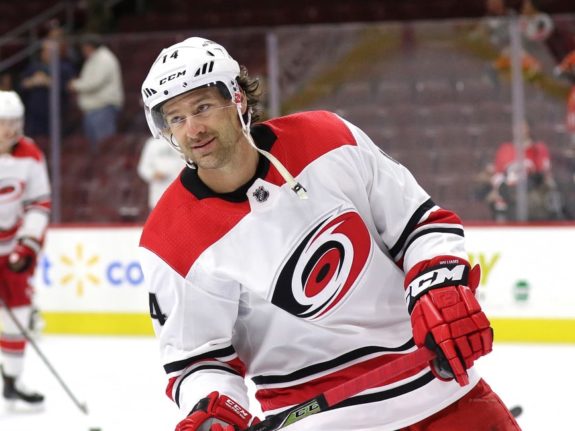 Williams played 1,264 games spanning 19 seasons with the Philadelphia Flyers, Los Angeles Kings, Washington Capitals and Hurricanes. He's a three-time Stanley Cup champion, with the Hurricanes in 2006, and the Kings in 2012 and 2014. He won the Conn Smythe Trophy for playoff MVP in 2014.
He's been a respected – even revered – teammate on every team he's played throughout his career, which included two stints with the Hurricanes, with whom he played the most games, helping the franchise capture its first Stanley Cup and captaining them to the Eastern Conference Final in 2019.
"Since I first broke into the league a day after my 19th birthday back in 2000, this game has brought me so much that I will never be able to repay it. The countless experiences, relationships, lessons and hardships will remain with me forever as I move on to the next stage of my life. I've never once taken for granted the privilege it is to be able to play a game for a living, and that is probably why I was able to play it professionally for as long as I have."

– Justin Williams announcing his retirement
Williams and Hurricanes head coach Rod Brind'Amour formed a friendship during their playing years in Carolina in the mid-2000s, and that bond has developed into what's been the driving force behind the organization today.
When the 'Canes had their resurgence in 2018-19, achieving a postseason berth for the first time in a decade, Williams and Brind'Amour were the guys steering the ship. Williams was even one of the architects of the storm surge which reeled in new fans and welcomed the "Bunch of Jerks" moniker that brought much-needed attention and excitement to hockey in North Carolina.
Williams' Early Beginnings
Before his epic career send off with the Hurricanes, Williams was an original first-round pick of the Flyers in 2000. Of all players taken in the 2000 Draft, no one has played more games than Williams, but it took him a while to spread his wings.
He had a strong 1999-2000 draft year with the OHL's Plymouth Whalers, scoring 83 points in 68 games, but fell one game short of becoming OHL champions. He transitioned to the NHL the following year, where he spent the next four seasons battling for ice time on a competitive Flyers team. It wasn't until January of 2004, when he was traded to the Hurricanes for defenseman Danny Markov, that he became comfortable and elevated his game.
Following the 2004-05 lockout year, Williams returned to play his first full NHL season with the Hurricanes, tallying a career-best 76 points in 82 games. That marked the first year he won the Cup and let loose the hungry beast who became known as one of the league's most clutch performers.
Greatest Moments From Williams' Career
Williams is known as "Mr. Game 7", a nickname he prefers to shrug off, but the lore behind the man who always thrived in big moments is a huge reason why he's earned his legendary status. Williams has an 8-1 record in Game 7s, and has tallied seven goals and eight assists, an NHL playoff record.
He's the man who sealed the Hurricanes' 2006 Stanley Cup with an empty-net goal when they held a 2-1 lead with just over a minute remaining.
Eight years later, in the Stanley Cup Final against the New York Rangers, Williams scored a pivotal overtime goal in Game 1 for his Kings, which was the first step in a 4-1 series win, and his third Stanley Cup. His seven points led all players in that series, and with 25 points in 26 games, he received the Conn Smythe Trophy.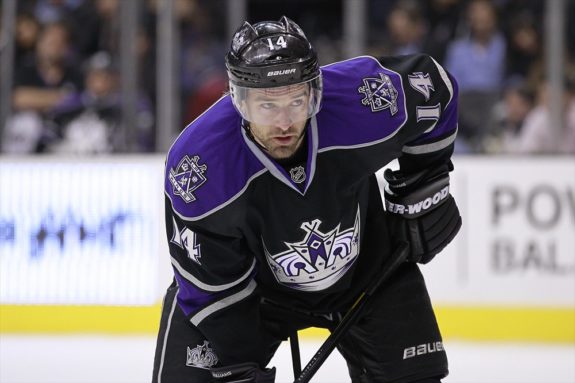 As a member of the Capitals from 2015-2017, Williams helped Washington to back-to-back Presidents' Trophies, with 16 points in 25 playoff games. It was with the Capitals in 2017 that Williams suffered his one and only Game 7 loss – a 2-0 defeat to the Pittsburgh Penguins, who became Cup champions.
Williams returned to Carolina as a free agent in 2017-18, and powered the Hurricanes back to the playoffs just one year later. From there, Mr. Game 7 dialed right back in. In the Hurricanes' first-round upset of the Stanley Cup-defending Capitals, Williams directly set up the double-overtime winning goal by Brock McGinn that sent the 'Canes to the second round.
His ability to step up in games where the stakes are highest is unmatched, but his guidance to the Hurricanes' young stars like Andrei Svechnikov and Sebastian Aho is invaluable.
Williams Passes the Torch
While Jordan Staal has assumed the captaincy, the true passing of the torch will go from Williams to Carolina's young leaders. The Hurricanes have quickly amassed a highly-talented prospect pool with their enormous hauls in the 2019 and 2020 Drafts. Two or three years down the line, when the next generation of players are ready to join the party, it will be Aho and Svechnikov who pass on the knowledge and work ethic they learned from Williams.
"It's his will to win…" said Brind'Amour after Williams' announcement. "He may not be the most talented. He certainly doesn't skate the fastest or shoot the hardest. But there is that 'it' factor and he doesn't want to be denied. You can't teach it. You just have it,"

from "Hurricanes' Justin Williams announces he's retiring", The News & Observer, Oct. 8, 2020.
Aho and Svechnikov both the qualities of a captain built into their identities and they are respected teammates, just as Williams was. With Brind'Amour at the helm, the Hurricanes' young stars already have an incredible role model to learn from. If Williams returns to the organization in some capacity, it would be the perfect recipe for success.
When Will We See Williams Again?
Williams has earned time away from hockey to spend with his family, especially after spending a difficult month isolated in the bubble with the Hurricanes during the Return to Play. His playing days are over, but with such a strong connection between him and the Hurricanes, I expect him to be part of the organization in the future.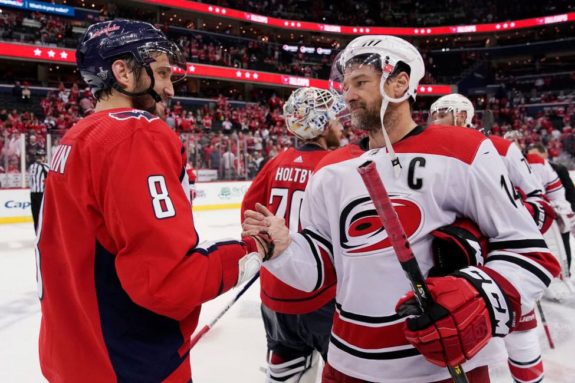 There are tons of head office positions that could be a fit for Williams, but his expertise and leadership would be best suited for a coaching or player advisory job. He and Brind'Amour have worked so well together in the past, it seems he is destined to become an assistant to his friend one day.
Related: Hurricanes of the 2010s – Where Are They Now?
Hockey is among those affected by a force outside of our control. Until there is more certainty going forward, the pandemic will continue to be a factor in many players' decisions to return to the sport or stay safe with their families.
We were lucky to have one more season from Williams in Carolina, even if it was a bumpy year with not much to celebrate. However, in retirement, Williams steps away from the game with absolutely nothing left to prove. And that is rare.
---
---