The Carolina Hurricanes came away from last year's draft as clear winners, and it's what helped propel them to the No. 2 farm system as ranked by THW in September. They may have just outdone themselves yet again.
After drafting dynamic forward Seth Jarvis 13th overall in Round 1 Tuesday, the Hurricanes added seven more players on Day 2 — many of which have the potential to be one day viewed as major steals.
"For the second year in a row, I am awarding Carolina the draft crown. They consistently look for high-skill players with upside, risk and the tools needed to play the game with the puck in their hands. They aren't looking for give-and-go types, they want drivers. That should always be the approach at the draft, in my opinion. It's easy to fill around the edges later. It's harder to find talent."

from "NHL Draft recap: The winners, losers and best value picks" (Oct. 7, 2020) by Scott Wheeler, The Athletic
For the 2020 Draft, the Hurricanes used a similar strategy to last year. General manager Don Waddell has shown he's not afraid to aim high when evaluating prospects, and the Hurricanes come out of this year's draft with a wide array of blue-ribbon grade players.
2nd Round (41st overall) – Noel Gunler, LW/RW
Lulea (SHL)
Noel Gunler was one of the most polarizing players in this draft. He was a player with top-15 potential, but for him to plummet all the way to No. 41 came as a welcomed surprise. The Swedish winger has had his effort called into question at times, on top of having a wild knack for inconsistency. But from a pure talent standpoint, Gunler's skill is off the charts.
He's a 6-foot-2 winger known best for his downright nasty shot and instinctive scoring ability. Scouts can't emphasize his shot enough — most describe his wrister as the best in this draft, and already NHL-level. At his ceiling, Gunler is a potential first-line winger, but it's going to take time, and it's going to take the proper coaching and development.
Gunler is a textbook Waddell pick — extremely high ceiling despite the possible drawbacks. But I think a team like the Hurricanes with their camaraderie and deeply instilled work ethic is the perfect organization to maximize Gunler's unlocked potential.
2nd Round (53rd overall) – Vasiliy Ponomarev, C
Shawinigan Cataractes (QMJHL)
The Hurricanes threw a haymaker with the Gunler selection, but in drafting Vasiliy Ponomarev, took a step back into a safer approach. That's not to say Ponomarev doesn't have high upside, but he's not a shoot-for-the-stars pick, as some of the others in this draft class.
Ponomarev is Russian-born center who tallied 49 points in 57 games with the Shawinigan Cataractes of the Quebec Major Junior Hockey League (QMJHL) last season. He has excellent hands and a heavy shot, but his bread and butter is his two-way game. He's not the biggest guy at 5-foot-11, but his fearlessness and high compete level helps him succeed in the dirty areas of the ice.
Ponomarev could be a future third-line center for the Hurricanes. He has the kind of intelligence to run a penalty kill, and there's a lot to like about his skating, deceptiveness, and stickhandling ability as well. He's strong on his feet and hard to knock off the puck, and there's still more weight he can add on top of that. He's undoubtedly a Rod Brind'Amour type of player, and should he get to that level, he'll flourish under the Hurricanes head coach.
3rd Round (69th overall) – Alexander Nikishin, LD
Spartak Moskva (KHL)
Defensive depth was not an area of need for the Hurricanes, but in drafting Alexander Nikishin, they add a young defenseman with size and strength who's already accustomed to playing against men.
Nikishin isn't afraid to throw his body around, which displays an attractive kind of fearlessness, being an 18-year-old playing in the KHL. Primarily a defender, Nikishin doesn't have too much to offer in the scoring department, but he does manage the puck well, so he's not a liability in that regard.
The left-shot defenseman is listed at 6-foot-3, 196 pounds. He played 29 games in the KHL last season, which is impressive, and suggests his game may translate well to the NHL level as well. But there is concern about his skating and offensive ability. Those qualities are more difficult to teach than brute strength and toughness.
While his top potential is likely to be a third-pairing guy who specializes on the penalty kill, there are aspects of his game he can refine to become a more well-rounded player. He's playing well above his grade at such a young age already, so there is promise there.
4th Round (115th overall) – Zion Nybeck, LW/RW
HV71 (SHL)
Remember when hall-of-famer Martin St. Louis went undrafted because of his size? Not to contrast the Tampa Bay Lightning legend to an 18-year-old kid from Sweden, but there are some comparisons I find hard to ignore.
Left-handed winger Zion Nybeck's height is 5-foot-8 — the same as St. Louis — and that is about the only thing that caused him to slide so far down the draft rankings. He's also the prospect I'm most intrigued with from the Hurricanes' 2020 draft class.
Carolina selected Nybeck in Round 4, but many — including myself — had him pegged to be a first or second-round pick due to his magnificent playmaking, jolting speed and offensive acumen. He's a hound on the forecheck and is relentless in his pursuit of possession, which makes him just as dangerous with the puck as he is without it.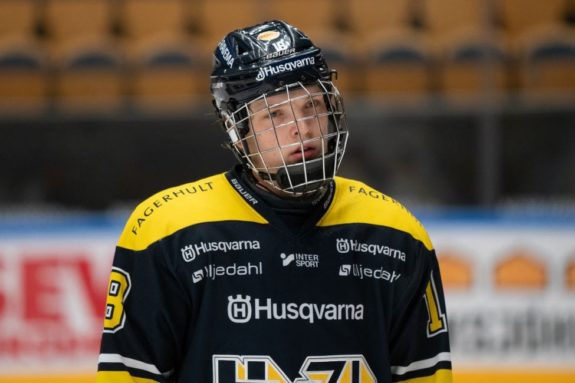 He's small, but weighed in at a respectable 176 pounds dating back to last season. Lower-body strength will be imperative for Nybeck if he hopes to succeed at the NHL level, and it bodes well for him that he's not falling behind in that area.
Nybeck has graduated to the SHL, but hasn't produced much at that level yet. He has a lot to prove, but his raw talent alone is more than worthy of a fourth-round pick. Time will tell, but as of now, I truly believe the Hurricanes pocketed a gem.
6th Round (159th overall) – Lucas Mercuri, C
Des Moines Buccaneers (USHL)
Flexing their scouting muscles, the Hurricanes went a little off the board with their pick in Round 6, selecting Lucas Mercuri, a 6-foot-3, 201-pound center and commit to the University of Massachusetts.
NHL Scouts like Mercuri's hands around the net and his heavy presence down the middle. Mercuri knows how to use his size effectively and doesn't shy away from finishing his checks, tapping into a natural role of power forward.
Similar to a Jordan Staal-type presence, Mercuri offers strength and power at center to a Hurricanes prospect pool that predominantly features smaller, skilled forwards. Four years in the college hockey development program should do him good, but it'll likely be a while before we see him take the ice in a Hurricanes jersey.
7th Round (199th overall) – Alexander Pashin, RW
Tolpar Ufa (MHL)
Continuing the theme of Carolina selecting small forwards with tremendous potential, Alexander Pashin is a seventh-round pickup of the Hurricanes with, again, massive upside.
The Russian right-winger draws many similarities to Nybeck — an undersized, 5-foot-8 winger whose offensive instincts make him an impressive player to watch, but also make him a high-risk, high-reward prospect.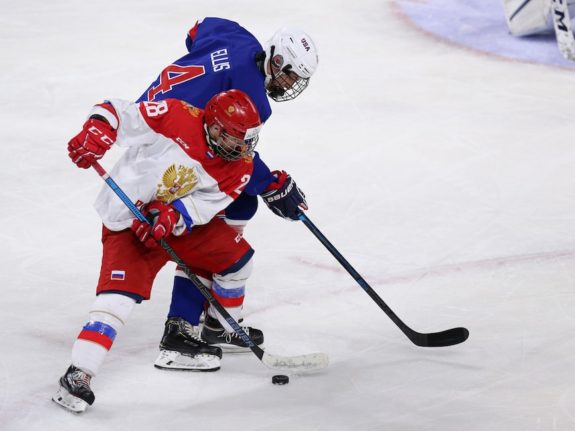 He has a fantastic offensive toolkit, but unlike Nybeck, is a little more prone to getting knocked off the puck by bigger defensemen. There's also a lot to improve from a defensive standpoint.
Interestingly enough, many scouts pegged Pashin above both Nybeck and the defenseman Nikishin. Pashin came in at 22nd on NHL's Central Scouting list — mostly defined as a clear second or third-round pick. But for the Hurricanes to get him with a seventh? Absolute robbery.
7th Round (208th overall) – Ronan Seeley, LD
Everett Silvertips (WHL)
It's truly incredible teams allowed so many players with potentially huge ceilings to slip through, but the Hurricanes once again went for a Hail Mary by using their final pick of the draft on defenseman Ronan Seeley.
How excited should Hurricanes fans be about a seventh-round pick? The Yellowknife-native is one of the youngest prospects in this draft, and there's already a lot to like about his game at such a young age.
Seeley's skating is borderline elite — he accelerates effortlessly both forwards and backwards, allowing him to join a rush, or close gaps defensively with ease.
He has experience running power plays, but mostly in a set-up role — his shot still needs some work. Defensively, he's not the strongest, but he's aggressive and active with his stick, which makes him an effective two-way defender.
As a young and up-and-coming player, the experience might not be there, but Seeley is an excellent choice for a seventh-round pick, and truly has the potential to be a top-four NHL defenseman.
Hurricanes are Gaining a Reputation for Strong Drafting
For a young team on the cusp of Stanley Cup contention, the Hurricanes have pieced together an incredible core of young players. They're only now beginning to gain respect as a bona fide playoff threat, but when you also consider the talent in their farm system, it's clear they haven't even come close to reaching their full potential.
The 'Canes already have an impressive history of sniping great players in later rounds like Sebastian Aho (35th overall, 2015), Brett Pesce (66th overall, 2013), and Jaccob Slavin (120th overall, 2012). Combined with their haul from the 2019 Draft, the Hurricanes have a plethora of young talent ready to break through and lift the team to new heights in the next few years.
---
---