The New Jersey Devils were off to a hot start in the 2020 NHL Entry Draft and continued to find tremendous value throughout Day 2. General manager Tom Fitzgerald did an excellent job in the first round by addressing needs on both ends of the ice.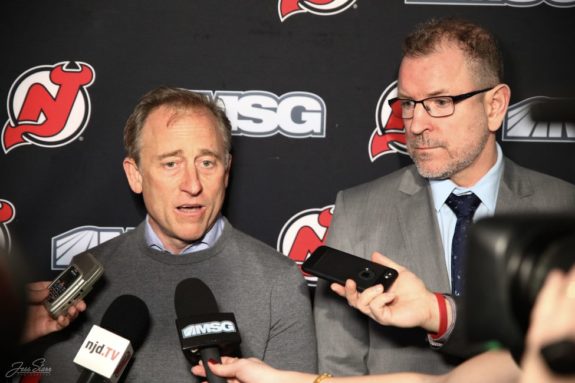 Unlike last season, the Devils were not very aggressive in this year's draft. In fact, they didn't trade any of their picks for players or to shuffle around the board. But, the team definitely found talent with their picks and got a few prospects who were certainly expected to go higher.
83rd Overall: Nico Daws (G)
AGE: 19
COUNTRY: Canada/Germany
HEIGHT: 6-foot-4
WEIGHT: 203 pounds
POSITION: Goalie
CATCHES: Left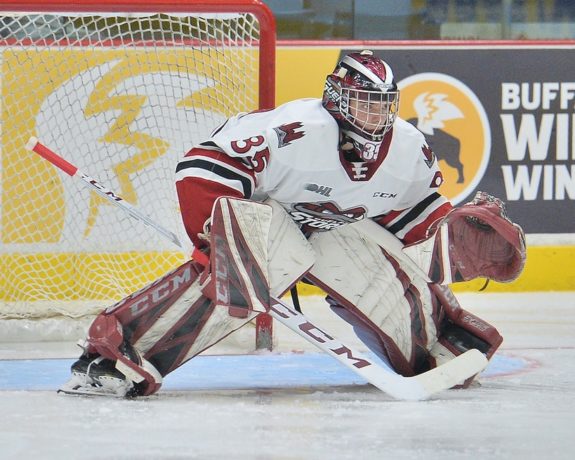 Following a bounce-back campaign in the 2019-20 season with the Guelph Storm, Nico Daws was listed as the number one goalie prospect on Central Scouting's North American list. After posting a 2.48 goals against average along with a .924 save percentage, he garnered high praise and was widely recognized as one of the top goalie prospects in the draft.
Related: Redoing the 2005 NHL Draft
The German-born goalie possesses excellent positional awareness and with his 6-foot-4 frame, he is still very good at moving across the crease. In the third round, New Jersey more than likely got their No. 1 goalie prospect behind MacKenzie Blackwood and it is never a bad thing when a team adds more young, quality goaltenders to the organization.
99th Overall: Jaromir Pytlik (C)
AGE: 19
COUNTRY: Czech Republic
HEIGHT: 6-foot-3
WEIGHT: 201 pounds
POSITION: Center
SHOOTS: Right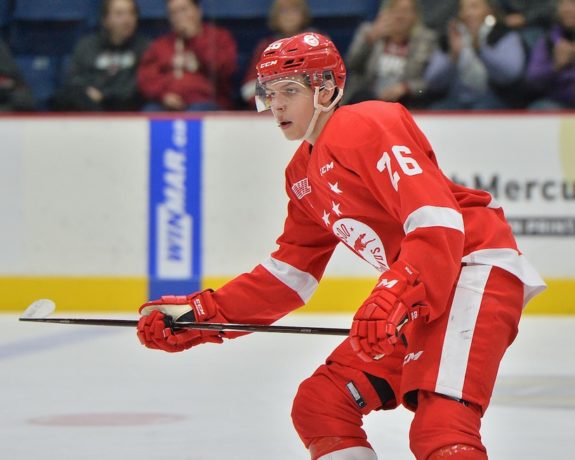 It's hard to poke any holes in Jaromir Pytlik's game. At 6-foot-3, 205 pounds, the young Czech forward has a strong physical presence on both ends of the ice. He is one of the best 200-foot players in this year's draft and most rankings had him pegged to go much higher than 99th. In the 2019-20 season, he picked up 50 points in 56 games with the Sault Ste. Marie Greyhounds in the OHL. Overall, this was a very solid value pick and fans should be happy with the addition of a large, well-rounded forward.
120th Overall: Ethan Edwards (D)
AGE: 18
COUNTRY: Canada
HEIGHT: 5-foot-0
WEIGHT: 165 pounds
POSITION: Defense
SHOOTS: Left
"Speedy undersized defender with excellent four way edging and high end puck skills and decision-making capabilities. Firmly carries pucks out with head up in transition, and will fight off the opposing teams stick checks along the way. Has a quick stick defensively. Will funnel pucks towards the net offensively and has a good wrist shot. Putting on weight /strength and may add an inch or two might improve his status. Developmental prospect with a high ceiling for success or failure. Committed to the University of Michigan for 2021."

– Bill Placzek/DraftSite
The Devils add their second defender in the draft with the 5-foot-10 speedster Ethan Edwards. In the Alberta Junior Hockey League (AJHL), he posted 33 points in 50 games. For a defender, those are pretty good numbers no matter the competition level. He is an extremely aggressive player, especially in transition, and he is constantly looking to jump into the offensive zone. This is something I believe Devils fans can expect to see with the implementation of new head coach Lindy Ruff's system. I'm unsure what Edwards' possible NHL ETA could be, but for starters, he needs to add on some weight and muscle before he even gets the chance to fight for a spot.
130th Overall: Artem Shlaine (C)
AGE: 18
COUNTRY: USA/Russia
HEIGHT: 6-foot-1
WEIGHT: 174 pounds
POSITION: Center
SHOOTS: Left
Artem Shlaine is coming off of a stellar season with Shattuck St. Mary's 18U Prep, where he put together a 78-point season in just 46 games played. The University of Connecticut commit has tremendous puck skills and possesses all the assets necessary to be a offensive force one day. The Devils' add another bigger center in this year's draft, and although he may take a little while before he is NHL ready, there is definitely plenty of upside with Shlaine.
161st Overall: Benjamin Baumgartner (C)
AGE: 20
COUNTRY: Austria
HEIGHT: 5-foot-9
WEIGHT: 165 pounds
POSITION: Center
SHOOTS: Left
At 5-foot-9, 165 pounds, Austrian center Benjamin Baumgartner is quite possibly the most underrated player in this year's draft. In the 2019-20 season, he posted 27 points in 37 games while playing for HC Davos in one of the best leagues in Europe. In a draft class with very few overagers, he certainly stands out as a true hidden gem. This selection is very reminiscent of the Devils' 2016 sixth-round draft pick, Jesper Bratt. Oddly enough, in 2016 Bratt went 162nd — just one spot lower than Baumgartner. This is the type of player who could find his way in to the NHL quickly and become a household name amongst fans.
Devils Trade 192nd Overall Pick to the Arizona Coyotes for a 2021 7th Round Pick
There is a general feeling that the Devils have had an emphasis on size the past two NHL Drafts. The team has also done a good job finding talent overseas — young players who get to play their development years in leagues like the KHL, SHL, or NLA, get firsthand experience of what it is like to play against grown men. Overall, Fitzgerald did a good job adding depth throughout the roster in his first draft as general manager. I believe a solid B/B+ is a fair grade for New Jersey, but I guess we'll have to wait and see. What grade would you give the Devils after their performance in the 2020 NHL Draft?
---
---
Contributor – New Jersey Devils