When the Ottawa Senators announced back in September that they would not be offering veteran netminder Craig Anderson a new contract, the speculation about who the team would target instead began. Matt Murray had long been rumoured to be available on the trade market due to a lackluster few seasons for the Pittsburgh Penguins. 
While there were plenty of options on the trade and free-agent market, Sens' general manager Pierre Dorion elected to pull the trigger on a trade for the 26-year-old, two-time Stanley Cup champion. The price was reasonable, and they'd sign him to a four-year contract worth $6.25 million per season, locking him in as the Senators' starter for the foreseeable future.
The Numbers Say He Is Still Good
Murray has a total save percentage (SV%) of .859 in six starts, and in those six starts, he has only been above .900 once, when he stopped 37 shots against the Toronto Maple Leafs in a 3-2 loss. 
Far from ideal numbers for a team with a weak blue line, but more on that later. The 26-year-old has never played more than 50 games in a season, so his career stats should be a good way to see how he would fare with a similar workload, which will probably end up being around 35 games. 
Murray is coming off the worst season of his young career in which he lost the starting job to Tristan Jarry by having a SV% of .899 in just 38 games. His best season was 2016-17, where he started 49 games and had an SV% of .923, splitting games with Marc-Andre Fleury. 
2018-19 was the next best statistical season, which was also Murray's second season as the lone starter in Pittsburgh. It was the most shots he had faced in one season (1,594) and the second-best SV% of his career to date (.919). Essentially just two years removed from this, Murray still has it in him. He's a veteran on this team given his experience, yet he's only three years older than Thomas Chabot.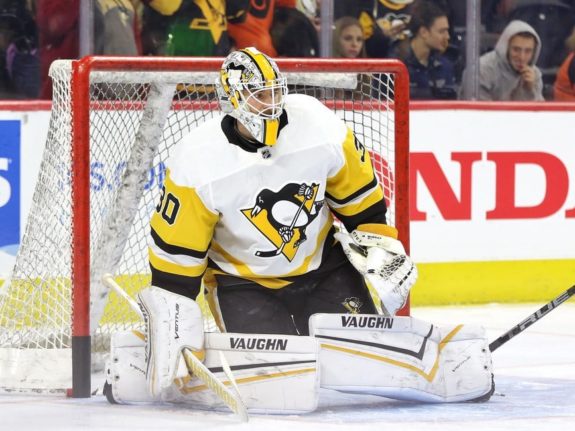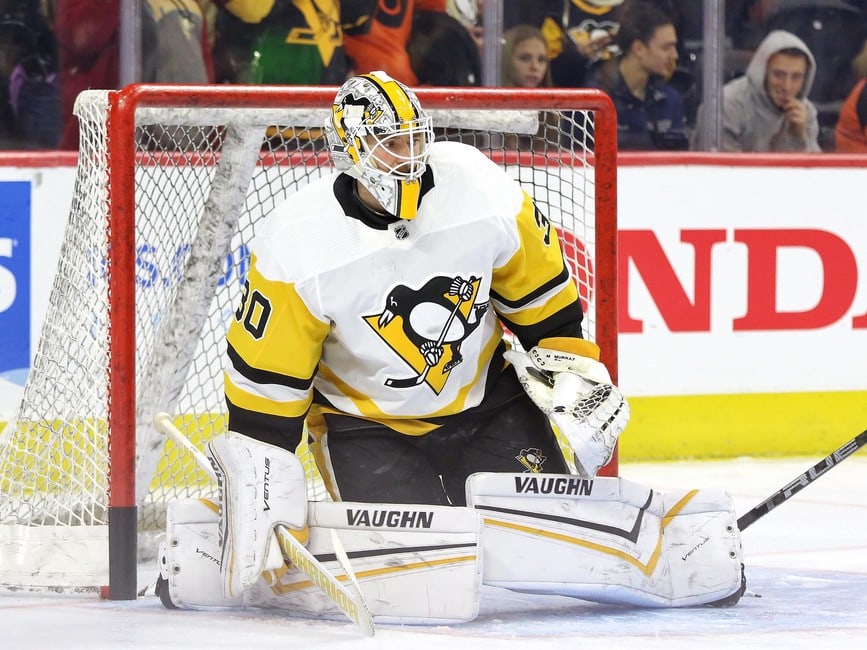 His career statistics say he is better than he has been early on this season, but only time will tell if that remains the case. 
Possession Numbers Have Been Solid
Murray has not had a lot of help so far, but that was no secret when he signed his extension with the team. This piece for subscribers to The Athletic by Ian Mendes illustrates the real reason that this team is being held back.
Many have stated that the Sens record is not very indicative of how they've played most nights, so a good indication will be the possession numbers. You have the puck on your stick, and it should stay out of your net, right? Through the first eight games of the 2020-21 season, the Sens have won only one game, the first of the season. Murray started that one, and the possession numbers were essentially split. 
The next game was dominated by the Leafs, who held the Sens to just over 30% possession, yet Murray kept them in that game with 37 saves. That is what a starting goalie needs to be able to bring every now and then. Aside from that game against Toronto, Murray has not done any favours for a Senators team that loses more confidence with every passing loss. The most glaring example of this was the 7-1 beatdown against the Vancouver Canucks. 
According to Hockey Reference, possession numbers were split even at 50% at even strength in that game. Now the Sens did take seven penalties, but the penalty kill was a perfect 7/7 that night. If the team is splitting possession, then they simply need to get more saves from their starting netminder.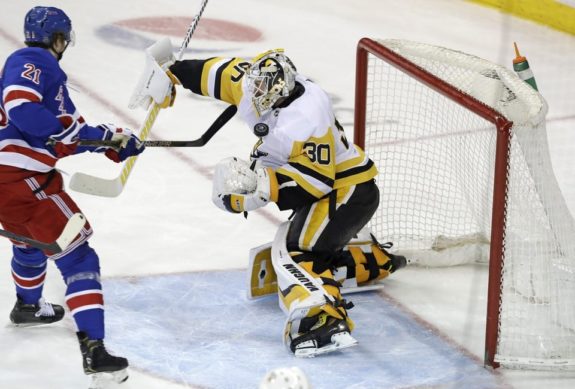 This piece was written by Ryan Shuvera after Murray's best start this season. It's crazy to think how drastically the public opinion has changed two weeks later.
He Has Put Up Elite Numbers Somewhat Recently
With the way things have gone for this team so far, it would be easy for Murray to blame bad goals on the team and the lack of defense. But he knows that he needs to improve, which is a positive sign. 
What fans need to remember is that this is an elite goaltender. He will find his groove.
There have been fans that attribute his two Stanley Cup rings to playing with a generational talent in Sidney Crosby, but Murray was instrumental in both of those runs. In the 2016 playoffs, he had a .923 SV% and a 2.08 goals against average (GAA) in 21 games. Is that good?
Even more impressively, and Sens fans will love hearing this, he officially took over for Fleury in Game 3 of the 2017 Eastern Conference Finals, which was the turning point in the series. From that point on, he rocked a .937 SV% and a 1.70 GAA en route to back-to-back Stanley Cups as a rookie.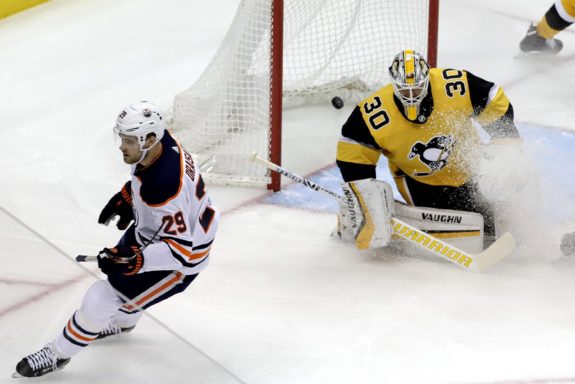 Check out this article from Dave Holcomb about why Murray should have won the Conn Smythe as the playoff MVP in 2017.
Deflating Goaltending For a Young Group
The "mini-series" against Vancouver is a perfect example of a team that is snake bitten offensively. But when that happens, they need their net minders to bail them out so they have the idea that they're "only one shot away" from making taking the game over.
But in both of Murray's starts the Canucks entered the 1st intermission with a 2-0 lead, despite the shots being 12-10 in the first period of game one in favour of Vancouver, and then 11-10 in favour of Ottawa in game three. The Sens will find their offence eventually, and one can only hope that Murray finds his game soon.
Murray is the seventh highest paid goalie in the league and a .859 SV% through his first 6 starts is ECHL stuff at the end of the day. Murray has to be better for this rebuilding Senators team to succeed, and he knows it. Patience is a virtue, though in a shortened season, it is understandable why fans might feel that the clock is ticking for him to find his game. 
Stats courtesy of nhl.com and hockeyreference.com
---
---