In this edition of Buffalo Sabres News and Rumors, Sam Reinhart and Jack Quinn were absent from practice on Jan. 29 with injuries — more on them in the Team Notes. The performance of starting goalie Linus Ullmark has eased the pressure on general manager Kevyn Adams to pull the trigger on a deal for a new netminder. If and when Adams does make a trade to improve at the position, there's a possibility now that it will be for a backup goalie as an upgrade to Carter Hutton. 
Taylor Hall's future in Buffalo is a topic of discussion in the hockey world lately, as some are wondering if he is in it for the long haul with the Sabres. His family live close by in Toronto, which could have been a reason for him signing with the Sabres, but the player's desire to win a championship might lead him to greener pastures. 
Also, there are some player milestones approaching that we will keep an eye on for you as the season goes on. There is lots to cover, so let's get to it. 
Taylor Hall's Future
Writers for Sports Illustrated's The Hockey News sat down recently to discuss intriguing trade stories to follow as the season progresses this year. One of the names that were brought up by writer Matt Larkin is Hall. 
Larkin thinks Hall's future isn't with the Sabres and that the player really wants to play for a contender sooner rather than later. He called Hall an "obvious pick" for a star player in a contract year that is likely to get traded this season. 
"It's not that I don't think Buffalo's going to improve this year, but that division is devastating," Larkin said. And he's right, making the postseason in a meat-grinder like the MassMutal East Division is going to be tough, to say the least, and some good teams that otherwise might make it in a normal year will be in tight races for a spot in the postseason by early May. "I don't know how it's going to happen for the Buffalo Sabres," Larkin added.
Should the Sabres be out of contention for one of those playoff spots near the April 12 trade deadline, they could be asking Hall to waive his no-trade/no-movement clauses to send him to a contender, and Larkin thinks Hall would be willing to make that move in order to a) make a deep push in the playoffs and b) boost his potential payout in a contract year.
Goalie Rumblings
The play of Ullmark lately has actually been pretty decent, although Sabres' fans might want to push back on that statement given that the team's record and the fact he has had a few blunders in recent games (like the Nicklas Backstrom goal on Jan. 24), he's been doing what any team would ask of a goalie most of the time.
At the time of writing, his .915 save percentage (SV%) puts him among the top 20 goaltenders in the league, ahead of some well-known keepers like Frederik Andersen, Jordan Binnington and Connor Hellebuyck. However, SV% is only as good an indicator as the sample size will allow. That means over a single season it's not very useful as a predictor of how good a goalie is, let alone after five games played. However, what it can tell you is who is hot and who is cold.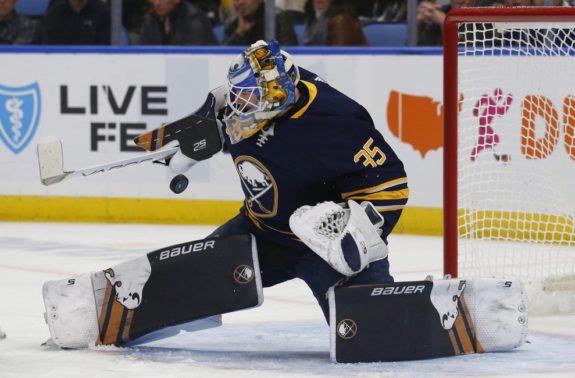 Ullmark is showing signs that he may be coming into his own as a legitimate number one in the National Hockey League. In Thursday's overtime loss to the New York Rangers, he made 10 saves for the Sabres while they were shorthanded, helping them go three for three on the penalty kill. In two games against New York this past week, Ullmark stopped a total of 17 shots while shorthanded, helping the team kill all six of the Rangers' power plays in the series and proving that old adage that your goaltender is always your best penalty killer. 
Ullmark has also reminded us as recently as Jan. 24 in a shootout win versus the Washington Capitals that he is one of the best shootout goaltenders in the league. With 27 saves on 32 career shots faced, Ullmark's shootout SV% is .844 — good enough for fourth all-time among NHL goaltenders who have faced at least 20 shots. Tampa Bay Lightning goaltender Andrei Vasilevskiy (.852) is the only active goaltender ahead of Ullmark in this category.
With that in mind, it's possible that the general manager Adams might be pursuing a backup goaltender in the coming weeks to shore up their depth behind Ullmark, rather than making a big splash to replace him as the number one. Potential targets: Darcy Kuemper/Antti Raanta of the Arizona Coyotes.
Team Notes
Sabres reporter Bill Hoppe of the Olean Times Herald reported from the 12 p.m. practice on Jan. 29 that forwards Reinhart and Quinn were absent with upper-body injuries, according to head coach Ralph Krueger. Reinhart is listed as day-to-day, while Krueger says the team would like to see Quinn spend some time with the Rochester Americans of the American Hockey League.
Sabres fans are probably already tired of watching that highlight of Jack Eichel getting exposed on an overtime 2-on-1 for Alexis Lafreniere's first NHL goal in Thursday's loss against the Rangers. But they'll likely have to live with that one for some time to come. And while it's heart-wrenching to see the team continuously push games into overtime and not be able to perform a full 60 minutes, the upside is that the Sabres now have a four-game point streak going (2-0-2).
Reinhart was also a bright spot in the loss to the Rangers. His two-point night playing on the top line with Eichel and Hall was his second multi-point game already this season. The team is 42-7-9 when he records at least two points. 
Eichel also had a goal in that game, moving him past Jochen Hecht for sole possession of the 19th spot on the Sabres' all-time goal-scoring list. He trails Drew Stafford by 18 goals for the 18th spot. Eichel finished the game tied 11th in the league with nine points (two goals, seven assists) in eight games. 
Victor Olofsson recorded an assist on Reinhart's goal in the loss to the Rangers, extending his point streak to a team-best four games (one goal, three assists). 
Player Milestones Approaching
There are some player milestones approaching that are worth noting. 
Cody Eakin is six games away from playing his 600th of his career.
Curtis Lazar is eight games away from playing his 300th career game. 
Six more wins this season for Carter Hutton, and he will have reached the 100-win mark for his career. 
With eight more points, defenseman Brandon Montour will have 100 career points. 
One more assist for Riley Sheahan and he will have reached 100 career assists.
Four more goals for Kyle Okposo and he will have reached the 200-goal mark in his career.
A number of player milestones were recently accomplished, including:
100 career NHL games for Linus Ullmark on Jan. 24 versus the Capitals.
Dylan Cozens had his first NHL goal on Jan. 22 versus the Capitals.
Rasmus Ristolainen played his 500th career NHL game on Jan. 26 versus the Rangers.
---
---
Mike Carter is a freelance writer and contributor for the Buffalo Sabres with The Hockey Writers and NHLTradeRumors.Me He is @mikecarterlives on Twitter. Mike has been writing professionally since 2012, with stints as a reporter in northern British Columbia and Edmonton, Alberta. He now calls Salmon Arm, B.C. home.