The Ottawa Senators have scratched and clawed their way out the basement of the NHL standings. Sunday night's shootout win on the road against the Calgary Flames was the Sens' fifth win in their last eight games. They closed out a five-game stretch against the Flames with three wins.
With a 9-17-1 record and 19 points, the Senators moved up from 31st, a position they held for most of the first six weeks of the abbreviated season, to 28th. They are one point ahead of the New Jersey Devils, but the Devils have six games in hand. Ottawa is also two points ahead of the Detroit Red Wings, who lost three in a row after Sunday night's action. The Red Wings also hold a game in hand.
In last place are the Buffalo Sabres. They are four points behind Ottawa with four games in hand, but they are also on a seven-game losing streak, and it doesn't look like it's going to get any better for them in the immediate future.
Improved Penalty Kill
During their early-season struggles, Ottawa's Achilles heel was their penalty kill. Teams were pumping power-play goals past goalies Matt Murray and Marcus Hogberg at an alarming rate.
Against the Flames on Sunday night, a much-improved penalty kill stole the victory for the Senators. It was a welcome turnaround. In their previous four games, the team had allowed four goals in 11 power-play opportunities. In last week's game against the Canadiens, which was sandwiched in the middle of the five games against the Flames, the Habs notched two power-play goals in a 3-1 win.
Calgary scored just one goal in eight power-play chances on Sunday, including a four-minute man advantage late in the second period when Thomas Chabot was given a double minor for high-sticking. Yes, the young stars have been in the spotlight for most of Ottawa's wins this season. On Sunday, Drake Batherson scored the shootout winner, and Tim Stützle also scored in the shootout. But, make no mistake, this game was won by the players who rolled up their sleeves and killed off penalties.
The Flames had nearly 15 minutes of power-play time in Sunday's game. The Senators had less than four, which had coach D.J. Smith barking at the officials on his way off the ice after the win. In the one power-play opportunity the Sens might have had in the third period, Stützle was tripped but was also sent off for embellishment.
The heroes were forwards Austin Watson and Nick Paul, who each played more than eight minutes on the penalty kill. Chris Tierney and Connor Brown were also very effective. Defensively, Nikita Zaitsev played more than seven minutes on the penalty kill, and Artem Zub had his best game in shorthanded situations.
"We have spurts where we feel like we're going really well," Ottawa forward Chris Tierney said last week about the penalty kill. "Then we have a game or two where we have a couple of mental lapses and two or three end up in the back of our net. It kind of kills your momentum."
After the Calgary game, the Senators have improved to 23rd in the league on the penalty kill with a 75 percent success rate. Talking to the media after the game, Smith praised his penalty-killing unit, saying their compete level was outstanding.
"Taking that many penalties in the third had us hemmed in and we couldn't get any rhythm going on the bench, but we stayed with it," Smith said.
Brannstrom's Ups and Downs
Don't read too much into Erik Brannstrom's constant movement on the transaction ticker. The Senators have been moving him on and off the taxi squad, demoting and then recalling him the following day. Does that mean he is being benched or sent down to the minors? Not at all. It's a standard cost-saving measure that's been used for years.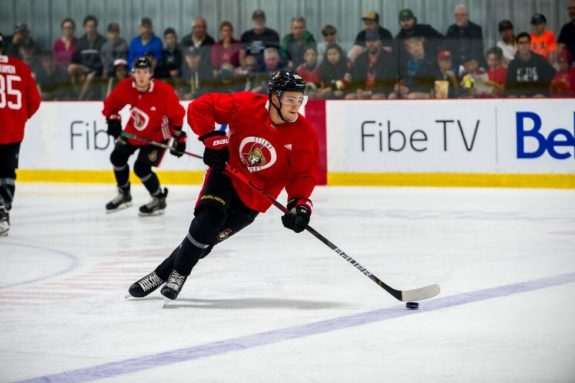 And don't read anything into the fact that Brannstrom was barely on the ice for the second half of Sunday night's game when he finished with only 5:19 of playing time. That wasn't a benching but had to do with the situation. Brannstrom is not used on the penalty kill, and for the better part of the third period, Ottawa was shorthanded due to the barrage of minor penalties called against them.
Hot and Cold
Colin White scored his seventh goal of the season Sunday night. After being a healthy scratch early in the season, he has 12 points in 23 games.
Ryan Dzingel scored in his first two games since returning to the Senators. Along with the two goals he scored in Carolina before the trade, Dzingel has four goals in 11 games. He scored only eight goals all of last season.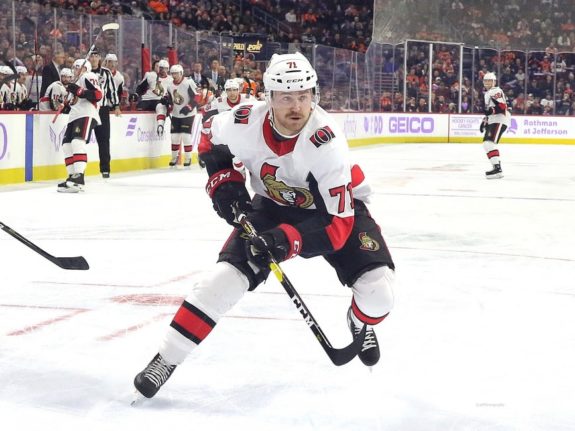 Evgenii Dadonov has seven goals and two assists in 27 games this season. Although he had a hot streak last month, he has not provided the offence the Senators need and expect from him. One of the reasons he was brought in was to help Ottawa's struggling power play. So far, he has just one assist with a man advantage.
Tierney, who has three goals and seven assists in 27 games, has not scored in his last 22 games. Last season, he had four shorthanded goals to tie the NHL lead. This season, he has none.
Oilers Next Up
The Senators have travelled north from Calgary and will take on the Edmonton Oilers for three straight games. They are 0-4 against Edmonton this season.
With the Oilers' explosive offence, Ottawa will have to stay sharp defensively and they will have to continue their strong play on the penalty kill. They will also have to get solid goaltending from Murray and Daccord. The Sens cannot afford to fall behind early like they have done so many times this season.
---
---
Jeff Morris has been a hockey writer for more than 30 years. He began his career working for small town newspapers in Eastern Ontario before becoming the editor of Canadian Sports Collector magazine in St. Catharines, ON. While there, he also freelanced as a Buffalo Sabres beat writer. Morris would move on to Dallas to become the NHL brand manager at Pinnacle Brands, Inc. From there, he worked in the sports trading card and collectibles division at Shop At Home TV in Nashville and Denver, and then moved to Seattle to be the VP of Marketing at Pacific Trading Cards, Inc. in Seattle. He had continued to cover the NHL as a freelance writer, and while in Seattle, he became a weekly hockey columnist for ESPN.com. During the 2005 NHL lockout, he returned to Ottawa and became a newspaper and magazine publisher and editor, and was also an NHL contributor for Fox Sports Radio. He also began covering the NHL for Hockeyology.com, and also covered the Ottawa Senators for his own publications. He went to Carleton University to study journalism, and graduated as the school's all-time scoring leader in football and was a conference all-star three times. He had several pro tryouts and played semi-pro football for 10 years while pursuing his career as an NHL writer. He remains involved in football as a coach and referee, and is a Canadian Football League off-field official.