A lot has changed in the last few weeks. The Ottawa Senators went from having two experienced goalies to having to rely on two rookies after both went down with long-term injuries, traded away Tyler Motte for Julien Gauthier and a draft pick, implying that they were going to be sellers at the deadline again, then blew everyone away by acquiring Jakob Chychrun from the Arizona Coyotes for just three draft picks.
What hasn't changed is the Senators' prospect pool, which looks stronger than ever. Not only did general manager Pierre Dorion keep his top-three prospects in Mads Sogaard, Ridly Greig, and Tyler Kleven, but not a single prospect was dealt en route to the team becoming a legitimate threat to make the playoffs. A lot will have to go right for them to continue to play into April and May, but there is no doubt that the rebuild is finally over.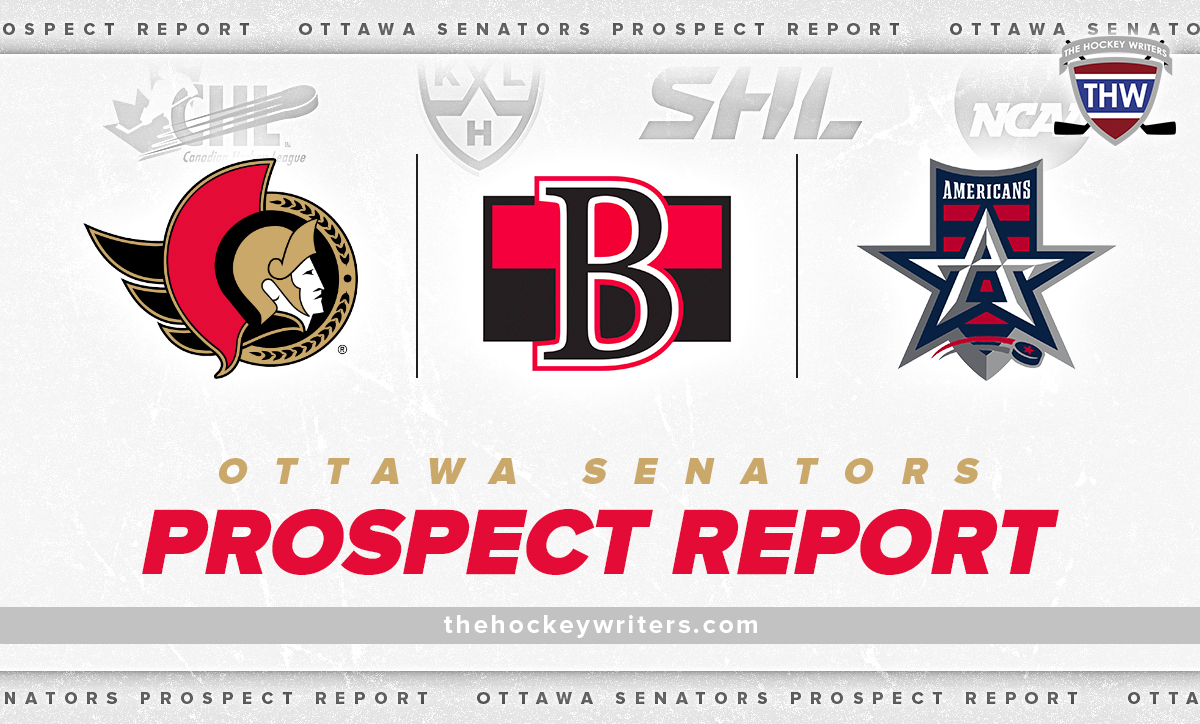 What does that mean for the team's top prospects looking to snag a roster spot in the near future? While the top-six is locked up, there will be a few spots opening up in the coming months, as a few contracts are expected to come off the books, those being goalie Cam Talbot, defencemen Travis Hamonic and Nick Holden, and forwards Derrick Brassard, Dylan Gambrell, and Austin Watson. Not all of them will leave, but there are certainly a few prospects who the Senators will have to think long and hard about before they make their final decision.
Kevin Mandolese
Mandolese often gets the short end of the stick when it comes to Senators' goaltenders. The 2018 sixth-round pick has had to fight for any playing time since turning pro in 2020, starting as the backup with the Belleville Senators in the American Hockey League (AHL) before spending some time with the ECHL's Atlanta Gladiators and Allen Americans. To date, he has yet to play more than 23 total games in a season, nor has he had a winning record before his 2022-23 ECHL stint.
So when he was called up to Ottawa on Feb. 14 to start his very first NHL game, replacing the injured Anton Forsberg, not a lot was expected of him. Yet, Mandolese stood on his head in his debut, setting a record for the second-most saves in a victorious debut, making 46 saves against the New York Islanders. Even though he lost his next start, a Feb. 20 game against the powerhouse Boston Bruins, his .938 save percentage leads the Senators so far this season.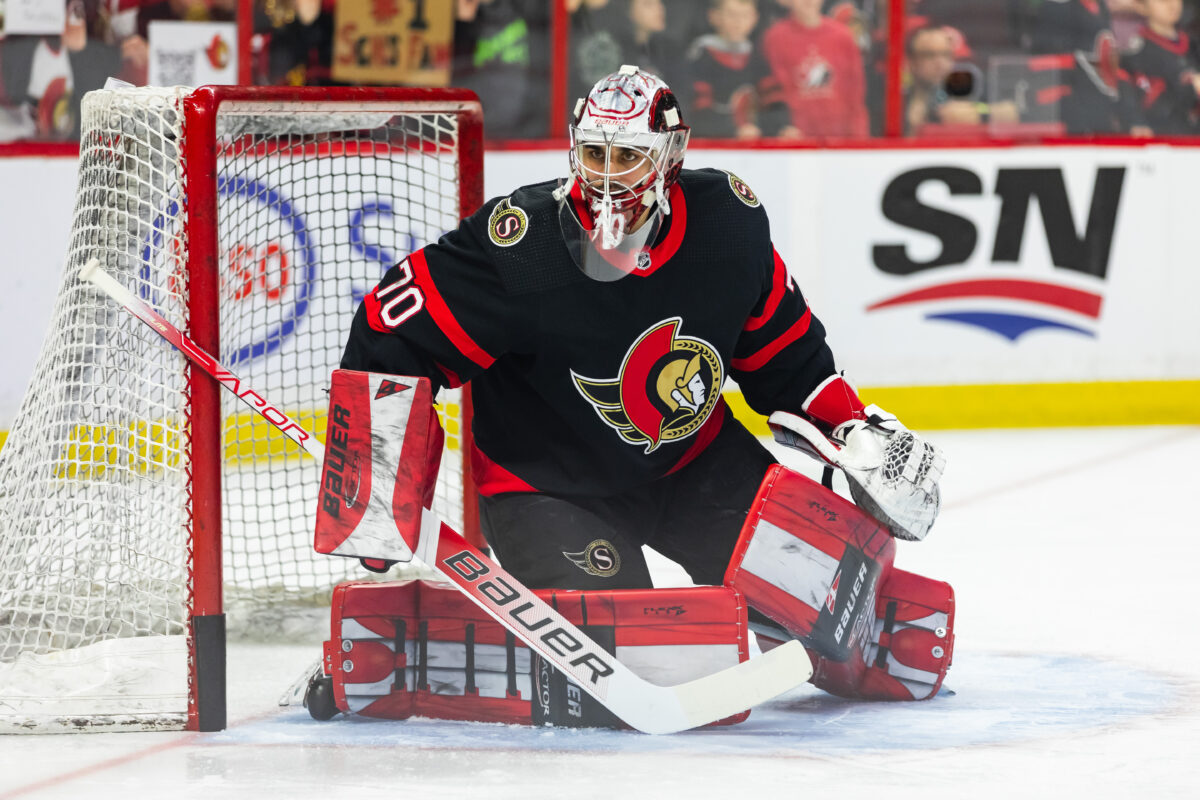 Mandolese's performance has drawn many comparisons to another rookie goalie that emerged as a surprise starter for the Senators — Andrew Hammond. Both goalies started their careers as low-risk additions and were forced into action after a season-ending injury took out one of the team's starters. But what Mandolese has over his counterpart is that he is five years younger and has plenty of time to grow into his 6-foot-5 frame. In his draft year, Marc-Andre Dupont, his head coach with the Cape Breton Screaming Eagles, said, "When you want to know someone's attitude, you look at his actions, and in this case, it's clear that Kevin is doing everything he can to become the best goalkeeper possible."
Even though Mandolese doesn't have higher potential than his rookie partner, Mads Sogaard, his recent performances have some believing that Ottawa could move Cam Talbot and comfortably run with the two rookies to finish the season. Maybe he can even capture some of Hammond's spirit and propel the team to the playoffs.
Egor Sokolov
If people aren't paying attention to Egor Sokolov yet, they should be now. Belleville's top scorer this season led the North Division in scoring at the All-Star Tournament with two goals and an assist and helped the East Conference win the puck-control relay at the Skills Competition. That's an impressive feat for a first-time all-star, but Sokolov took time to enjoy every moment, saying, "It's good sometimes to just have fun on the ice rather than compete."
That humble, genuine demeanour has helped make Sokolov a fan-favourite in both Belleville and Ottawa, but it hasn't hurt that he also was one of the Senators' most productive players over the last two months. In January, he led the team with nine points in 11 games and was second with four goals despite losing seven times, then scored four more in February as the team improved their record to six wins in 11 contests.
The Senators have struggled this season with getting offensive support from their bottom lines. With a few contracts expected to come off the books this summer, Sokolov has an excellent chance to take one of those roles. He's proven that he's an all-star at the AHL level, and while it's unlikely he can repeat that in the NHL, he certainly looks like he has the tools to become a valuable bottom-six scorer.
Stephen Halliday
The Senators' scouting staff has become notorious for picking overage players in the mid-rounds of the NHL Draft. And for the most part, they've done well with that strategy, ending up with Sokolov, Viktor Lodin, and Mark Kastelic. But they may have hit a home run with one of their latest additions. Stephen Halliday, a 20-year-old fourth-round pick from last year's draft, was listed as a player to watch for the Tim Taylor Award. The trophy is given annually to the best rookie across all college conferences and includes past winners such as Devon Levi, Thomas Bordeleau, Clayton Keller, and Jack Eichel.
Halliday has had an incredible first season with the Ohio State Buckeyes. Before the new year, he had a very respectable 12 assists and 17 points in 20 games. But since Jan. 1, he's hit a new gear, scoring 14 assists and 17 points in just 14 games. That puts him first among Buckeyes and 30th across the NCAA with 26 assists and 34 points in as many games.
Related: Grading the Senators' Blockbuster Trade for Chychrun
---
Latest News & Highlights
---
While Halliday has been one of the best NCAA rookies this year, he has some steep competition for the award. Also listed among the players to watch were Adam Fantilli, the projected number-two pick behind Connor Bedard this summer, as well as former first-round picks Jimmy Snuggerud, Logan Cooley, and Cutter Gauthier, all of whom have been over a point-per-game with their respective teams. But if Halliday can help Ohio State claim its first Big 10 Conference title, that would give him a huge leg up on his competition. The Buckeyes take on Penn State on March 3 to open up the first round of the playoffs, and Ohio State's star rookie will hopefully be on full display.
Tyler Kleven
There were several surprising aspects to the Chychrun trade. Not only did the deal happen after being rumoured for over a year, but the cost to acquire him was nowhere near the rumoured asking price. But maybe one of the most surprising was Dorion's comments to TSN 1200 after the trade regarding his top-three prospects. Few fans would disagree that Greig and Sogaard are unmoveable at the moment, but you would be hard-pressed to find someone who would have added Kleven to that group. Yet, Dorion seemed the most ecstatic over the towering defender, saying, "I have two kids, and if I could adopt a third one, it would be Tyler Kleven. That's how impressed I was with him."
Comparing the three doesn't feel very fair. Sogaard, a second-round pick in 2019, has been an incredibly capable replacement for Forsberg and Talbot and was named the Rookie of the Month for February. Greig, the 30th overall pick in 2020, made his NHL debut on Jan. 25 against the Islanders, where he recorded an assist and eight shots on goal. Kleven, on the other hand, was a 2020 second-round pick, has yet to play a single NHL game, doesn't project to be more than a bottom-four pairing player, and has just 15 points as a junior with the University of North Dakota.
But that may be a bit of an understatement of Kleven's abilities. The UND defender is a bone-crushing hitter, which has made him a fan-favourite but also gotten him in trouble more than a few times; he has been assessed seven game misconducts over two seasons, including two in two weeks in February. He also has a booming slapshot that has developed into a true weapon this season, helping him put up his best offensive performance of his career. His six goals and 15 points may seem low, but it's the second-highest total among defenders on his team.
"He's had a good season overall. There's offensive ability to Kleven's game that he's just starting to unlock right now. I don't think that would have been the case if he turned pro last year, so I think this has been a vital development year. He has potential to be so much more than just a shutdown defender."

Brad Schlossman (from 'Senators mailbag, part 2: Ideal ownership, Tyler Kleven update, theme song origin,' The Athletic – 08/02/2023).
With his offensive weapons starting to show more frequently and paired with his solid 6-foot-4 frame, Kleven has drawn some comparisons to Dustin Byfuglien. The former Winnipeg Jets' blueliner was one of, if not the toughest player in the NHL during his career and virtually impossible to move if he didn't want to be. It's clear that the Senators are expecting him to at least channel that sort of playstyle, and he'll likely get the chance to do so at the NHL level at the end of this season. Like Jacob Bernard-Docker and Shane Pinto, there's a good chance he turns pro after the college season ends, which will give the Senators a deadly defensive unit now that Chychrun is part of the core group.
5 Prospects to Watch
Even after becoming buyers at the deadline for the first time in years, the Senators have kept every one of their prospects. It's a testament to their development philosophy and should start to pay massive dividends in the coming years. Here are a few more prospects who have been on top of their games in the new year.
Tyler Boucher finally returned to the Ottawa 67's since going down with an injury at the World Juniors in January. After starting with nine goals and 15 points in his first 17 games, suspensions and injuries have once again derailed a promising season, but he currently has three points in his last three games.
Zack Ostapchuk has been solid with the Winnipeg ICE, putting up 16 points in his last 15 games. With the team looking to make a deep playoff run, he'll be able to show his full value as a leader and two-way forward.
Leevi Merilainen has been one of the best goalies in the Finnish Liiga this season. In 38 games, he has a 1.85 goals-against average and a .923 save percentage, as well as a league-leading eight shutouts. With the Senators fairly comfortable in net at the moment, he'll likely remain in Finland for the next couple of seasons, but it will be fascinating to watch for when he returns to North America.
Angus Crookshank has quietly become Belleville's top goal scorer. Although he has just 32 points in 53 games this season, 19 of those points are goals, which ranks 29th in the AHL. It's been a slow journey back from missing all of last season with a knee injury, but he's demonstrating a high level of skill that is sure to continue to improve. All he has to do now is stay healthy.
Roby Jarventie is also demonstrating some serious goal-scoring chops, scoring six goals in his last six games with Belleville. Like Boucher, he too has missed much of the season with injuries, but he has hit the ground running since returning.
That does it for another edition of the Senators Prospect Report. As the season winds down and Ottawa continues to fight for a playoff spot, it's unlikely that many prospects are brought up apart from injury replacements. That's great news for fans, though, as they'll be able to see some fantastic hockey being played for the rest of 2022-23 and onward into the next several years.
---
---