With the 2023 NHL Trade Deadline less than a week away, the Ottawa Senators remain in a muddy position with their starting goaltender, Cam Talbot. Acquired from the Minnesota Wild a week after the 2022 Draft for prospect Filip Gustavsson, the veteran netminder was expected to stabilize the Senators' shaky crease. However, thanks to the team's porous defence and a slew of minor injuries, he's struggled to repeat his All-Star-worthy 2021-22 season.
Talbot reportedly turned down a recent extension offer, so trade talks have ramped up. While it doesn't necessarily mean he wants out, it certainly opens the door for a potential move, especially now that Mads Sogaard is starting to show some potential as a starter. It's unclear whether general manager Pierre Dorion feels confident enough to ride two rookie goalies for the rest of the season, regardless of their performance, but there's no question that there is a market for experienced goalies on expiring deals who know how to handle playoff pressure.
But what could the Senators get if they decide to trade Talbot? Moving veteran netminders is nothing new, and usually, they don't fetch much, but with the wild-card race in both conferences separated by just a couple of wins, Ottawa has an opportunity to capitalize on a trade market that is lacking talented goalies.
---
---
What Would a Talbot Trade Look Like?
The 2022-23 season has been rough for Talbot. In 29 games, he has a record of 12 wins, 14 losses, and one overtime loss, along with a 0.905 save percentage (SV%), his worst numbers since 2018-19. It certainly wasn't what the Senators thought they were getting when they acquired the typically consistent netminder, who in 2021-22 had 32 wins, 12 losses, a 0.911 SV%, and, to top it all off, an All-Star selection.
Talbot's former teammate Marc-Andre Fleury had a similar experience last season at the deadline. The Wild, hoping to make a big playoff push, acquired the 37-year-old from the Chicago Blackhawks, where he had put up an uncharacteristically subpar 19-21-5 record and a 0.908 SV%. Had the Wild made it to the Conference Final, the second-round pick would have become a first-rounder, but that never came to be as Minnesota fell to the St. Louis Blues in the first round.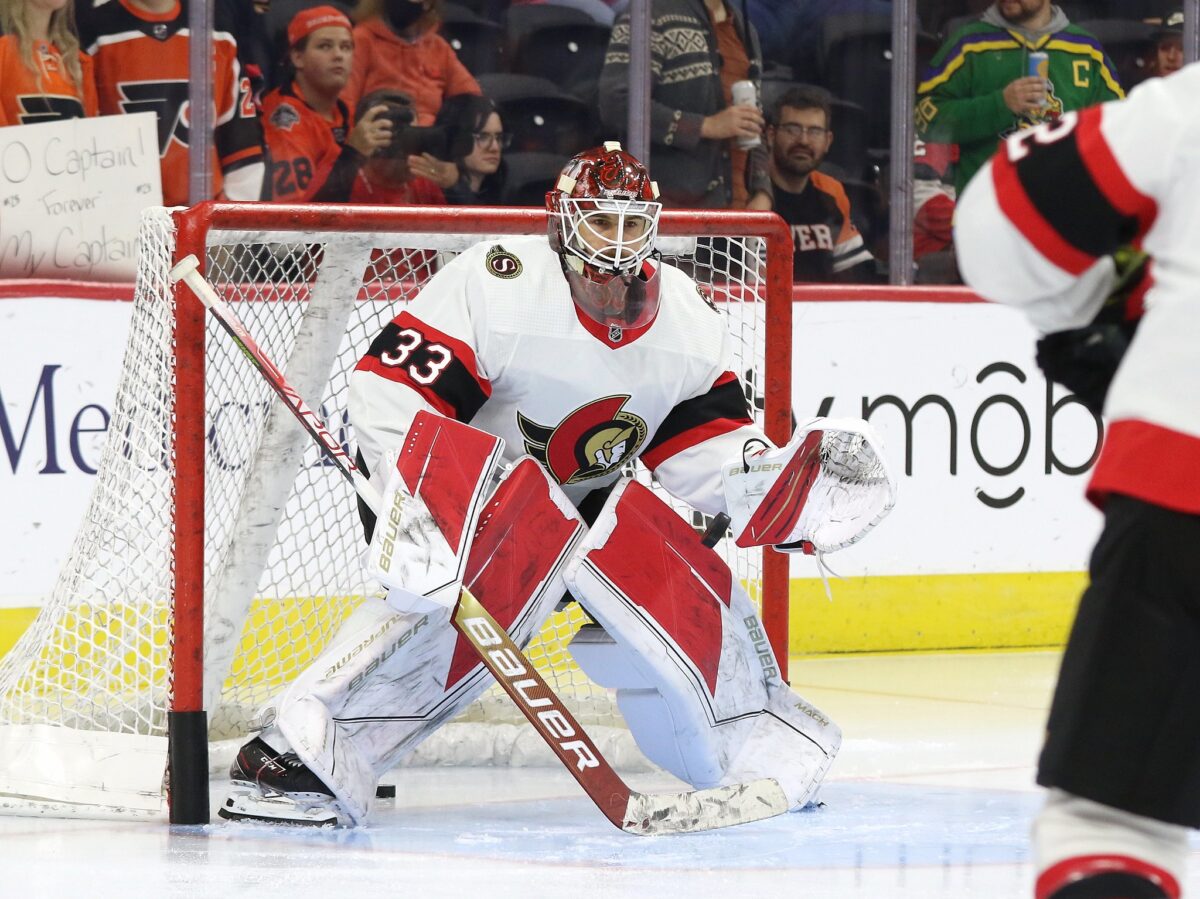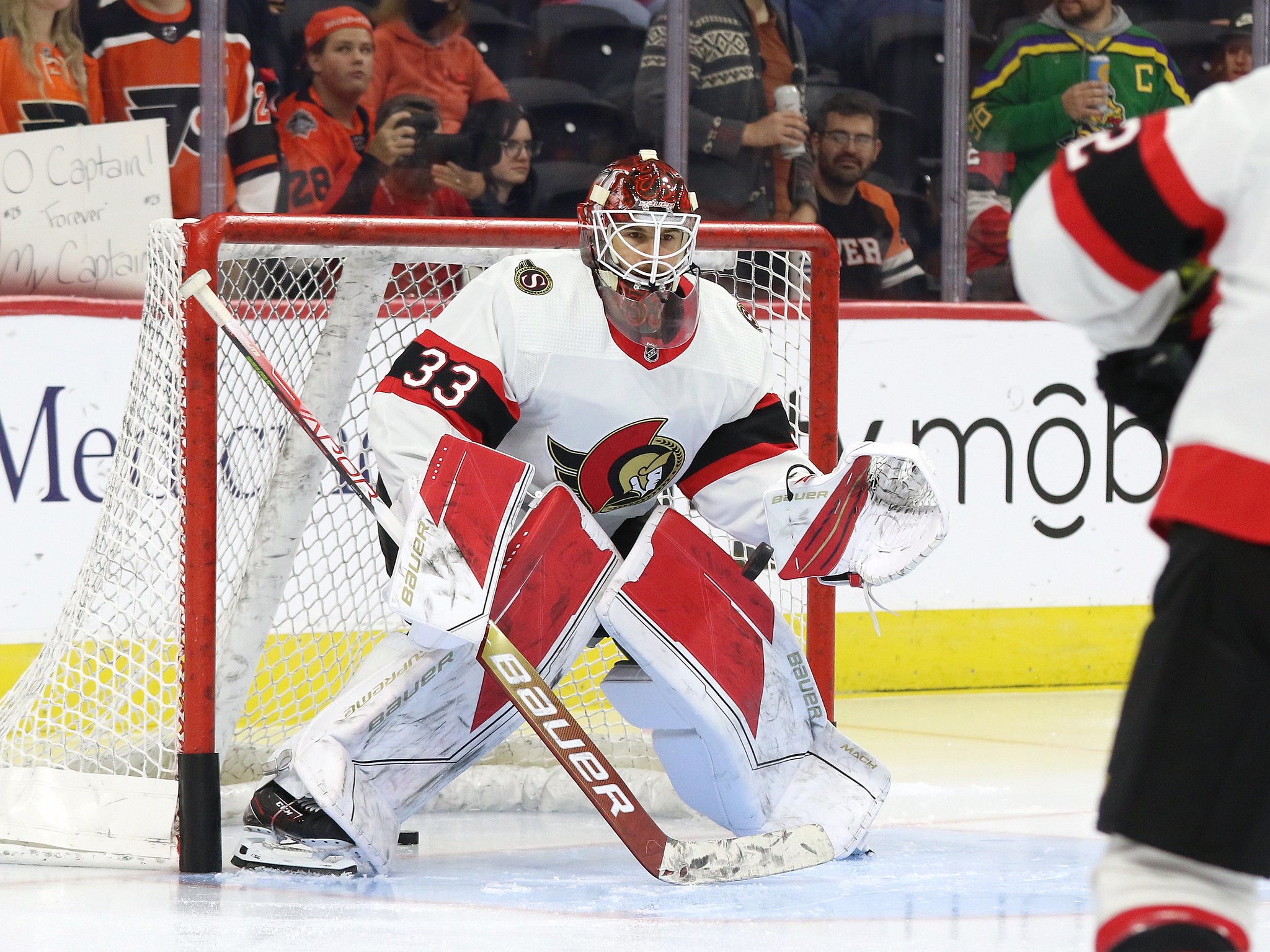 Although the two goalies check a lot of the same boxes – over 35 years old, a history of consistency, and a recent downturn in their stats – Fleury has a better reputation around the league; he's almost certainly a future Hall-of-Famer, meaning that a second-round pick may be a bit unrealistic for Talbot in a one-for-one situation. Instead, the return may be more similar to Scott Wedgewood, who was acquired from the Arizona Coyotes at last year's deadline by the Dallas Stars for a conditional 2023 fourth-round pick, which became a third-rounder when the Stars qualified for the playoffs. Although a bit younger, at 29 years old, he had a 10-14-3 record with a 0.909 SV% in 29 games in 2021-22.
However, the Wedgewood deal still doesn't seem like a perfect comparison, as he has only played more than 20 games in a season once in his career, that being last season. To find the closest comparable trade, we have to go back to the 2019 Deadline, when the Oilers traded Talbot to the Flyers for goalie prospect Anthony Stolarz. That season, at 31 years old, Talbot appeared in 31 games and posted a 10-15-3 record while recording a single shutout. While his SV% was much lower then than it is this season at 0.893, it's likely the most realistic return fans can expect. That sets the base value for Talbot at a mid-tier prospect, barring any sort of salary retention.
Vegas Golden Knights
At this time, four teams have been rumoured to be interested in Talbot, and the one that makes the most sense is the Vegas Golden Knights. The team is in desperate need of a starting goalie after rookie phenom Logan Thompson recently landed on injured reserve, joining Robin Lehner, who has been on LTIR since last season and forcing the Golden Knights to rely on a tandem of Adin Hill and Laurent Brossoit – not ideal for a team currently ranked first in the West.
Related: NHL Trade Bait List for the 2023 NHL Trade Deadline
---
Latest News & Highlights
---
With just over $7 million in LTIR cap space, Vegas could easily afford Talbot's $3.67 million this season without any retention, which opens up plenty of options for the Senators. The Golden Knights have two third-round picks this year, whereas the Senators don't have any, meaning a deal could be fairly easy here, but Vegas doesn't have a first or second-round pick in 2023, which may make them hesitant to part with any draft capital. Instead, Ottawa could look to goalie prospect Carl Lindbom, who was Sweden's starter at the 2023 World Junior Championships.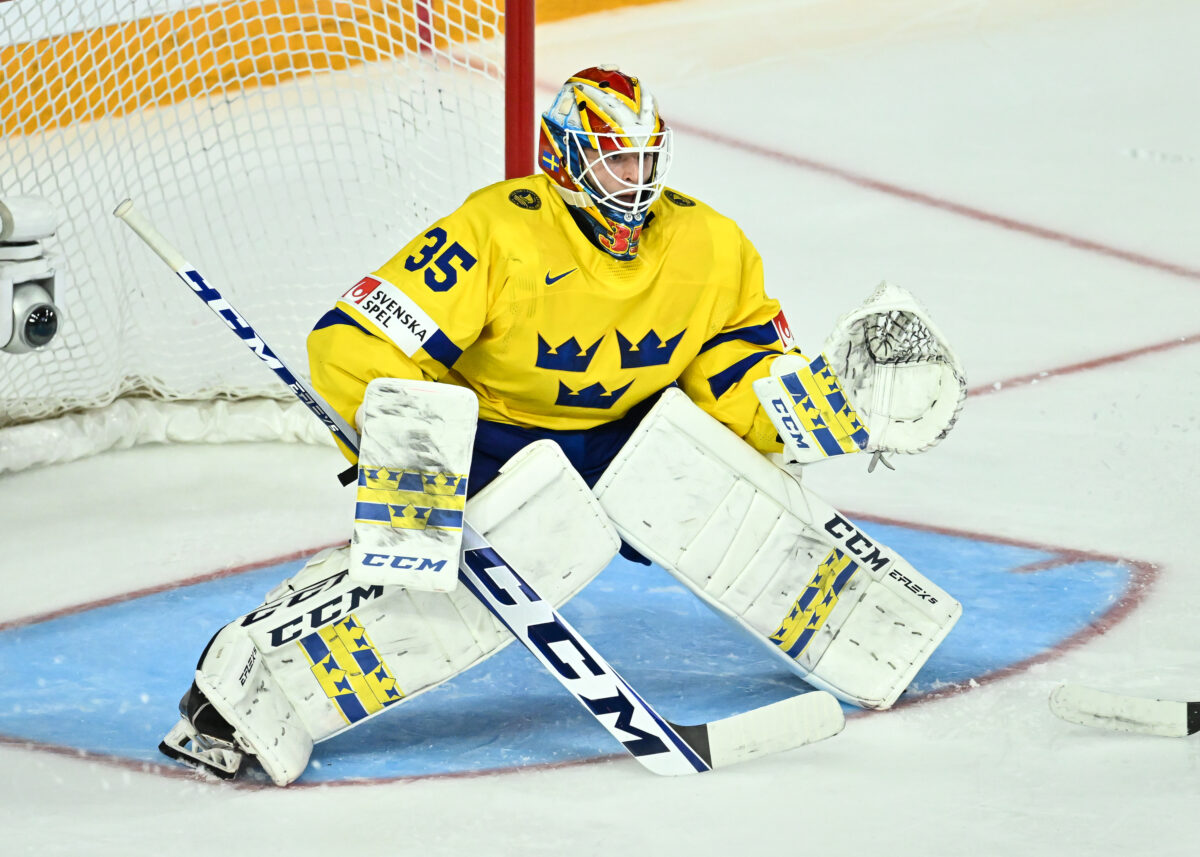 But Lindbom doesn't really address a need, especially with Sogaard and Kevin Mandolese playing as well as they are. Instead, if Dorion can retain salary or add in a prospect, he could target someone like right-handed defenceman Kaedan Korczak, who could provide some defensive depth that the team lacks. Pavel Dorofeyev or Jonas Røndbjerg are also interesting options, as the two have performed well in their couple of call-ups to Vegas this season. They don't have the toughness of, say, Keegan Kolesar, but they bring more puck control to a bottom-six that has few offensive weapons.
Los Angeles Kings
Another team rumoured to be interested in Talbot is the Los Angeles Kings, who have been riding Pheonix Copley's hot streak this season while long-time starter Jonathan Quick has taken a step back. However, even though the Kings sit second in the Pacific Division, Copley has just a 0.902 SV%; adding a consistent goaltender as the team gears up for the playoffs would give the rest of the team much more confidence in making a deep run.
Unlike the Golden Knights, the Kings have draft picks to part with but not the cap space, meaning the Senators may have to retain some salary to make the deal work. That shouldn't be a problem, though, as that will drive up the price to a second-round pick or a more established player to make the money work. Both Sean Durzi and Matt Roy have been connected to the Senators in the past, so maybe a Talbot deal finally gets the team the top-four right-handed defenceman they've been looking for. Another piece will certainly be required, such as a prospect like Lassi Thomson, but that's a small price to pay for a more complete roster.
Calgary Flames
Are the Calgary Flames looking for help in the net? The team is just four points out of the last wild-card spot in the West, and although nearly every part of the roster has struggled, the goalie tandem of Jacob Markstrom and Dan Vladar has been among the worst. Neither player owns an SV% over 0.900, meaning that if they had more consistent goaltending, maybe they could clinch that last playoff berth.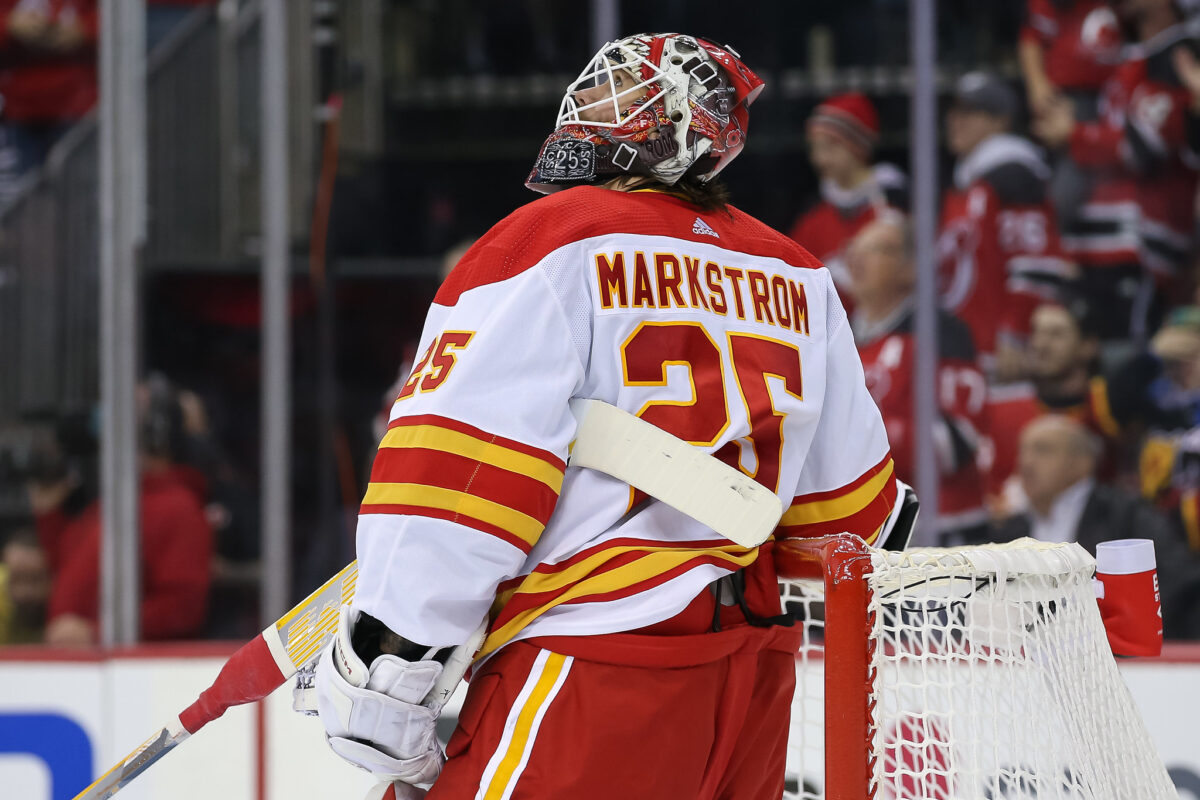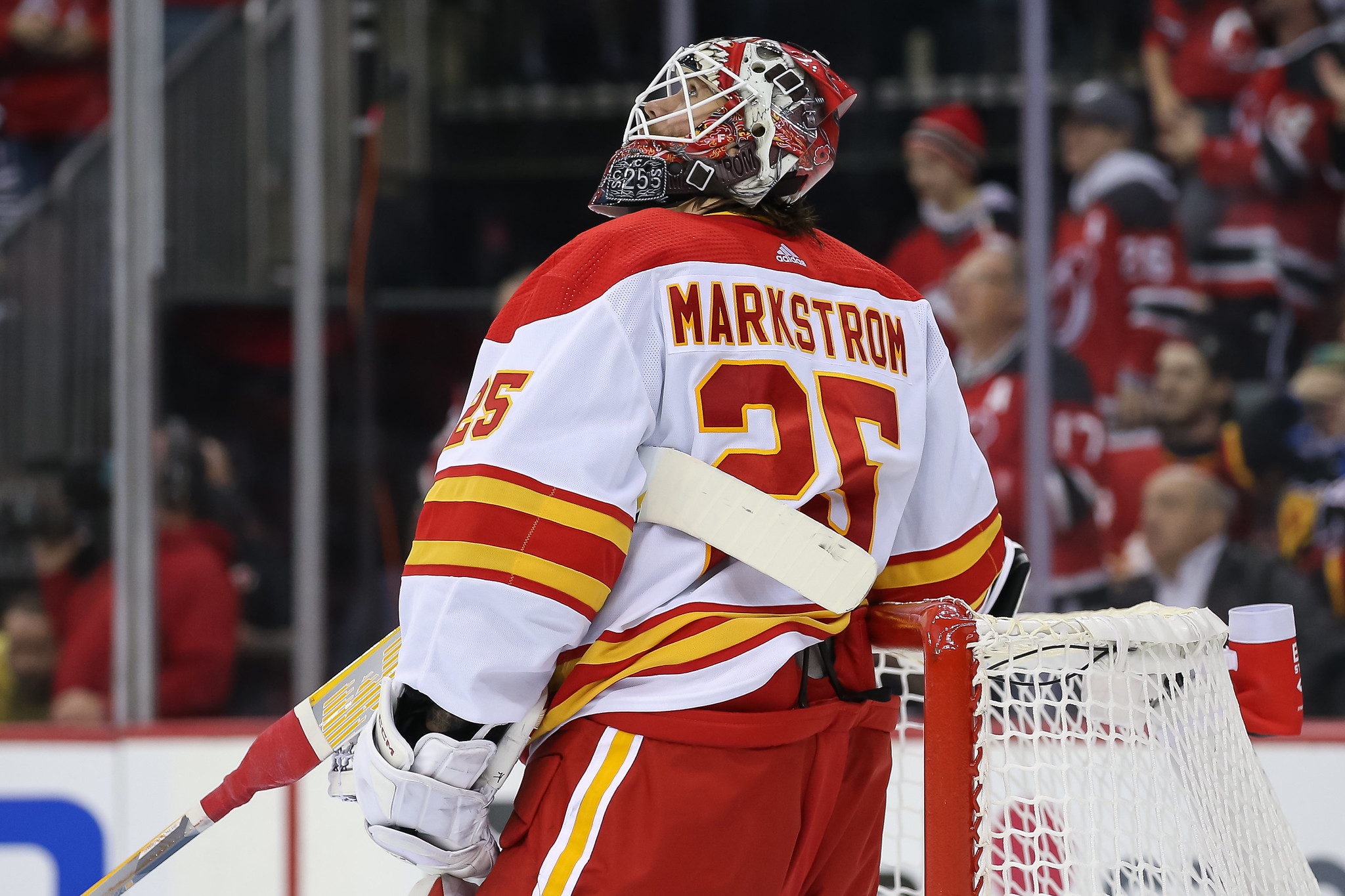 Talbot is no stranger to the Flames, as he spent a season with the team in 2019-20. He did well there, too, putting up a 0.919 SV% and helping them get past the play-in round, defeating the Winnipeg Jets three games to one before falling to the Stars in round one. Although Calgary doesn't have the cap space to accommodate his contract, the Senators could retain part of Talbot's $3.67 million to get a second-round pick back since the Flames don't have a third-round selection.
However, the Senators have reportedly inquired about MacKenzie Weegar, who could be available at the deadline after a disappointing campaign thus far. The right-handed defender is set to make $6.25 million in 2023-24 and is under contract until 2030-31, but after just 18 points in 59 games, the Flames may be seeking an early exit from the deal. He won't come cheap, but Ottawa has plenty of young, promising prospects to offer up, like Tyler Boucher, who could likely find success in a Darryl Sutter-led team.
Buffalo Sabres
The last team connected to Talbot is the Buffalo Sabres, who, like the Flames, are just outside the playoff picture and looking to make a big push to close out the season. Unlike the previous three teams, though, the Sabres have had pretty decent goaltending this season from former Senators' starter Craig Anderson, who sits at a 0.920 SV% after 20 contests. But, at 41 years old, his age is showing, and he has been unable to play a starting role. Rookie Ukko-Pekka Luukkonen has done admirably as a secondary option, but with a 0.894 SV%, Buffalo needs him to step up if they're going to be a playoff team.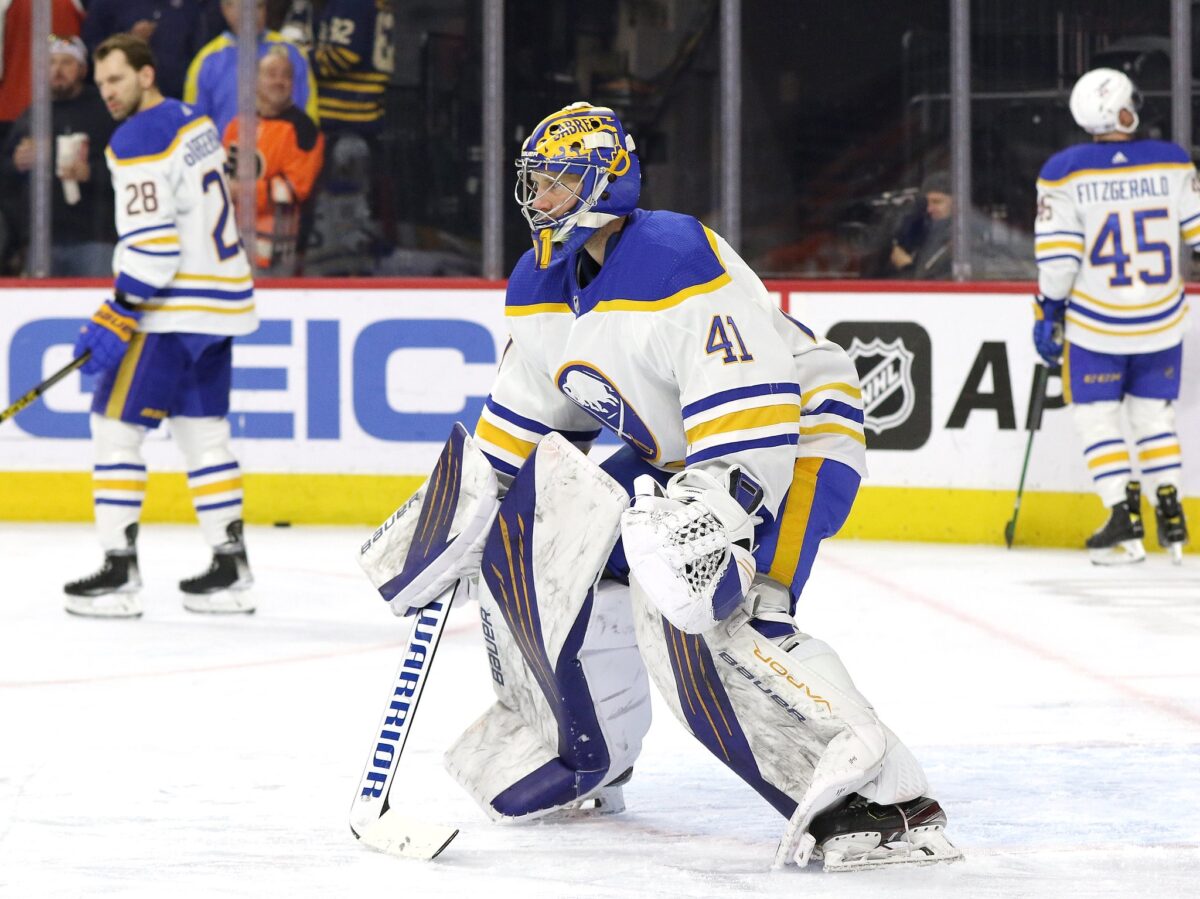 That's where the Senators come in. The Sabres are loaded with second-round picks, with three in this year's draft, and have tons of cap space, so they can out-bid other teams if there is competition for Talbot's services. The issue, however, is that Buffalo is a division rival, and with the Senators also hunting down a playoff spot, helping them shore up their goaltending would make it more difficult for Ottawa to make the playoffs. Logically, this trade makes the least amount of sense, even if, on paper, it could work out for both sides.
Senators Have Options in the Trade Market
After dumping Nikita Zaitsev to the Blackhawks and sending Tyler Motte to the New York Rangers, the Senators are once again shaping up to be sellers at the deadline, placing Dorion in the enviable position to pick and choose what he wants to do in the next few days. With few goalies on the market, moving Talbot could be an opportunity to address a crucial issue and could mean getting back their second-round pick, adding another valuable depth player, or even bringing in that highly-coveted top-four defender. Anything is possible at the deadline, and Dorion will once again be a general manager to watch.