Now that the NHL and the NHLPA have reached a tentative agreement to begin the 2020-21 season, the Ottawa Senators are one of seven teams that can start training camp next week, before the Jan. 13 start date. The Canadian government gave the green light for the NHL's seven Canadian teams to play out of their home rinks this season. While players can still opt-out of the upcoming season, it looks like the NHL will soon resume play.
The Senators aren't expected to do much in the North Division this year, but they are full of young talent and are hoping to give the other Canadian teams a tough time. With only a handful of roster spots available, the Sens will use the extra week of camp to evaluate their top talent and see who would fit best on the team this season.
Item One: Senators Announce 2020-21 Schedule
For the first time in 10 months, the Sens will hit the ice on Jan. 15 to take on the Toronto Maple Leafs. As part of the North Division, they will be seeing the Maple Leafs, Montreal Canadiens, Winnipeg Jets, Calgary Flames, Edmonton Oilers, and the Vancouver Canucks a lot this season. Opening night will be one of nine Battles of Ontario this season. The Senators will also see the Flames, Oilers, and Canucks nine times while taking on the Jets and Canadiens ten times.
Facing only six teams in a five-month period will be tiresome, but with few alternatives, hockey fans seem generally excited to watch these battles. Every Canadian team, aside from Ottawa, has playoff aspirations, with only four spots are available. The Sens can play spoiler a lot this season. For an organization that is in transition mode, it will be beneficial for their young players' development to play high-intensity games.
The Senators' season will end on May 8 when they face the Jets. This will conclude the 56 games played in just 113 days. You can check out the full Sens schedule here.
Item Two: Senators Acquire Derek Stepan
Shawn Simpson of TSN reported last Tuesday that the Arizona Coyotes and the Senators were working on a potential deal involving veteran centerman Derek Stepan. That deal came to fruition late Saturday night, and you can add Stepan's name to the long list of players acquired by general manager Pierre Dorion this offseason.
With a cap hit of $6.5 million, Stepan has one year remaining on the six-year deal that he signed with the New York Rangers in 2015. According to Frank Seravalli (also of TSN), most of Stepan's salary this season was already paid in signing bonus, leaving only $2 million in base salary for the Sens to pay.
Stepan has recorded 479 points in 739 games with the Rangers and the Coyotes. He spent most of his career in New York, but he still managed to consistently produce with the Coyotes in the last three seasons. The deal only cost the Sens a 2021 second-round pick, acquired from the Columbus Blue Jackets, but there are some question marks as to why Dorion made the deal, to begin with.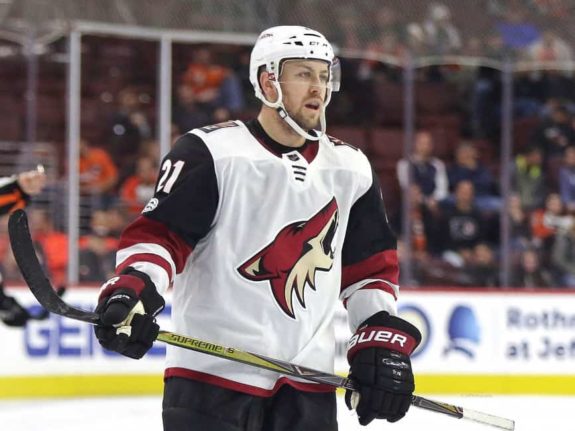 The Sens made it clear that their plan was for their prospects to make the jump to the NHL from either Europe, junior, or the minors. On Dec. 18, Dorion told Bruce Garrioch of the Ottawa Sun, "At this point in time, if anybody was a betting man, I think the team that we have right now is the team that we're going to see in training camp. We're really excited about the group we have," (from, 'Senators GM Pierre Dorion says roster is settled and club is ready to go,' Ottawa Sun, 12/18/20).
This deal is a bit of a contradiction, as Stepan could take a spot away from one of their prospects. However, he brings a veteran presence and stability down the middle in case either Logan Brown or Josh Norris can't make the jump full time. He is also an extra body on the roster in case someone goes down with an injury. In any case, there are mixed emotions about this trade, but Stepan is a solid NHL veteran who cost the Senators virtually nothing to bring on board.
Item Three: Tim Stuetzle Signs Entry-Level Contract
In the midst of World Junior competition, the Senators' top prospect Tim Stuetzle has signed his entry-level deal. Born and raised in Viersen, Germany, Stuetzle, 18, played 41 games in the Deutsche Eishockey Liga for the Adler Mannheim Eagles in 2019-20. It was Stuetzle's inaugural season playing in Germany's top professional league, where he recorded seven goals and 27 assists for a total of 34 points to rank seventh among Eagles in scoring even though he was the youngest full-time player in the DEL.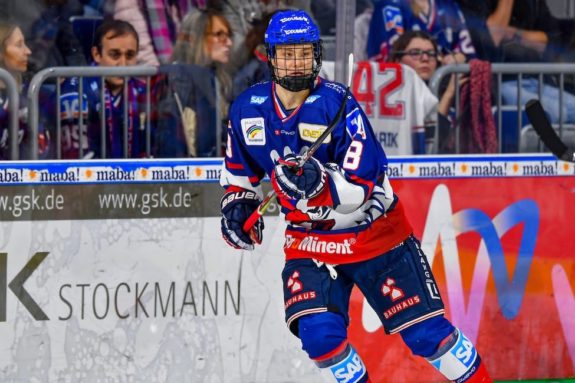 Dorion has said on record that Stuetzle possesses an exceptional blend of both speed, skill and playmaking ability that Senators fans are going to enjoy watching for several years to come. Stuetzle's a dynamic forward who is expected to become a key piece of the Senators' roster for years to come while simultaneously continuing to trend towards becoming an eventual Stanley Cup contender.
Selected at third overall as one of the Senators' three first-round picks at the 2020 NHL Draft, Stuetzle also spent time last season representing Germany at the U-20 World Junior Championship in the Czech Republic. He tied for fourth among German skaters, with five points over five of Germany's seven tournament games. He was named captain of the German team at this year's WJC, where his team continues play against Slovakia on Monday in Edmonton.
Item Four: Senators Trade Michael Carcone for Zach Magwood
The Stepan trade wasn't the only move Dorion made this past week. In a smaller transaction, he shipped out forward Michael Carcone and acquired forward Zach Magwood from the Nashville Predators. Magwood was born in Cambridge, Ont. and spent most of the 2019-20 season with the Predators' ECHL affiliate, the Florida Everblades.
Magwood recorded 47 points (19 goals, 28 assists) in 51 regular-season games. He was tied for the Everblades' lead in assists, ranked second in points and fourth in goals. He also played in four games with the Milwaukee Admirals, Nashville's AHL affiliate, and recorded two points. An undrafted player who is 22 years old, he signed a three-year, entry-level contract with the Predators on July 3, 2018, after completing his major junior hockey career with the Ontario Hockey League's Barrie Colts that season.
The Senators acquired Carcone in a package that included forward Connor Brown and defenceman Nikita Zaitsev from the Maple Leafs on July 1, 2019. An interesting side note, Magwood's AHL salary this season was his signing bonus, which was already paid by the Predators. The Senators were able to dump Carcone's remaining contract, one-year at $115,000, to get a player that they don't have to pay.
Item Five: Senators Prospects Shine in NCHC Pod
Senators fans have a vested interest in the National Collegiate Hockey Conference pod this year. Six Sens' prospects played in 38 games in the Pod in Omaha, Nebraska, between Dec. 1 and last Monday, and it was a great success. Here's how their young players fared:
Shane Pinto tied for the NCHC lead with 13 points, while his eight assists were good for third overall. His blistering start earned him the Bauer Forward of the Week award after five points in the opening week. In addition to the players shown above, Tyler Kleven and Jake Sanderson left the pod after three games to join Team USA at the World Juniors in Edmonton.
Jacob Bernard-Docker had a goal and four assists in 10 games while Kleven and Sanderson, both freshmen, each scored their first career NCAA goals before departing for the World Juniors. Luke Loheit had a pair of goals while Jonny Tychonick, who transferred from North Dakota to the University of Nebraska-Omaha over the summer, had a goal and an assist in 10 games.
What's Next for the Senators?
The Senators' training camp is set to begin this week, and news about the team will start to break. However, head coach D.J. Smith has already started to pencil in some lineup changes. In an interview with Brent Wallace of TSN, Smith said he'll try out Erik Gudbranson and Thomas Chabot as defensive partners. Smith also said he expects that Stuetzle will start on the wing as opposed to centre to begin his career.
The four Sens prospects at the World Juniors, Stuetzle (Germany), Sanderson (USA), Kleven (USA), and Roby Jarventie (Finland), have begun play. Stuetzle is trying to lead a depleted German team — due to positive COVID-19 results last week — and has two points in two games. He also went viral on Twitter after laying out Canadian defender Bowen Byram in their 16-2 loss on Saturday night. Jarventie and the Finns got the best of Stuetzle and Team Germany on Christmas Day, with a final score of 5-3.
---
---