The first two games for the United States have come and gone at the 2021 World Juniors, leaving behind a disappointing loss and an inferior opponent's trouncing. Standing out among the plethora of high draft picks scattered throughout the USA lineup is New York Rangers' fifth-round selection, Brett Berard.
At 5-foot-9, the undersized Berard fell in the 2020 NHL Draft, leading the Rangers to select what they believed to be a high-value pick late. A member of the US National U18 Team, Berard finished third in points with 34, behind second-round selection Thomas Bordeleau and 2021 draft-eligible player Matthew Beniers.
His motor and puck skills were well known, but the Providence College freshman's ability to handle the game's physical aspect raised concerns amongst scouts. Those concerns over the United States' first two matchups have been put to bed, as Berard's ferociousness on the forecheck and willingness to drive the net have been evident throughout.
In the opening game loss to Russia, Berard stood out in limited minutes for the Americans. He was physical and tenacious, forcing Russia's defensemen into turnovers and setting up his teammates on some near misses. Entering the tournament as the 13th forward, Berard's connection with USA and Providence College head coach Nate Leaman seemed to be his ticket onto the roster.
Eye-Opening Game 2
But it was evident after that first matchup that Leaman understood Berard's ability to impact games even when his opportunities were scarce. He entered that game as a fourth-line option, but his play alongside his linemates earned the trio a promotion for the Americans' second contest. Bumped up to the third line, Berard and company took advantage of a subpar Austrian squad, going on a rampage in an 11-0 win.
Berard scored an absolute beauty, picking up a loose puck in his own end and turning on the jets, streaking past the Austrian defenders for a sleek highlight-reel goal. The speed, strength, and finish displayed on the goal are all signs that Berard's stature will not deter the forward when attacking offensively. Yes, the goal came against weaker competition, but it still showcases an array of talent that Rangers' fans may not have been aware of prior.
The Rhode Island native added two helpers in addition to his goal, capping off a great evening with a three-point night. His offensive output is secondary to his two-way game, and to expect him to duplicate that offensive performance against superior opponents is nonsensical. The effort he exhibits without the puck is the same as the effort he exhibits with it – a character trait that is rare in younger players.
Berard's a Low Risk-High Reward
Any time you can get third-round value in the fifth, you have done a successful job as a scouting department and organization. The Rangers did just that, drafting both Berard and Evan Vierling, players rated much higher than where they were selected.
Berard shows that he can play at the NHL level, and the Rangers' optimism in and patience with this young prospect could pay off in the future. Berard's start to the tournament should not make fans believe he will be competing for a roster spot in the next couple of years, as he is still a work in progress. Rather, his start gives hope to the type of player he can blossom into under Leaman's tutelage at Providence.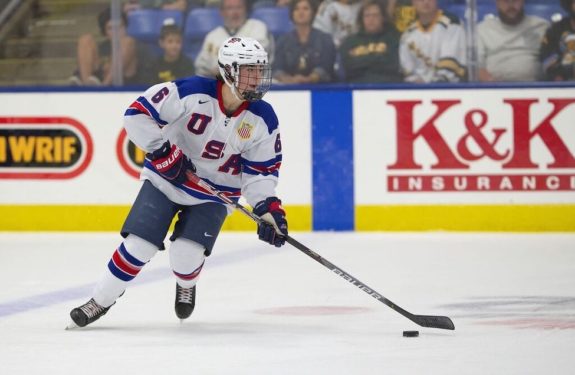 The focal point of the optimism surrounding Berard's start is the style of hockey he plays. He isn't flashy and won't produce 70-plus points in a season, but his gritty, hard-nosed game would contrast wonderfully on a Rangers roster that is full of skilled forwards. The dirty areas are where he thrives, and it has been evident that his puck retrieval ability is extremely advanced.
There is a lot of tournament left, each offering Berard plenty of opportunities to raise his stock further. But so far, the Rangers' front office and scouting department have to be salivating at their fifth-round selection's play, and the steal he could very well become.
---
---