The Ottawa Senators have been one of the most active teams this offseason, and on Wednesday, they went even further. The team signed embattled forward Alex Galchenyuk to a one-year, $1.05 million contract.
Galchenyuk spent last season with the Pittsburgh Penguins before being traded midseason to the Minnesota Wild, as part of the deal that sent Jason Zucker to the Steel City. He has struggled over the last several seasons, but perhaps the guaranteed minutes in a high-leverage role in Canada's capital city are exactly what the 26-year-old forward needs.
Galchenyuk's NHL Journey
Galchenyuk entered the NHL with plenty of hype, taken third overall by the Montreal Canadiens in what history remembers as a lackluster 2012 NHL Draft. But unlike many of the players chosen around him, he did not struggle to make an impact, bursting onto the scene the following season with nine goals and 18 assists (27 points) in a shortened 48-game campaign. Injury shortened the next season, but 2014-15 would prove to be a breakout year for Galchenyuk, who would score 46 points in 80 games. The following season, he would score 56 points, 30 of them goals, and he looked to be on the path towards a fantastic NHL career.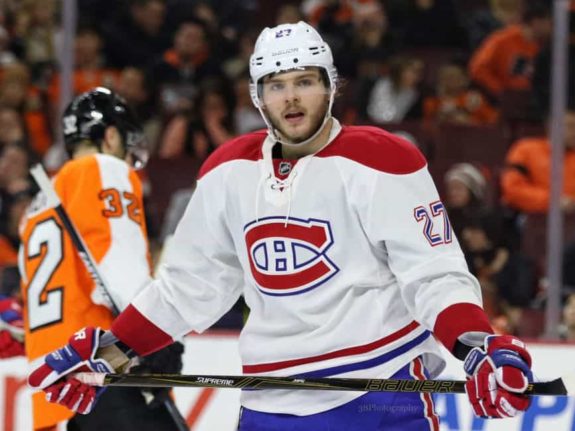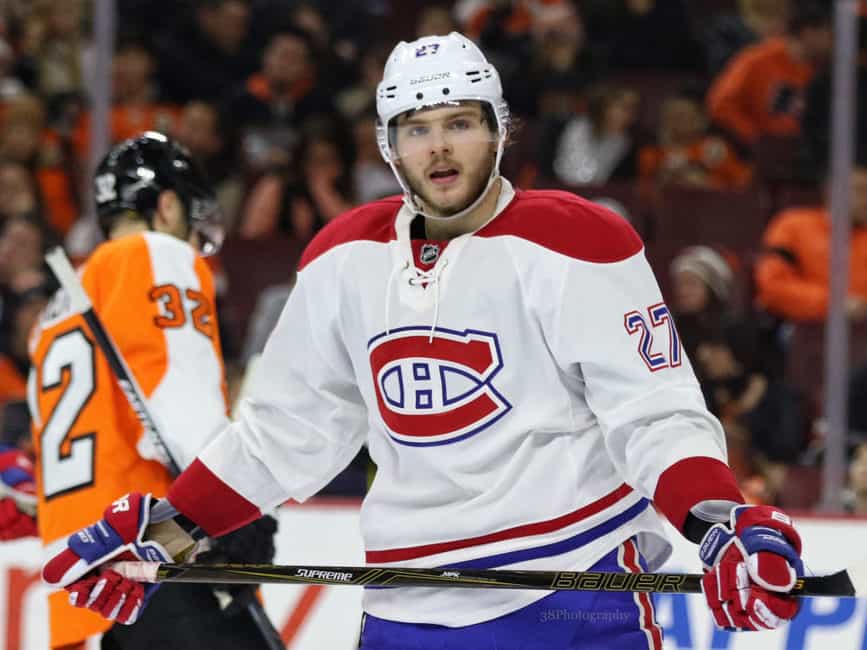 Entering the 2017-18 season, Galchenyuk signed a three-year deal with the Canadiens with an average annual value (AAV) of $4.9 million. But even at the time, there were rumblings that Montreal might move him, as consecutive coaches Michel Therrien and Claude Julien doubted whether he could handle the defensive responsibilities of a number one center. Both tried him at wing but were unsure if there was a long-term fit for the one-time 30-goal scorer who had 40-plus points each of the three prior seasons.
The Canadiens did not trade him then, and the forward eclipsed 50 points for the second time; however, a minus-31 plus-minus rating confirmed his coaches' suspicions about his defense. Montreal dealt Galchenyuk to the Arizona Coyotes for Max Domi in a shocking move that summer, but one that worked out better for the Canadiens than for the Coyotes.
Since arriving in Arizona, Galchenyuk has struggled to escape the baggage of a poor defensive reputation (which the above numbers bear out). He still surpassed 40 points in the 2018-19 season, his fifth-consecutive campaign over that mark, but did not do enough to impress the Coyotes. They moved him to the Penguins in the deal for Phil Kessel before Pittsburgh flipped him at the deadline. The Wild evaluated him during his 14 games in Minnesota and clearly decided not to extend him, leaving Galchenyuk an unrestricted free agent (UFA) when the 2019-20 season finally ended.
Redemption in Ottawa?
Though Galchenyuk would likely have preferred a more lucrative contract or a longer term, the rising Senators might be a very good fit for him and a rare shot at career redemption. Despite entering his ninth NHL season, Galchenyuk is still just 26-years-old, and could be a top scorer in a young and hungry group of Ottawa forwards.
The Senators have been busy this summer. They drafted three first-round picks, including forward Tim Stützle and defenseman Jake Sanderson, who could be in the NHL this season. They acquired and extended goaltender Matt Murray from the Penguins. They signed dangerous forward Evgenii Dadonov as a UFA, and earlier this week, they extended forward Connor Brown on a three-year deal.
Clearly, the Senators are not across the finish line of their rebuild yet, but Galchenyuk enters a team poised to make more waves this season than it has the last few, when it was more of a laughingstock than an NHL caliber team. Now, the Senators hope to draw more eyes to their product as the youth movement matures, and Galchenyuk has a chance to be a major part of that rebirth.
A Good Fit for Both Sides
Galchenyuk has a lot to gain by joining the Senators, with a chance at virtually guaranteed playing time in high-leverage roles. The Senators also stand to gain a lot by signing him, adding another NHL forward with experience to their top-six who can help mentor young, top draft picks like Stützle, Sanderson, Brady Tkachuk. The signing is a low-cost, logical fit for both sides, and maybe the best shot Galchenyuk will have at getting his career back on track.