Never confuse a single defeat with a final defeat — F. Scott Fitzgerald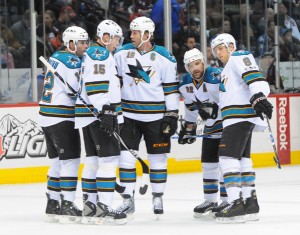 Desperate for points, San Jose's dispiriting 2-0 loss to the Phoenix Coyotes was, as described by coach Todd McLellan, "frustrating." On the heels of a 3-1 defeat by the Anaheim Ducks a mere 24 hours earlier, it was also, to quote Joe Thornton, "heartbreaking." And if the Sharks cannot immediately reverse the 8-12-4 swoon they've experienced since February 16th, they will soon be, in the words of Joe Pesci and Danny Glover's hair-brained comedy by the same name, Gone Fishin'.
Twenty-four games ago, the Sharks were 31-17-6 and in familiar cruise-control mode. Now, they stand in unfamiliar territory: 9th in the West, with time running out on what has to be considered a stunning second-half collapse. "I keep saying that we've got to leave these (losses) behind and move on," said McLellan. "But with four left we better make some hay quick."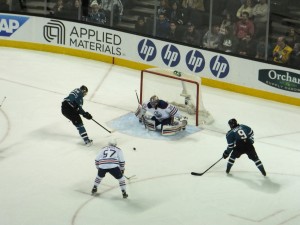 San Jose's once-potent attack wouldn't scare a blind nun: in the month of March, they scored just 33 goals, five less than division-rival Los Angeles' tepid offense managed in three fewer games. It's the worst case scenario after having traded proven, dynamic scoring in Dany Heatley and to a lesser extent, Devon Setoguchi, for oft-injured Martin Havlat and top-pairing defenseman Brent Burns. Granted, both Heatley and Setoguchi are mired in career-worst seasons themselves, with 48 and 33 points, respectively. And yet, Havlat has just six goals in an injury-riddled campaign, and Burns' eleven tallies — with just one in his last seventeen games — hasn't been enough to compensate for the losses.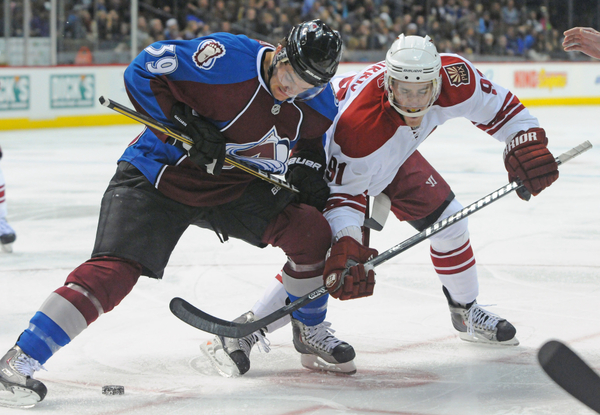 Furthermore, the trade that sent 23-year old winger Jamie McGinn to Colorado for Daniel Winnik and T.J. Galiardi damaged an already-diminished offense. While McGinn has notched eight goals and twelve points in fifteen games, Winnik and Galiardi have combined for just two goals and three points. "You need to score goals to win," said McLellan. "We have to find someone who gets hot with the scoring touch to produce goals."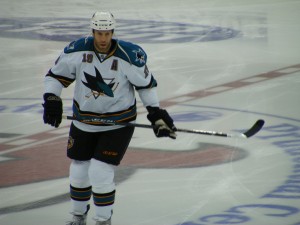 Lastly, one player who needed to step up his scoring prowess has been unable to adjust his ways. As pointed out numerous times in previous articles of mine, Joe Thornton was going to have to resist serving as primarily a setup man and put the puck on net this year. Although he started out relatively aggressively, his shot count stands at 148, just slightly above his average total over the past three years. In the last 20 games, he has a mere 27 shots. Not surprisingly, he has just three goals in that span.
As F. Scott Fitzerald said, a single loss is not a final one. The Pacific Division has four teams — Dallas, Phoenix, Los Angeles and San Jose — within a single point of the lead. From game to game, one team jumps into the third seed, loses and is out of playoff positioning altogether. All four teams have experienced this mind-bending phenomenon within just the past two weeks. As it stands today, the Dallas Stars would win the division were the season to end today and San Jose would be the odd-team out. A win by the Kings in Edmonton tomorrow night, coupled with a Dallas loss in Vancouver, would vault the Kings to the top of the heap. That is, potentially until all four teams play on Saturday, headlined by a titanic clash between the Dallas Stars and the San Jose Sharks at the HP Pavilion.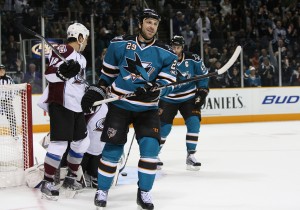 The prospect of missing the playoffs for the first time in eight seasons doesn't sit well with a team many thought would break through this year after losing in the Western Conference finals two seasons in a row. "We don't have much of an option, the last two games have put us in a hole," forward Ryane Clowe observed. Stating the obvious, he then said, "We can't afford to lose any games."
No they can't. Oh, and by the way: shoot the puck, Joe.