Teenagers Must Play Somewhere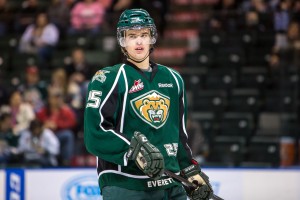 Whether in the NHL, AHL, major junior, or overseas, 19-year-old top prospects need to be on the ice. Thursday's rare home tilt for the San Jose Sharks against the Columbus Blue Jackets marked the second straight and third overall game Sharks rookie defenseman Mirco Mueller has been a healthy scratch. The Sharks claim to have been going into more of a youth movement, yet aging veteran Scott Hannan has played in six out of eight games while Mueller and fellow young(ish) defenseman Matt Irwin have played five and six respectively. Even the excellent puck moving Jason Demers was scratched for one game in favor of Hannan despite coming off a career year where he carried Hannan half the season on the third pair.
There is no doubt that Mueller has had his fair share of struggles, heck, he's 19, how many 19-year-old defensemen play established roles in the NHL? Hardly any. What he has done however, is proven himself to be a tremendous skater, who brings size and tenacity to the game. His troubles with the puck have been problematic but away from it he has been as advertised, smart positionally and able to keep up with skilled forwards. In each of the five games he's appeared in he's been paired with a winger turned defenseman, probably not the best defense partner for a 19-year-old rookie to start his career with. How much better would Mueller look next to say Justin Braun? Probably a whole heck of a lot.
Burns Can't Carry Second Pair
In Mueller's last game, both he and Burns struggled but it was the veteran who had the most egregious defensive zone error of the night. These last two games Burns has been paired with Matt Irwin, and the two don't seem to be on the same page in the defensive zone. While this pair on paper looks good in offensively sheltered minutes, as a highly relied upon second pair at both ends, they leave a lot to be desired defensively.
After blowing two completely separate leads (2-0 became 2-2, and 4-3 became 4-4) in a 5-4 loss to Columbus Thursday, Sharks head coach Todd McLellan stated he thought Burns has been getting better as games go on. Yet it was Burns' poor play at the offensive blue-line and subsequent penalty taken shortly thereafter that put the Blue-Jackets on the power-play to score a late tying goal.
Neither Mueller nor Burns look like they belong on a second defense pair in the NHL. Neither does Irwin who sat out the first two games of the season, behind Scott Hannan. Mueller and Irwin have been in the lineup together just three times out of eight games. And in one of those three games, Demers sat in the press box. Therefore, in only two of San Jose's eight games have they iced their best six defenseman. Hannan is best fit to be the guy sitting out most nights. It is quite puzzling why he has played over Mueller and Irwin. Unlike them, Hannan doesn't need to play on a regular basis to play his best hockey. Mueller and Irwin are young defensemen that need to be on the ice on a regular basis so the Sharks can figure out whether they belong in the NHL or elsewhere. The first half of the regular season is made for working through struggles and getting young players experience.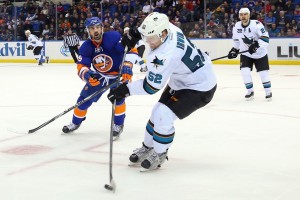 Unfortunately, being paired with Burns when they do play is hindering their development. Not to mention Irwin has already played with three different partners in his first six games, Burns, Demers, and Hannan. Constantly shuffling partners doesn't help a young player find his game. Communication errors were noticeable between Burns and Irwin against Columbus. Currently the only Sharks defense pair that is consistent is the top pair of Marc-Edouard Vlasic and Justin Braun. In order to get guys like Mueller and Irwin a fair shot at finding their games, splitting up that overloaded top pair is a must. Until they put Mueller and Irwin in ideal situations, judging them on less than 10 games is simply unfair. Plus moving the mistake prone Burns back to the position he dominated the league in for 1.3 seasons would help as well.
Revert to Last Year's Lineup
If the Sharks were to revert to their top pair from last spring (Vlasic and Demers), allow Mueller to play with Braun, and let Irwin play third pair minutes with Taylor Fedun, they would get a better sense of what Irwin and Mueller can contribute. In this case they might lose a bit of strength defensively, but not much considering Burns' defensive zone struggles. On the flip side Burns back at forward would make the Sharks' forward lines much, much deeper. They would then have two really good players on their third line instead of just one. The Sharks would immediately become a better possession team, taking pressure off of a young defense.
Leave a comment on what you think looks better:
Hertl-Thornton-Burns
Marleau-Couture-Nieto
Tierney/McGinn-Pavelski-Wingels
Sheppard-Desjardins-Hayes
Vlasic-Demers
Braun-Mueller
Irwin-Fedun
Or the lineup vs Columbus:
Nieto-Thornton-Pavelski
Marleau-Couture-Wingels
Hertl-Sheppard-Hayes
McGinn-Desjardins-Burish
Vlasic-Braun
Burns-Irwin
Demers-Hannan