The third annual San Jose Sharks prospect scrimmage was a bit of a snoozer. With no high-end elite prospect like Connor McDavid to wow the crowd, there wasn't much to digest for those of us watching these young players for the first time.
However, led by a strong 2014-15 season from their 2014 draft class, the Sharks have a number of young players that project to make significant NHL impacts down the line. While they still lack the big-time prospect that has top line written all over him, a number of lower draft picks are developing nicely.
Looking Back
While the Sharks have struggled over the years drafting defensemen and goaltenders, they have done an underrated job drafting forwards — particularly when it comes to the late rounds. From 2001-2008, the Sharks drafted Ryane Clowe (2001, Rd. 6), Joe Pavelski (2003, Rd. 7), Nick Bonino (2007, Rd. 6) and Tommy Wingels (2008, Rd. 6).
Four quality NHL forwards from the sixth round or later over eight drafts from 2001-2008 is pretty darn good. While the 2009-2011 Sharks drafts have proved extremely underwhelming, the next crop of prospects look much stronger.
Looking Forward
The 2012-2014 Sharks drafts could also turn out multiple NHLers from the bottom three rounds. Former NCAA defenseman Joakim Ryan is a dark horse to make some noise in training camp this season. The 22-year old was drafted in the seventh round of the 2012 draft and played four years for Cornell before catching on late last season with Worcester. In Thursday's prospect scrimmage, the left-handed blueliner showed strong skating ability and poise with the puck.
Boston University's Dan O'Regan was taken in the fifth round of 2012 and played alongside super prospect Jack Eichel at BU. It will be interesting to keep track of O'Regan's production as a senior this year with Eichel now in the NHL. O'Regan proved he could play well with Eichel, scoring 50 points in 41 games, but can he elevate his game with more responsibility? That remains to be seen.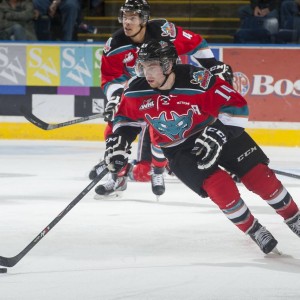 While there isn't much to note in terms of 2013 prospects, as mentioned above, the 2014 class brings a lot of potential. Fifth round pick Rourke Chartier and sixth round pick Kevin Labanc absolutely lit up their respective leagues. Chartier dominated the WHL, leading the league in scoring for a good portion of the season, and Labanc finished fourth overall in the OHL with 76 assists.
Nikita Jevpalovs
Between Chartier, Labanc, and undrafted free agent signing Nikita Jevpalovs in particular, the Sharks look to have some serious diamonds in the rough. Now of course not all of these guys are going to end up making an NHL impact. However, there is a good chance one of them does at least develop into a Wingels-type player if not a Pavelski-caliber star.
During the prospects game, Jevpalovs was one of the few forwards who stood out. Playing next to 2014 first round pick Nikolay Goldobin may have helped, but Jevpalovs might be a name to keep an eye on. The Latvian native signed as free agent this past January and will turn 21 in September.
Jevpalovs brings good size to the table. Listed at 6 feet 1 inch, 210 pounds, he is among the biggest of the Sharks prospects. One of the older players in the QMJHL last year, Jevpalovs scored 49 goals and finished with 100 points in 64 games. A strong start to the upcoming season with the AHL Barracuda could see him possibly be called up to the NHL at some point in 2015-16. Given his size and maturity, he would make for a better fit as a fourth-line call up or 13th forward than Goldobin.