Say it Ain't So…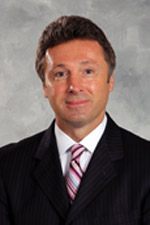 For those of you who haven't read my column in the past, let me be perfectly clear about a couple of things. First off, yours truly is an unapologetic Sharks fan, born and raised in the San Jose area, born the same year the Sharks were an expansion franchise back in 1991. Secondly, both of my brothers own Joe Pavelski jerseys and it would certainly be a bummer for them and for me to see No. 8 traded. However, just because I'm a Sharks fan and a Pavelski fan, it doesn't mean I wear "teal colored glasses," nor do I fall in love with players to the point where I think trading so-so would be utter blasphemy. And any Sharks bias I may have doesn't take away from the ability to offer an accurate assessment of the state of the club. Team Teal still features one of the best core groups of elite level players in the league. Overall, the Sharks have many of the ingredients necessary for a Stanley Cup run. They really only need two good defensemen and a goaltender to once again be one of the best team's in the NHL. Since they remain that close, my preference is to see GM Doug Wilson keep all his top players, become a buyer again, and push for the Stanley Cup while Thornton and Patrick Marleau are still key contributors.
But If You're Gonna Rebuild…
Unfortunately, for Sharks fans whose feelings mirror my own, Wilson has decided the Sharks need to rebuild. How he came to such a conclusion at the end of the 2013-14 season when the Sharks finished with 111 points is something I'll never understand. Sadly though, that is what Wilson has decided and the rarely heard from team owner Hasso Plattner has signed off on this plan to rebuild. The plan so far though has looked rather bizarre. While the Sharks iced a number of rookies in 2014-15, they still rolled out all the same veteran guys in key roles. Not to mention younger players frequently saw ice time taken up by useless veterans like the notoriously awful enforcer John Scott and the somewhat useful but over-the-hill veteran defenseman Scott Hannan. Furthermore, despite goaltender Antti Niemi having another ho-hum average season in the last year of his deal, the Sharks didn't trade him. Even though it seemed highly likely as the season went along that it would be Niemi's last as a Shark, he wasn't traded by the deadline, and no other Shark goalie got a look at significant ice time. There was clearly an opportunity for young players to see more ice time than they did this season. For whatever reason, it wasn't given to them.
Since this rebuild started, the Sharks have yet to trade away any big time veteran player. That doesn't make a whole lot of sense for a rebuilding team to be heavily relying on veteran players. A rebuilding team with four of their five top line power-play guys over 30-years-old? That just doesn't sound right. Sure enough the Sharks did stay true to a standard rebuilding move in that they didn't trade young players or draft picks at last year's deadline but just keeping young players and picks doesn't constitute how most would define a hockey rebuild.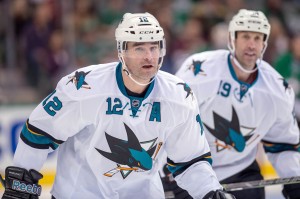 Now to be fair the term rebuild is often casually thrown around, but it is typically used to describe teams that have simply been bad for so long that they are in a perpetual state of awful (I see you, Edmonton). The Sharks certainly aren't in a position where they have to sink to that low. However, after missing the playoffs for the first time in over a decade in 2014-15, they could easily make it two or three years in a row missing out on the postseason.
Then Do It Right
The Sharks have Thornton and Marleau under contract for two more seasons, both of which could see the Sharks miss the playoffs. It would be incredibly disappointing to witness, but it is a possibility of a three year drought. That said, it would actually be better though for the Sharks to take two or three steps back, to go four steps forward, than it would be to take one step back and get stuck in mud. Such sentiment brings me to my preference to see a full on rebuild, if a rebuild is the direction they apparently must take.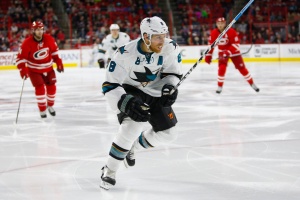 With no movement clauses, Thornton and Marleau may decline any attempt to trade them but keeping Pavelski and Burns around just so the Sharks stay mildly competitive these next two seasons isn't worth it. The way the Sharks are operating right now, they aren't going to be good enough these next two seasons to seriously compete for the Cup. Therefore, they would be wise to trade Pavelski, who will be 31 in July, and Burns, who turned 30 this past March.
Again, I don't want the Sharks to trade Pavelski but I would rather see a full rebuild now, than see a rebuild on the fly attempt end with no Stanley Cups (which it would), and be left with a young core that isn't quite good enough (this is quite possible) to take over for the retired/aging stars. If the Sharks were to trade their top veteran stars now, they would get a giant load of draft picks and top prospects back that would set them up for a much better future in 4-5 years.
Sell High on Pavelski & Burns
Starting with Pavelski, if the Sharks were to move No. 8 this offseason after having back-to-back monster years of 41 and 37 goals, they would get a huge return. As they say in the business world, you sell high and buy low. You could make the case that in terms of value, Pavelski is worth the equivalent of three first round picks. At 30 going on 31, Pavelski is not old yet and for a team looking for one more star player to push them over the top, well, you can't do much better than one of the most versatile, smart, and dominant players in the game.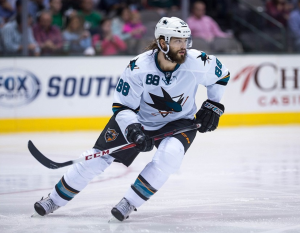 Burns would also bring the Sharks another huge return of young players and prospects. Burns scored 60 points from the blue-line and while many of us Sharks followers were critical of his defensive play, many teams around the league would kill to have him. Burns would fetch two top prospects and a second round pick.
By trading these two, perhaps then Thornton and Marleau would be more inclined to waive their NMCs to go to an immediate contender. Their returns would likely not be as great since they have full control over any trade, but the Sharks would still get multiple top prospects and draft picks back for each. You combine all those top prospects and picks from trading these top veterans, and the Sharks' future would look incredibly bright. The short-term would be significantly worse, and not being a playoff team for multiple years is a tough pill to swallow. At the end of the day though, not many teams have ever successfully rebuilt on the fly. Teams like Chicago, Pittsburgh, and Los Angeles all had a number of years of struggles where they picked in the top 5 of the draft.
Chicago Style is Pretty Good
If the Sharks don't trade away their veterans, this rebuild won't deliver them the kind of high level draft choices most of the successful teams have had in recent years. Going the Chicago route isn't a requirement for a successful rebuild but the most successful rebuild on the fly team, the Detroit Red Wings, haven't been legitimate Cup contenders since losing the Stanley Cup in 2009. Yeah they still have Henrik Zetterberg and Pavel Datsyuk and have added some new young players but they haven't been anybody's sexy Cup pick in six years. Is that what Sharks fans want to see moving forward? More first and second round exits?
There is no doubt the Sharks' current prospect pool is getting better and better. A number of Sharks junior prospects like Rourke Chartier and Dylan Sadowy had terrific seasons. But the Sharks' prospect cupboard was rather barren for awhile and still has a ways to go to be considered top notch. Plus by the time these kids are really ready to make big impacts in the NHL, guys like Pavelski and Burns will be in their mid-30s. If the Sharks can find a way to move some, or all of their four veteran stars over 30, this rebuild will be far more successful down the line.
Andrew has been credentialed to cover the Sharks since 2010 and the 49ers since 2012. He graduated with his BA in Broadcast Electronic Communication Arts in 2013 from San Francisco State University.