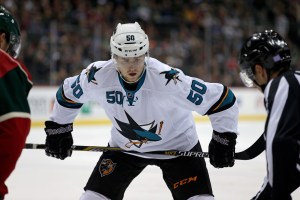 In what was as close to a must win game for the San Jose Sharks as you can get with 15 games remaining, goaltender Antti Niemi stole the show, and the two points from the Pittsburgh Penguins. The majority of recaps you'll read will feature talk about Niemi's 39 save performance, with tons of high quality stops in the 2-1 win. However, one player who may go a bit unnoticed after this one is the primary assist man on San Jose's lone goal. Rookie center Chris Tierney has been up and down this season between the AHL and NHL but his last couple of call ups have shown him to be more than NHL ready.
Tierney Time
On the season Tierney has nine points in 28 NHL games this year but seven of those nine have come in his past 13 games. Over a half point per game rate is a terrific points per game for a third line center. Not to mention a number of those points have come playing fourth line minutes with John Scott on one of his wings. At center, Tierney is providing some quality depth scoring, something the Sharks have not had enough of over the years. He made a quick turn around pass from behind the net right onto Matt Nieto's tape for the 1-0 advantage.
Not only is Tierney putting up the offensive numbers but he is known as one of the smartest young players in the world as well. He was voted as the smartest Western Conference player by OHL coaches last season, so you know the kid is responsible in his own end. He might also even be responsible designated driver too for teammates since he doesn't turn 21 until this July. The future is very bright for the play-making Ontario native. Listed at 6'0″ 181 on Yahoo, he might need to put on 10-15 pounds to become stronger on the puck down low but the vision and natural ability is quite evident.
"Great pass" chimed Nieto on his goal set up by Tierney. "Great play all around, Smitty got in on the forecheck and created a turnover. Tierns was there, had nice patience and gave me a backdoor tap in."
Asked if the game is slowing down for him, Tierney mentioned the word confidence which is a very popular term for hockey players when things are going well.
"I think I'm just gaining more confidence" responded the rook. "Taking time when I get the puck to just look and make a play rather than just rimming it or chipping it away right away. So it's nice to keep getting more games up here and keep getting better."
The Sharks have been a notoriously top heavy team during the entire Joe Thornton era, and so youngsters like Tierney emerging in the bottom six is huge. Not only for the future of the organization but the near term future as this Sharks team desperately tries to claw back into a playoff spot.
Andrew has been credentialed to cover the Sharks since 2010 and the 49ers since 2012. He graduated with his BA in Broadcast Electronic Communication Arts in 2013 from San Francisco State University.