Pickles on the Power-Play?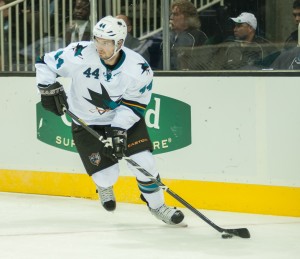 The other day, San Jose Sharks head coach Todd McLellan joked that yours truly gets to sit at home on the computer and become an expert on the analytics. Since I'd never previously brought up analytics while interviewing him, the only logical inference to make is that McLellan is aware of my recent criticisms. Giving Vlasic just the 45th most even strength minutes in the NHL is just one of a number of personnel decisions that leave me scratching my head. Another one is why Vlasic is a mainstay on the second power-play unit, particularly over his even strength partner Justin Braun.
When he first arrived to the NHL level, Braun's biggest strength was his ability to get pucks through to the net from the blue-line. He scored two goals (both on the power-play) and added nine assists in his first 28 NHL games during the 2010-11 season. While he certainly hasn't continued to produce anywhere near those totals, he is clearly much more offensive minded than Vlasic. When it comes to leading the rush, jumping in on the weak side and pinching down low from the point, Braun is by far the more offensively driven player between the two.
No Love For Braun?
That said, even AHL call up Matt Tennyson got on the power-play in his first game of the season ahead of Braun. That doesn't make much sense to me given the skill set Braun offers on the man advantage. Currently Vlasic is averaging 1:30 time ice on the power-play while Braun averages a mere 34 seconds. Against the Ducks on Saturday, it was Vlasic and Matt Irwin manning the points with Tennyson scratched. Now for the majority of the season it has been Vlasic and Jason Demers at the points on the second unit. With Demers moved onto Dallas, one would think Braun would get a more prominent role on the second unit because he is the next best offensive threat on the blue-line. A Demers-Braun duo on the second unit to start the season would have made much more sense than having Vlasic out there. Without Demers, playing Braun with Irwin or Mirco Mueller would be the best way to go. Vlasic doesn't offer anything better offensively than Irwin, Mueller is probably a wash. Either way, Vlasic ought to be resting his legs for bigger minutes at even strength and on the penalty kill, not facilitating on the second power-play unit when there are better offensive options available.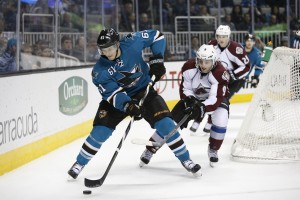 In each of his first four seasons, Braun averaged over a minute of power-play time. Last year he averaged 1:01, while Vlasic has averaged 0:42 and 0:34 the last two seasons. Those totals make much more sense than their current averages. With the current parity in the NHL and teams being so close together, a goal here and there from the second unit can make a difference. Braun is much more offensively gifted than Vlasic and having him on that unit could help boost the production from that group. Furthermore, Vlasic resting during power-plays could then allow him to take an extra shift or two at even strength, perhaps a double shift here and there with Burns on the ice. After all, it is no secret that Burns is struggling in his attempt to revert back to a defenseman.