The Los Angeles Kings have had 13 captains since joining the NHL in 1967. Four are in the Hall of Fame and the team has retired three of their numbers.
Who had the biggest impact, was most memorable or made the greatest contribution? Who was the shortest serving captain? Can you name them all?
1990's: 2 Hall of Famer Captains
Luc Robitaille may have been the shortest serving captain in team's history but there is no doubt he was a leader throughout his long career. He was an assistant captain and leader on the ice for most of his time in Los Angeles.
Robitaille was captain for the first 39 games of the 1992-93 season when Wayne Gretzky was injured and out of the lineup. Robitaille helped lead the Kings to a great playoff run that season as Los Angeles made it to the Stanley Cup Finals for the first time.
Nicknamed "Cool Hand Luc" (from the Paul Newman movie) for his soft hands, Robitaille skated his way to the Hall of Fame, registering 1,394 points in 19 seasons and finally winning a Stanley Cup with Detroit in 2002. He became a fan favorite in his 14 seasons in Los Angeles with the chants of "luuuuc" echoing in the old Forum and then the new Staples Center.
Robitaille holds a number of Kings regular season records: most goals-career with 557 between 1986-2006, most goals-one season for a left winger with 63 in 1992-93, most goals by a rookie with 45 in 1986-87, most power-play goals in one season with 26 in 1991-92, most 40+ goal seasons with 8 (shared with Marcel Dionne), most 30+ goal seasons with 11 (shared with Marcel Dionne), most assists one season by a left winger with 63 in 1991-92, most points by a rookie with 84 in 1986-87, and most points one season by a left winger with 125 in 1992-93, also an NHL record.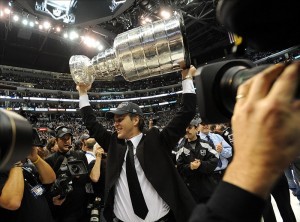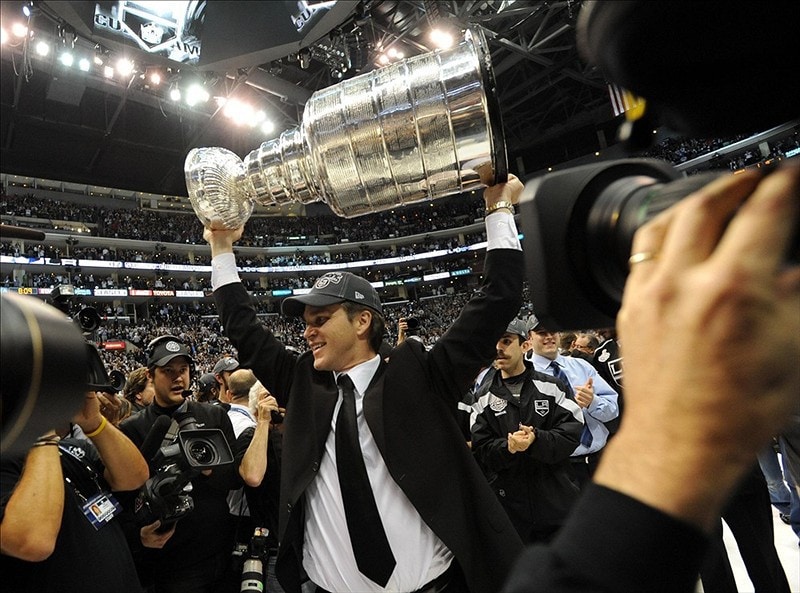 Robitaille's number 20 was retired by the Kings in 2007 and he was inducted into the Hockey Hall of Fame in 2009. He has been the Kings' President of Business Operations since 2007.
In an interview with NHL.com, Robitaille feels lucky that he played in the NHL for so long and then start a second career involving hockey.
"I'm just a kid who wanted to play a game," said Robitaille. "Forty years later I'm still involved with the game. My dream was to play in the NHL and I'm working with an NHL team. It's great. I thank my lucky stars."
Rob Blake became captain of the Kings for five seasons after Gretzky left town in 1996. He was one of the best defenseman in the NHL during his career, winning the Norris Trophy as best defenseman in 1998. Blake was known as a player who put his team first, often blocking shots to preserve a victory. He became a fan favorite for his tough style of play on the back end.
The Kings struggled in the regular season in the late 1990s, either failing to make the playoffs or losing in the first round. Blake was traded to Colorado in early 2001, where he won a Stanley Cup. He returned as a free agent in 2006. When Mattias Norstrom was traded a year later, Blake took over as captain once again for one season.
He finished his career as captain of the San Jose Sharks and was also part of three Canadian Olympic teams, including a Gold Medal winner in 2002. He was just inducted into the Hockey Hall of Fame on November 17, 2014 and the Kings will retire his number 4 on January 17, 2015.
In a team statement after receiving the news of the Kings retiring his number, Blake said "It is an honor to be included with the former great L.A. King players who have their jerseys retired. I have always felt L.A. was a special place to play and it was and is a tremendous privilege to put on an L.A. Kings jersey."
2000: Transition Captain
When Norstrom was named captain in 2001, he became the King's first European born captain and was respected by teammates and coaches alike for his reliable work on defense. Ironically, Norstrom offered the captaincy back to Blake in 2006 when the former captain returned but Blake refused, calling Norstrom the core and soul of the team.
Norstrom was known as a quiet and reliable leader on and off the ice, leading by example during a tough time for the team. He served as captain for five seasons at a time when the Kings were not very good. In his first post-season as captain, Norstrom saw his team fall to Colorado in a long seven game series. Unfortunately, the team struggled through the next few seasons, failing to make the playoffs. Norstrom was traded to the Dallas Stars in 2007 and finished his career there a year later.
Present: Champion Captain
A young team needed a new leader in 2008 and Dustin Brown became the man to lead the Kings back to respectability. A first round pick in 2003, Brown quickly developed a reputation as a quiet but respected leader on and off the ice. Brown's involvement in the community was recognized by the NHL when he was awarded the Foundation Player Award in 2011 and the Mark Messier Leadership Award in 2014.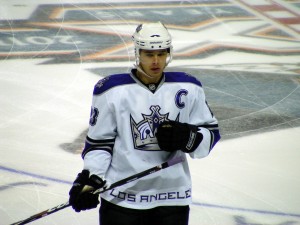 On the ice, Brown led the Kings back to the playoffs in 2009 but the team's inexperience showed as it lost in the first round two consecutive years. In 2012, he became only the second American born player to captain a team to a Stanley Cup as the Kings won their first ever championship. Brown's decisive hit on Henrik Sedin of the Vancouver Canucks in game three of the first round turned not only that series but also the playoffs in favor of the Kings. He showed his true leadership with solid body checks and timely goals.
In the shortened 2012-13 season, Brown helped the Kings to the conference final, where the team lost to eventual Cup-Champion Chicago Blackhawks. In the past three seasons, the Kings have finished second or third in their division but come playoff time, Brown and the Kings turn it up another notch. Never was that more in evidence than in 2013-14 when Brown helped Los Angeles to a second championship.
After falling behind by three games, the Kings won four in a row to defeat the San Jose Sharks in the opening round, only the third team to overcome a 3-0 deficit. The Kings also won crucial game 7 in the next two rounds, against rival Anaheim Ducks and defending Cup-Champion Chicago to reach the final. The team's "never quit" attitude served it well as the Kings defeated the New York Rangers in the final to win a second Stanley Cup Title.
Now 30 years old, Brown said he has a lot more to give to the Kings. After talking to coach Daryl Sutter, Brown doesn't mind being told he can improve his play this season.
"I didn't have a very good year last year and he (Sutter) was the first one to tell me that," said Brown in an L.A. Times article in September 2014. "It's one of those things: Sometimes you need it. Sometimes he plays the bad guy and gets you mad enough where it helps out."
Brown has captained two championship teams already, making him the most successful King captain ever. With most of its core players signed long-term, there may be more championship banners being raised at Staples Center over the next few years.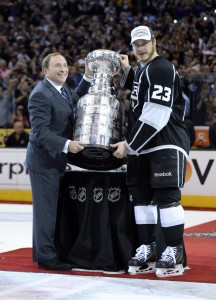 Jarret Stoll said Brown has matured a lot in the past three years. "He's not a rah-rah guy, but we all saw what he did in the playoffs. Two years ago, he basically won a couple of series for us almost by himself. It shows a lot how he cares for the team."
Caring for his teammates and playing his heart out can describe every player to wear the C on his sweater for the Los Angeles Kings. The team has been blessed with quality players to represent it as captain, from Bob Wall to Dustin Brown. They were all hard working and respected leaders on and off the ice. And each of the captains brought something unique and special as leader of the Kings.
Mario now covers the Los Angeles Kings and writes other hockey features. He is an experienced journalist who has covered sports and entertainment in daily and weekly newspapers, magazines and online, including thedigitalbits.com/columns/inside-cinema. He is also the co-creator of The Gaffoos, www.gaffoos.com