The Boston Bruins have managed themselves relatively nicely in the absence of captain Zdeno Chara, along with numerous other players hitting the shelf here and there. After a successful November, in which the team went 8-3-1, the Bruins will truly be tested during December.
Starting tonight, the Bruins head on the dreaded California road trip to face Anaheim, Los Angeles, and San Jose in the span of four days. The following week, they will host the Blackhawks, before heading back on the road to play Nashville and Minnesota on back-to-back nights. While it appears Chara is progressing, David Krejci's status has not improved and he did not travel with the team on the western road trip. How will the Bruins stay afloat during this tough stretch?
Pasta Party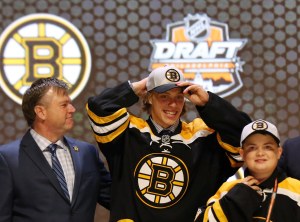 It took less than one game for David Pastrnak to be promoted onto the Patrice Bergeron line, and it's safe to say he has made a lasting impression on fans and even the slow-to-compliment head coach, Claude Julien. He has shown tremendous skating, passing, and especially the ability to get open and shoot the puck. With the forward line combinations changing essentially every game, Pastrnak might be able to establish himself on the top line if he continues his strong play. Against Winnipeg, it seemed as if every time he touched the ice the Bruins generated a scoring chance, but Bruins product Michael Hutchinson was able to stymie the top line.
For a stretch at the beginning of November, the Bergeron line was on fire and helped the team to a five game winning streak. Since then, the Bruins have only scored 12 goals in regulation over the past eight games. If the Bruins want to keep up with these western powerhouses, they can't rely on Tuukka Rask to help them eek out 2-1 victories. The 18-year-old Pastrnak is going to find himself in the box score on this road trip, it's just a matter of how many times.
Lucic and the Swedes
With Krejci out, there is no clear cut "first line" and the offense has suffered in his absence. With no definitive first line right winger, Milan Lucic is probably the player who has struggled the most in Krejci's absence.
Milan Lucic: 9 points in 11 games with Krejci. 2 points in 12 games without Krejci. Is this what you people call a trend?

— dafoomie (@dafoomie) November 26, 2014
After adding a goal against Winnipeg, Lucic is up to just three points in 13 games without his accustomed center helping his offensive game. However, Lucic has now scored in back-to-back games playing along the Swedish duo of Carl Soderberg and Loui Eriksson and has been noticeably more emotional than he was at the beginning of the season. Lucic can add a strong net-front presence and toughness to a line that already possesses plenty of talent, and it has proved to be a successful trio in the small sample size. With the third and fourth lines not providing much, it is important that the top two lines heat up during Krejci's hiatus.
Tuukka Stands Tall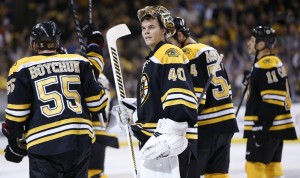 During October, Boston's star goaltender and reigning Vezina Trophy winner Tuukka Rask was not looking anything like the league's top goalie. With a 4-4-0 record and an ugly .899% save percentage, Chara's injury looked like it was going to be devastating to an already struggling Bruins defense. However, aside from a brutal game against Toronto, Rask stepped it up during November, going 7-2-1 and posting a .935% save percentage.
Over his past five games, he has been even more impressive, allowing just seven goals and stopping .956% of shots he faced. With some potent offensive groups on the December slate, Rask needs to continue this trend. Hopefully, a certain 6-foot-9 defenseman will be back soon after the road trip to help him out.
The Bruins take on the Ducks tonight for those Bostonians who are willing to stay up for the 10 o'clock start. The Ducks, who have had several players dealing with the mumps over the past few weeks, have allowed ten goals over their past two games. If the Bruins stay away from any and all 19th century diseases, they may be able to get the road trip started on the right foot against the ailing Ducks.
Has contributed to isportsweb, the Yawkey Way Report, and Fansided's Chowder and Champions. Host of the weekly radio show Top Shelf Sports on Bryant University's WJMF radio.