You can't teach size.
That's the mantra partially driving the Calgary Flames' drafting and development over the past few seasons. The notion is that you can hire coaches to help players with their skating and their shooting and their nutrition or fitness, but you can't teach them to be bigger or taller. And if you can find a guy with size and strength and figure out a way to improve his mobility to the NHL's standard, there's no telling how good they could be.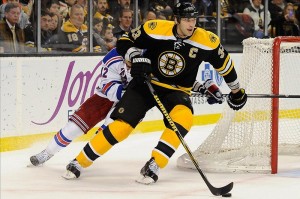 The player that most signified that philosophy is Keegan Kanzig. A product of Athabasca, Alberta – located north of Edmonton – Kanzig was selected by the Flames in the third round of the 2013 NHL Entry Draft and promptly signed to an entry-level contract over that summer. The reason? Well, Kanzig stands approximately 6'7″ and weighs 245 pounds.
The Flames once had Chris Breen in their system, who was roughly 6'7″ and 220 pounds. Kanzig is bigger, plays a meaner style and had higher draft stock. The big knock on Breen, and the thing that Kanzig undoubtedly needs to work on, is mobility and foot-speed. The Flames will get a chance to keep a closer eye on Kanzig's development now; previously with the nearby Victoria Royals and a short plane trip away for scouts or development coaches, he was acquired by the Flames-owned Calgary Hitmen in late November in exchange for disgruntled Hitmen star Greg Chase. Draft picks also changed hands.
Now Keegan Kanzig, Calgary's biggest prospect and arguably their most intriguing defensive prospect moving forward – in terms of him being incredibly valuable if things pan out for him or being the subject of "they should've picked so-and-so" scenarios otherwise – is now finishing up his junior hockey career literally meters away from the Calgary Flames locker room. Rather than getting distant feedback via e-mail from development coach Ron Sutter, the potential exists for Flames brass to give Kanzig instantaneous feedback (from up-close).
Kanzig knows he has to keep developing. He was a stay-at-home stalwart for Victoria prior to his trade to Calgary, and he'll be counted upon to play a similar role for the Hitmen. And he's aware that his mobility will continue to be a concern until he proves it isn't one at the pro level. But one thing Kanzig's proven adept at is using his size intelligently – both in terms of using it for brute force in keeping attacking players to the outside and using his impressive reach to frustrate them with a poke check.
For his part, Kanzig's going into the late stages of his junior career with his eyes open. His professed favourite NHL player is Zdeno Chara, a player of similar stature and size (6'9″ and 250+ pounds), and one who successfully transitioned into a starring NHL role after a stint in the Western Hockey League.
The Calgary Flames host Chara and the Boston Bruins on February 16 at the Scotiabank Saddledome. The Victoria Royals, Kanzig's old team, will be preparing for a home date the next night against Moose Jaw. The Hitmen, his new team, will also be preparing for a home date the next night…at the Saddledome. There's a good chance Kanzig will get to see his favourite player, and one he hopes to emulate, up-close.
Just based upon that opportunity alone, the Hitmen acquiring Keegan Kanzig could turn out to be a boon for the Flames, as well.
Ryan Pike has covered the Calgary Flames and the NHL Draft extensively since 2010 as a Senior Writer for The Hockey Writers and Senior Contributing Editor of FlamesNation.ca. A member of the Professional Hockey Writers Association, he lives in Calgary.