Injuries are aplenty in Boston right now and the Bruins offense could use a spark following their zero goal performance Saturday against the rival Canadiens. According to Kirk Luedeke, the team's 2014 first round draft pick, David Pastrnak, has been recalled and will join the Bruins on Monday.
Breaking…Looks like the Pastrnak era will begin in Boston. Headed up I-95 to join the big club & maybe make NHL debut vs Pittsburgh.

— Kirk Luedeke (@kluedeke29) November 23, 2014
The Bruins have only scored nine goals during regulation over their past six games and need someone to step up with players like David Krejci and Brad Marchand banged up. With other youngsters like Seth Griffith and Matt Fraser only showing the scoring touch here and there, it appears to be the perfect time to throw Pastrnak into the mix.
AHL Wizard
  Since having a strong summer camp and rookie tournament, Pastrnak has been lighting up AHL competition while playing on the Providence Bruins. In 17 games, he has put up five goals and 13 assists, which has him tied for 5th in the AHL scoring race. Playing at right wing alongside the recently recalled Alex Khokhlachev, Pastrnak has made the transition to North American hockey quite nicely and can hopefully make a smooth jump to the NHL as well. With the Bruins line situation currently in shambles due to the abundance of injuries, Pastrnak could be thrown onto just about any line.   
Here's the chewing gum and baling wire lines and D pairs for the Bs v MTL. Game at 7 on #NESN pic.twitter.com/cIzv65qaua

— Jack Edwards (@RealJackEdwards) November 22, 2014
With Matt Lindblad and Jordan Caron both sent back to Providence following Saturday's game, we could see him back with Khokhlachev on the so-called "fourth line". The left-handed Matt Fraser could move over from his spot on the right wing to a more typical situation on the left side. All three have shown terrific scoring ability in the AHL, with Fraser being a prolific goal scorer, and the other two possessing silky passing, skating, and playmaking. Playing with familiar faces could help ease Pastrnak into the NHL, but with veterans due to return from injury soon, there won't be  room for everyone on the big squad.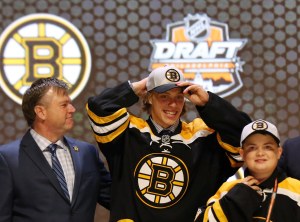 Too Small?
One of the bigger concerns about Pastrnak is that he just doesn't have the body for the NHL just yet. It's hard to blame the 18-year-old for not coming into the league as a 200 pound man-child, as size comes naturally for only a lucky few. However, listed at 167 pounds, only five players in the NHL are lighter than him and Claude Julien requires his players to exhibit a physical, two-way game. While he has been working on the fundamentals down in Providence, you rarely hear about players adding size during the season. Often times, it can be the opposite.
Roy says Nathan MacKinnon has dropped the 10-12 pounds he gained over the summer

— Adrian Dater (@adater) November 13, 2014
Just as we've watched Dougie Hamilton gradually fill out his frame over the past couple of seasons, Pastrnak will likely be on the same track. His speed and agility should keep him out of harm's way, as was the case with another Bruins first rounder, Tyler Seguin. Just because Seguin didn't work out as planned in Boston, that doesn't mean Pastrnak is doomed in Boston. If he can stay smart off the ice and learn how to play Bruins hockey, he should be fine. Fellow Czech native David Krejci joined the team and showed plenty of offense, scoring 73 points in his first full season in 2008-09. Since then, he has become a terrific all-around player, just as Patrice Bergeron had done before him. It is unclear whether the Bruins are planning to have him on the roster for more than nine games and start his first contract year, but that will probably be decided based on his performance.
The Penguins will come into town for a rare Monday night game in Boston and fans should keep their eyes on Twitter to see if the rookie will be in the lineup. With Krejci, Marchand, and Chris Kelly all possibly returning to the lineup, Pastrnak's role in Monday's game may be a last minute decision. You may see him on the first line, the fourth line, or even on the ninth floor alongside Chara and the rest of wounded. Let's just hope we can get a promising glimpse of the nifty 18-year-old Czech.
Has contributed to isportsweb, the Yawkey Way Report, and Fansided's Chowder and Champions. Host of the weekly radio show Top Shelf Sports on Bryant University's WJMF radio.