This should read like an open letter to the Hockey Hall Of Fame. I do apologize in advance if this comes off as a huge tangent like rant but there was good news today as Fred Shero was finally inducted posthumously while the family of Pat Burns still waits. Having talked to Pittsburgh Penguin GM Ray Shero at the draft, he talked very fondly of his father. For anyone who knows what it is like to lose their dad, this hits a lot deeper than not making any "hall of fame".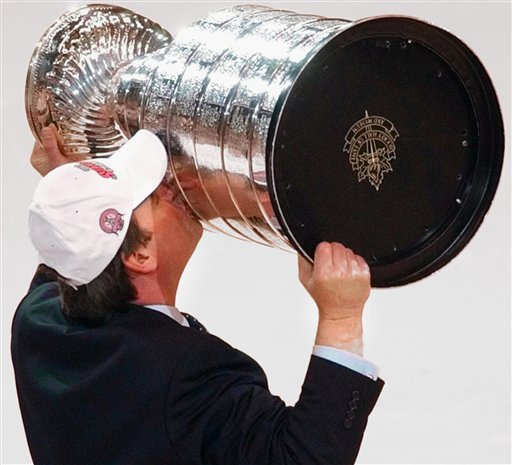 Also, I was extremely fortunate to get to know the coach over the last few years of his life. He never once made any apologies for the choices he made. Instead, he appreciated how much he had to learn to become the man he wanted to be under his terms and no one else's. Like him or hate him, you had to at least respect Pat Burns for that. If you have not read his book, I highly recommend it. Please do. Now my letter…..
---
Dear Hockey Hall Of Fame:
I write to you not as a member of the media but as a fan of the game and a proud son of a father who I wish every day was still here. I applaud you heartily for admitting Fred Shero into your hallowed halls. Mr. Shero was an excellent ambassador for the game and though his passing seems like ages ago, He held quite a few hats in the hockey world but most importantly was an excellent father.
Sometimes it takes a little time for men to achieve that delicate balance of life, job, and family man. Like Mickey Mantle, Pat Burns did a lot of things in his life that surely most would probably not be proud of. Nobody is perfect. I still remember Mantle saying "I did a lot of bad things in my life, do not be like me kids". The words resonated much the same way when I sat down with Pat Burns  a few years ago when he was in New Jersey. It sparked something much more for me as every so often we would correspond back and forth. As "Burnsie" was battling cancer for a final time, he basically said I just will not go through all those treatments again. Could you blame the guy? It felt like he just kept beating cancer and kept battling it. However, it was clear that he was at peace with his decision. The reports said it was terminal and even in the end, he went down fighting with the spirit that became synonymous with that Gatineau cop.
Lung cancer would ultimately claim Burns on November 19th, 2010 but his spirit lived on in so many of us. Though he was flawed and everyone knew it, he taught people so many life lessons, including myself. I am thankful for the time I got to know "Burnsie" . In the end, it was more about wins or losses and cups won or lost, it was about life. Pat Burns proved you could succeed no matter how hard  you lived. 
His softer side would be revealed more in his final days and after his passing. In some ways, it mirrored how my father lived. Yes he was flawed but he was the best hockey dad I could ever ask for. My dad ultimately succumbed to a massive blood clot to the heart after battling heart disease for a long time (R.I.P. 11/20/04). Pat Burns sent me one of the nicest letters in 2009 after the fifth anniversary of my father's passing. It made me realize what it really means to be a "builder" in this sport. 
A builder is a mentor in all phases of a hockey player's life while being a proud ambassador of the sport. Sometimes it is even more than numbers as there are intangibles that can never take a true "measure of the man". Simply I will let former coach and great Jacques Demers sum this up for you (a special thanks to CBC).
He was a confrère, we stick together. We competed against each other, we yell at each other, but when someone dies in the coaching fraternity, it's a sad day. Pat Burns should have been in the Hall of Fame this year. Not because he was dying, but because he was a Hall of Fame coach. Five-hundred wins, a Stanley Cup, three times coach of the year — to me, it would have been so special for him, before he died, to be in the Hall of Fame. We got the arena for him but I don't know why that didn't happen. — Jacques Demers, who replaced Burns as coach of the Montreal Canadiens in 1992 and later became his friend.
Again that was almost three years ago and here we are talking about how Mr. Burns did not quite make it into the Hockey Hall Of Fame again. Please rectify this for next year. This is not for just the fans, media, or people in the sport of hockey but lastly it is for the sons who truly have had a dad they can always be proud of. Thank you.
Sincerely,
Chris Wassel