"Win today and we walk together forever."
If Fred Shero were still with us today, he probably would say that the walk truly never ended. In speaking to his Philadelphia Flyers prior to Game 6 of the 1974 Stanley Cup Finals against Boston, this was his message, scribbled in chalk in the Philadelphia locker room. One Rick Macleish tip-in and one Bernie Parent shutout later, the Flyers hoisted Lord Stanley's hardware in just their seventh season and in doing so became the first non-Original Six franchise to lift the hallowed chalice.
The man called "Fog" for his mysterious persona may not have had the longest coaching reign in NHL history, but Fred Shero had one trait that so many athletes and coaches wish they could have. He just knew how to win.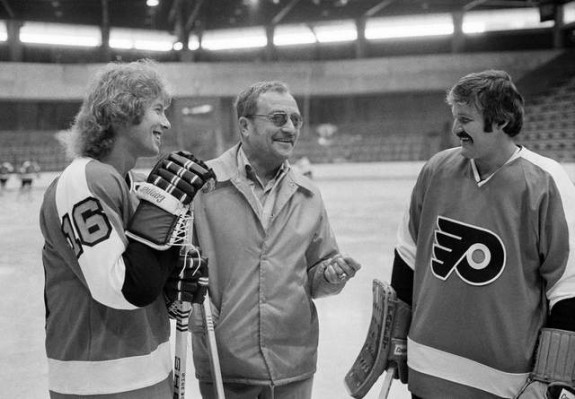 In just ten NHL seasons as a bench boss with the Flyers and New York Rangers, he won 390 games (308 for Philadelphia). Six times, his teams won 40 or more games. He led the Flyers to three consecutive 50-win seasons between 1973-74 and 1975-76. Each year, the Flyers made the Finals, winning in 1974 and 1975 before bowing to Montreal in 1976.
When the league introduced the Jack Adams Trophy for the league's best coach, Fred Shero was the first recipient for the Flyers' first championship season.
Beyond his importance to the NHL, though, Shero ushered in a new breed of preparation. When the Flyers had the opportunity to take on the Soviet Red Army team in 1976, fresh off a pair of Stanley Cup victories, many wrote the Flyers off. After all, the Soviets had steamrolled through the Rangers and Bruins, a pair of teams that boasted high-end talent.
As shown below, Shero decided, through the usage of film viewing, that checking the Russians actively played into their hands. So instead, the Flyers held their ground, particularly on their defensive blue line.
Shero's tactics dismantled, battered, and bruised the Russians, but also drove them near to the point of forfeit.
The Flyers' 4-1 victory over the Soviet Union turned out to be one of the final storybook moments for a man who spent years bouncing between the NHL and minor hockey as a player before carving out his legacy as a coach and, as the Hall of Fame title ensures, a builder.
Shero Gone But Not Forgotten
Sadly, as Shero joins Chris Chelios, Brendan Shanahan, Scott Niedermayer, and Geraldine Heaney among hockey's elite, it comes some 23 years since his passing in 1990.
At the time of his death, the admiration Shero received from his former players had a Hall kind of ring to it. Said Bernie Parent to the Philadelphia Inquirer's Joe Juliano in 1990: "He was so far ahead of his time. We respected him so much that when he introduced us to his new techniques and ideas, no matter how crazy they seemed, we tried them. And you know what? They always worked."
The pleading of Philadelphia hockey fans for Shero's induction to the Hall remained strong even up until the announcement of his posthumous honor on Tuesday.
Just how much did he mean to the Flyers? Well, a simple fact remains. Only one coach in the 46-year history of Flyers hockey has ever hoisted the Cup on Broad Street: Freddie the Fog.
And while his physical being may no longer be with the hockey world, one thing is for sure: wherever Fred Shero is, he is joining hockey's most elite company, and he will continue his walk together with them, forever.
Ryan Smith is a proud graduate of Penn State University, having attained a degree in broadcast journalism. His experience in hockey is extensive, having covered PSU Men's ice hockey for USCHO.com as an Arena Reporter for its first NCAA season in 2012-2013 while also serving as Penn State Athletics' voice of women's ice hockey home games. He was also the sports director for Penn State's ComRadio, a student based radio station endorsed by the College of Communications. In that position, he broadcasted Penn State hockey since for four years. He can be followed on Twitter @RyanSmithHockey.