Coming into the 2015-16 NHL season, if you had told New York Rangers fans that they would win just one playoff game before being bounced in the first round, they would be incredulous. After all, this was a team coming off a Presidents' Trophy win in 2014-15, the season in which they lost to the Tampa Bay Lightning in seven games in the Eastern Conference Finals.
The year before, they lost in the Stanley Cup Finals to the LA Kings in five games. In all, over the past two seasons, the Rangers played a combined 208 regular season and playoff games. It's very possible that their early exit this season could be attributed to fatigue.
It's also very possible that it was the sign of a contender hitting their peak, and beginning the descent into a pretender. On a team-wide basis, they were the worst even strength possession team that made the playoffs, ranking 5th to last among all NHL teams this season. Things weren't much better last year when they finished 20th.
The team clearly needs fixing. However, their salary cap situation is dire at best, and it's a very legitimate question whether they can make the changes they need to contend, or if they will stifle any retooling attempt, forcing the team into a steady decline or full-out rebuild.
Rangers fans point to the dead weight contracts of Marc Staal and Dan Girardi, who have a cap hits of $5.75 and $5.5 million dollars for five and four more years, respectively. And both have NMCs. If only they could dump them, the Rangers would have the cap room to make the moves needed to contend.
The problem is, those contracts have become some of the most untradable in the league. The on-ice performance from both of them has fallen off a cliff since they signed their extensions. The Rangers could buy them out, but they would need to convince them to waive their NMCs, and be saddled with dead cap space for 8-10 years.
The other option when you need to get rid of a toxic contract is to package it with another valuable asset to entice another team to take it. Problem is, the Rangers traded away most of their appealing assets. Their most recent first round pick was 2012 (Brady Skjei), they don't have their first or second round pick this year, and don't have their second round pick in 2017.
Just a reminder. Rangers first-round pick this year was playoff protected. NYR made playoffs. Coyotes now have it. No deferring the pick.

— Craig Custance (@CraigCustance) April 23, 2016
As of right now, the Rangers have $55 million committed to seven forwards, five defensemen, and one goalie. That gives them roughly $19 million to add, at a minimum, six more forwards, two more defensemen, and a goalie. And improve the roster enough to contend. More and more signs point towards a full-blown rebuild being needed.
How Does Henrik Lundqvist Fit?
Contributing to that cap crunch is the contract of now 34 year old Henrik Lundqvist. Hank carries an $8.5 million dollar cap hit for five more seasons, is owed $38.5 million in real dollars, and has a full NMC. Without question, he is still an elite goalie in the NHL. He's one of the greatest ever at his position. But the Rangers need to look in the mirror and ask, how much does he have left?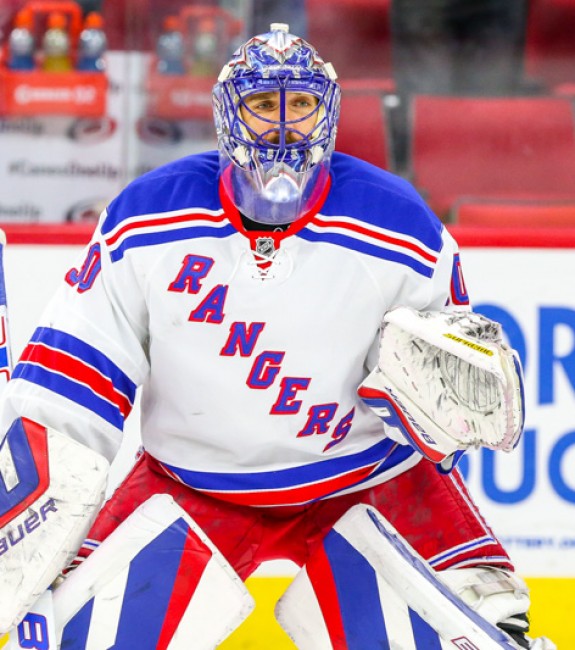 Lundqvist has been the best goalie in the league over the past ten seasons, bar none. But at 34, he is hitting an age where goalies are rarely able to post elite numbers. Consider his production this season (a 2.48 GAA and .920 save percentage). That's a good season, but for Henrik, it was actually his worst since 2008-09, seven seasons. And in the playoffs, while the team in front of him played very poorly, he did not look himself en route to going 1-3 with a 4.39 GAA and .867 save percentage.
In NHL history, there are only 16 seasons in which a goalie at the age of 34 or older has equaled or bettered the numbers that Lundqvist posted last season while being a starter. Only four goalies (Dominik Hasek, Patrick Roy, Roberto Luongo, and Tim Thomas) have managed to do it more than twice. Lundqvist belongs right in the conversation with them, but it goes to show that Lundqvist very likely doesn't have more than 2 or so seasons left as an elite goalie.
Can the Rangers retool their roster within that amount of time, considering their cap situation? Or do they see it as too difficult, cut their losses, and try to move Lundqvist?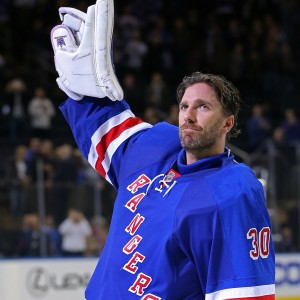 Moving Lundqvist would obviously mean waving the white flag, admitting the window is closed, and entering a long rebuilding process. However, there are a number of obstacles to dealing Lundqvist.
Who would want him? He's 34 years old and is signed at a cap hit of $8.5 million for five more years. Taking on that contract is playing with fire. Then there is Lundqvist's NMC. It's likely the only scenario in which he would accept a trade would be to a contending team so he has a shot at a Stanley Cup.
What contender can afford to take on that much salary, and would they be willing to give anything significant of value considering the salary they're taking? The Rangers could retain salary to maximize their return, considering money is far from a problem for the Rangers.
And finally, what contender is really in need of a goalie? After considering all of that, the only trade partner that would really work would be the Dallas Stars. They have holes on defense, but with Lundqvist, they could be minimized.
All of the other contending teams have their goaltending situations pretty much figured out. The fact that there are so few suitors, and so many obstacles to trading Lundqvist points towards the Rangers keeping Lundqvist, and praying that they can catch lightning in a bottle and make one final run before having to blow the team up in a few years.
Bill Schoeninger is a Philadelphia Flyers writer and current Boston University student studying business. Coming to THW from Hometown Hockey, Bill follows and writes about the Flyers, Boston University Terriers, and NHL Draft prospects. Follow him on twitter @BSchoeninger17