The Minnesota Wild are fighting for their playoff lives right now.
Yesterday afternoon's shootout win against the Hurricanes was huge to close the gap for the final Wild Card spot to one point with headed into tonight's game in Chicago.  Coach John Torchetti after the game spoke about the team's ability to win battles and how that translated to the win against Carolina.  He also spoke about the lineup changes he initiated for the game, most notably the decision to scratch Thomas Vanek, by saying to Michael Russo, "We put the lineup in that we feel is going to win the game."
Torch on scratching Thomas Vanek:
"We put the lineup in that we feel is going to win the game." #mnwild

— Michael Russo (@RussoHockey) March 19, 2016
Fast-forward to today and Russo is reporting that Torchetti will be holding Vanek out of tonight's game in Chicago as well.
Vanek on 2nd straight scratch: "Am I happy about it? Of course not. I still feel like I can make a difference in this league." #mnwild

— Michael Russo (@RussoHockey) March 20, 2016
Torchetti has come in and instantly installed a culture of accountability.  The players have all been put on notice that being in the lineup is a result of good play, that you need to earn your playing time.  Vanek obviously has gotten the message, but one has to wonder if his two game benching will mark a turn around point or will he continue to plummet further down the production ladder?
Declining Effort and Declining Production
Torchetti's quote and two game benching is a strong indictment on where Vanek stands in the mind of the current coach.  In a crucial games yesterday and tonight in Chicago, Torch felt that Vanek should not be in the lineup because he was not going to help the team win.  This is now the third time this season that Vanek has been a healthy scratch and excluded from the lineup for poor play, twice by Torchetti and once by Yeo.  Vanek's play had been so bad that over the last ten games he has only mustered 3 assists, no goals, and only 14 shots.
Just when it seemed that this season would see Vanek turn things around and play up to his $6.5 million a year contract, he's been virtually a non-factor in the score sheet since mid-December.  For most players this would be acceptable as a down year, but Vanek had a down year last year and he's the fourth highest paid player on the Minnesota roster.
Vanek's totals in whole this season are 18 goals, 23 assists, and minus-6 on the plus/minus.  Those numbers are not even close to justifying his high salary or showing a performance that is commensurate with his potential.  You can speculate on the reason for the lack of production if it is an issue of effort, declining ability, a nagging long term injury, or just plain something else.  All these reasons are showing that Vanek is more of a liability to the team at this point who is not living up to his contract, and with such a high cap hit the Wild need to seriously consider buying him out in the offseason.
The Buyout Numbers
If the Wild were to buyout the remaining year of Vanek's contract it would immediately free up $5 million of cap space.  That's a significant number that can be used to sign other high tiered free-agent forwards that will most likely demand somewhere in the neighborhood of $5-6 million a season.
This might seem like a must do, but as with all buyouts though there is still some retained cap hit that will make a dead money situation.  In the case of Vanek's contract the Wild would see $1.5 million in dead money next season, and $2.5 million the season after that.  This money becomes money that can't be used for any salaries but counts towards the team's overall salary cap number.
With next season's projected salary cap at $74.4 million next season, and Matt Cooke's buyout costing 1 million, the Wild would be looking at about $71.9 million in total salary available.  That's very close to the $71.4 million that the league is under right now for the 2015-16 season, so in essence buying out Vanek would only cost the Wild their salary cap increase next year.
What Can Be Done with Vanek's Salary?
A buyout of Vanek almost single handedly allows the Wild to sign one of the top tier UFAs that will be entering the market this summer.  It also allows for a stronger hand in trade negotiations to be able to absorb higher price contracts, because in many cases trades never materialize because the cap numbers just aren't right.  The $5 million from Vanek combined with the fact that David Jones' $4 million will be either completely off the books or reduced could see the Wild have possibly up to $9 million to spend on a UFA forward.
Looking at the impending UFA forwards in the league really four players standout that could be a great fit for the Wild.  Forwards coming onto the market who the Wild could target for as much as $6 million are Loui Erikson, Andrew Ladd, and Kyle Okposo.  All of these players are going to finish the regular season with 20 goals plus, and in the case of Erikson he could finish over the 30 goal mark.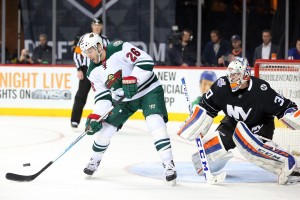 Also in the trade market Vanek's $5 million could be key in acquiring a talent like Ryan Nugent-Hopkins.  If the Wild can broker a deal with the Oilers for Nugent-Hopkins they would be able to absorb almost all of his $6 million contract with the freed up cap space.  Additionally, depending on the player traded they could possibly make it a multiple player deal because of the traded player's cap space.
Obviously there's a lot to consider with a buyout.  With ten more games in the season and possibly some more playoff action, Vanek could find his game and make a push to change this argument.  Still if the Wild want to truly shake things up in the organization this move could be one of their few available courses of action.  Based on yesterday's and today's decisions Vanek is not part of a lineup that the organization feels is going to win the game, so it might be time to see if the Wild can find someone else who can be part of that lineup by buying out Vanek.
Danny Lambert has been covering the Minnesota Wild for some time now, and is back again as contributor to THW staff. A native Minnesotan he's always had his eye on the State of Hockey and is proud to write and represent such a great market and fans. Follow him on Twitter at @dannylambert17