Rebuild. It's a common word in sports. It's the term that upper management uses to keep fans from revolting against the terrible team they've constructed. When a sports team is bad, it's usually because the personal chosen isn't good enough, bad decisions have been made in terms of scouting and drafting, and/or there isn't enough money to field a competitive product. For franchises constantly at the bottom of their respective leagues, it can be any number of those reasons, maybe even all of them.
Some teams are always the butt of the joke, always losing, rarely making the playoffs. Others are consistently the class of the league, always winning, always competitive. Sure, they may have a down year here and there, but you know that they'll bounce back and be good again. For the lame duck teams, you just come to expect incompetence, and don't even bother having high hopes. The Edmonton Oilers used to be one of those teams that was found at the top of the league. They had the best players. They won Stanley Cups. There were often the envy of other franchises. It's a different story in this day and age.
The Oilers are now always in contention… to win the draft lottery. It was fun at first. Stockpiling all that talent. Building from within. Hoarding organizational depth. But 10 years removed from their last playoff appearance, and you have to wonder what they've been doing all this time. Despite having a generational talent in Connor McDavid, the Oilers are terrible this season. They may actually have the first overall pick again, (their fifth since 2010), which is crazy to think about. The natives are getting restless, and you can hardly blame them.
Auston Matthews, here we come. #oilers

— Bryna Campbell (@Bryna_C) February 17, 2016
How many more years of non-playoff hockey will the #Oilers go before they sacrifice the necessary elements in order to move forward.

— Beer League Heroes (@BeerLeagueHeroe) February 17, 2016
#Oiler fans should prepare for the team to undergo yet another rebuild. This time a core player or two will be dealt. It's time.

— SGordon (@shanestrain) February 17, 2016
Is it indeed time to make some big changes? Or should the team continue the process and stay patient? The key is to identify how they ended up in this situation to begin with, and I can pinpoint two main reasons.
Bad Scouting
Management Failed
Having the first overall pick is a coveted position in sports. You have first dibs at the best player available. But for the Oilers, it's been more of a curse than a blessing. It created a false image that they were going to be amazing in a few years because of all the great players they drafted. And save for Nail Yakupov, for which the jury is still out, they picked good players. But other than Darnell Nurse, they have no defensive depth in their prospect pool. They've been scrambling to find a decent goalie since Dwayne Roloson.
Yes it's nice to have first overall picks. But a couple of those draft years weren't particularly strong. And now those players are saddled with the expectation that they should be way better due to their draft position. But the Oilers did nothing to insulate them. There weren't any solid veterans around them to help them develop and learn the game. They were expected to be the core right away, and that's a recipe for disaster no matter how talented you are. Management created a toxic environment in which young players were thrown into the fire with no safety net, and the perceived notion that were a couple pieces away from being a powerhouse.
Why are Oilers draft picks like Jeff Petry, Andrew Cogliano and Devan Dubnyk succeeding in other places? Because for the most part they aren't round pegs stuck in square holes. Correct utilization is key to get the most out of a player, and the Oilers have failed at doing that for years. Justin Schultz may be a bust no matter where he plays, but he could also end up on a third pairing somewhere else, and end up thriving. I wouldn't be surprised. And what about Nail Yakupov?
Yak was No. 1 player picked in 2012 draft. No. 1 picks are supposed to make other players better. He needs change of scenery.

— Jim Matheson (@NHLbyMatty) February 17, 2016
Is it time for the Oilers to move on from him? Let's face it, his development has been terrible from the get-go. Yes, he made it tough on the team by refusing to go back to junior. But he wouldn't be a first overall pick in many years. In fact, he may not even be top three in some recent drafts. The trouble is, how much is he worth on the trade market? Opposing teams looks at him and see talent not quite realized. He might be really good as a second-line winger with an elite centerman like Evgeni Malkin for example.
And what would happen if the Oilers got the first overall pick again this season? It would be really difficult to pass on Auston Matthews because he looks to be as much of a sure thing as a prospect can be. I had tossed around the idea of trading that pick for a really good defenceman. If Seth Jones is movable, other guys could be too. That's one idea. Another idea is drafting Matthews, thus making other guys on the team expendable. No one wants to trade Nugent-Hopkins, I understand. But Matthews is projected to be better. Sure, it's a known commodity versus an unknown. And yes, we haven't really seen the one-two punch of McDavid and RNH. But, trading him can net a solid return.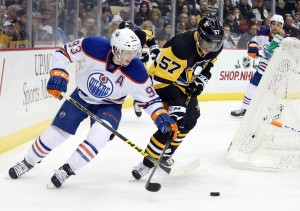 The Oilers haven't been healthy this season. We haven't really seen them as a complete unit. But every team has injuries. The Penguins rarely play long stretches with all of Sidney Crosby, Malkin and Kris Letang on the ice at once. But they're still competitive. Injuries cannot be an excuse because they'll happen every year. The Oilers need to learn to power through. And they need better organizational depth to overcome those injuries. The last management regime would just shuffle average players in and out rather than actually try to improve the depth.
Now, however, the Oilers finally have competent management and coaching. The on-ice product hasn't changed, because there are a lot of mistakes still left to fix from years past. That will take longer than three quarters of a season. This year is lost, that much is certain. But blowing up the core at the trade deadline probably isn't the best course of action. Once we know where the Oilers will be drafting, things will become more clear. If they end up with the second or third overall pick, I would seriously considering trading it for defensive help. It may take a package deal. But that pick is an asset that needs to be handled properly.
Would I consider parting ways with players like Jordan Eberle, Schultz and Yakupov? Yes. Would they fetch big returns? We don't know yet. Connor McDavid is untouchable. I really like Leon Draisaitl. Taylor Hall, so long as he can co-exist with McDavid, should also be considered unmovable at this point. But then again, we don't know what management has up their sleeve. It's either going to more patience, with a few smaller moves, or some groundbreaking trades that shakes the core. We may not have to wait too much longer to find out the answer.