The Alex Semin experiment in Montreal is over and the former 40-goal scorer was recently placed on waivers, only to clear yesterday with no claims submitted. With obvious ties to Penguins' general manager Jim Rutherford from their days in Carolina, one has to wonder if Rutherford possibly contemplated whether or not he should claim Semin and bring him to Pittsburgh. Considering Semin's low cap hit, the Penguins could make it work financially, especially with the recent retirement of Pascal Dupuis. The question is, would it work on the ice? Should this have been something that Rutherford considered?
It's abundantly clear the Penguins are having trouble scoring goals. And, while he hasn't been able to find his scoring touch in recent seasons, Semin could potentially help resolve those scoring woes if things were to click for him in Pittsburgh's lineup. With Mike Johnston struggling to find a good suitor for Sidney Crosby among the Penguins' current forward group, maybe Semin was worth a look?
Alex Semin by the Numbers
Semin is the epitome of a player that sparks debate among the analytics crowd and those that haven't yet accepted underlying numbers as a means for analysis. But, whether or not you like to account for those results, there's no denying that it's easy to denounce the claims of Semin's laziness by taking a look at his two-way numbers. Analytics clearly aren't the end-all be-all for looking at player performance but they paint a very good picture of how that individual is producing and impacting their teammates. First, consider his HERO chart, via ownthepuck.blogspot.com, which accounts for a three-year span from 2013-2016.
As you can clearly see, Semin ranges in the area of top-nine offensive production, leaning more toward top-six while boasting impressive shot-suppression and defensive numbers. This is exactly what has caused the long-term debate over whether or not Semin is a lazy forward, as many will claim based on the eye test. Statistically, it's hard to find any evidence of that being the case. Of course, maybe he has been the recipient of solid line mates, which boosted his individual numbers?
Unfortunately for those that look at Semin in that light, the assumption also fails to hold water, as nearly every player has received a boost in overall Corsi-for percentage at even strength when he shares the ice with them. Below are the top-10 players in ice time alongside Semin, both forwards and defensemen, over the past three years.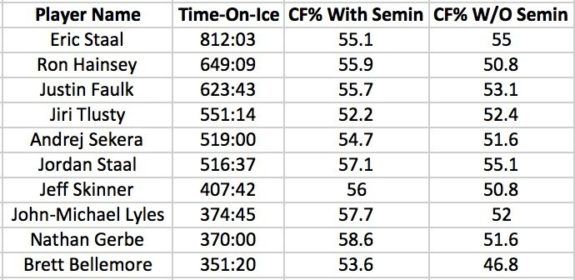 While I don't view Semin as a top two-way forward in the NHL by any means, his impact on his linemates is quite positive. He has proven time-after-time that he can score in this league and could excel again if given the right situation. Did he get a fair shake in Montreal? Could the Penguins provide him with the situation he needs to be a top scorer in the NHL once again?
Low Risk, High Reward Gamble
At the price this would have entailed, there's very little reason not to consider Semin as an option. If it would work out, great. If not, you'll have made very minor changes to your NHL roster to fit him in and could also waive him in the future. Of course, the big question is where he fits in this lineup as currently constructed.
Given the struggles we've witnessed so far this season by Chris Kunitz and Patric Hornqvist, I'd give Semin a shot to play alongside Crosby. He drives possession, possesses a top-tier shot and has experience with creative centers. Theoretically, it's a match made in heaven. Realistically, there's a chance it could fail but once again, there isn't enough risk to be concerned with that. If the two mesh, the Penguins could have a great one-two punch with Crosby/Semin and Evgeni Malkin/Phil Kessel.
Semin finished with 22 goals and 42 points in only 65 games-played as recently as the 2013-14 season. He could be a player that simply needs the right situation to spark his offense once again. Or, his time as an effective scorer in the NHL may be in the past but there's only one way to find out. This was a gamble that Rutherford should have considered. Now, it seems as if Semin could be heading to the KHL while the Penguins are in search of someone to slot in alongside Crosby. This wouldn't have been a guaranteed home run at all but simply a worthy experiment. Would you have taken the gamble and submitted a claim? Comment below or tweet me at @Michael29Angelo.
Pittsburgh Penguins writer for TheHockeyWriters.Com and PittsburghHockeyNow.Com. Youth hockey coach, and student of the game.