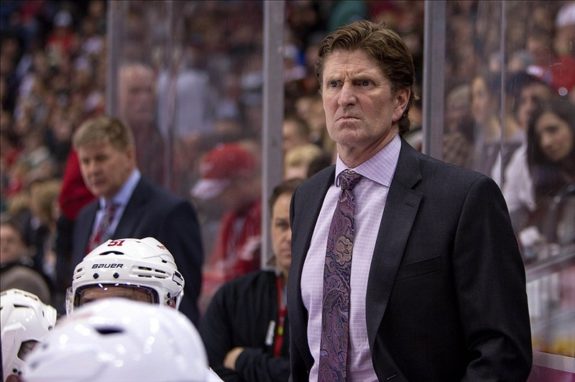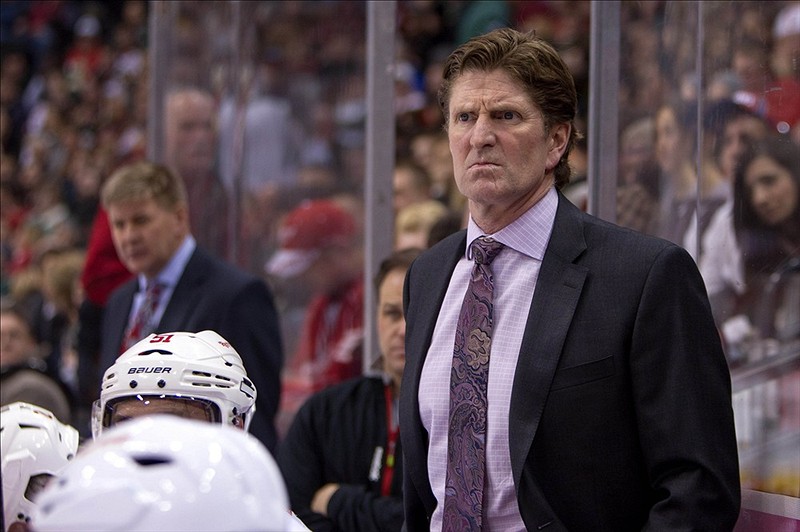 One of the biggest storylines heading into the Detroit Red Wings' 2014-15 campaign is the uncertain future of head coach Mike Babcock. Babcock has one year remaining on his current contract, and has stated he will not discuss a new deal once the regular season commences. General manager Ken Holland's recent remarks that negotiations won't begin in earnest until the players and coaches head to Traverse City for training camp offer a chance to examine whether re-signing Babcock is the right move, given the current state of the team.
Are Free Agents Avoiding Babcock's Red Wings?
It's no secret that Babcock is a tough, demanding coach — traits that can occasionally veer into stubbornness. Whispers of players' wariness to play for him arose two years ago when the Red Wings failed to sign both Ryan Suter and Zach Parise, their top targets in free agency. However, these murmurs of discontent were largely silenced after the team was able to secure the services of Daniel Alfredsson and Stephen Weiss the following summer. That silence, however, was merely the calm before the storm.
When the 2014 free agency period began on July 1, it was no secret the Red Wings were in the market for a top-four defenseman. In the weeks and months leading up to that date they had been linked to nearly every prominent defenseman on the market, including players believed to be seeking deals of at least five years like Matt Niskanen. On July 1, however, the hours crawled by and, one by one, the Red Wings' targets spurned the team's advances. Once again, players' apparent lack of desire to play in Detroit became the topic of the offseason, leading to a Twitter firestorm among the fan base. One tweet in particular stuck with me.
@e_prime Really. He's a dictator unwilling to change his ways. Lots of respect but no one is bending over backwards for that @TheJeffHancock

— The Production Line (@TPLhockey) July 2, 2014
The tweet in question belongs to Michael Petrella. Petrella is a former managing partner of The Production Line, a now defunct, but once prominent Red Wings blog, and an outspoken critic of Babcock. I'm not going to pretend that Petrella's tweet was the first disdainful comment made about Babcock this offseason, but I do know that I thought about that tweet every now and then for the following few weeks. There it sat, in the back of my mind, until Petrella the blogger resurfaced for the first time in nearly a year by dropping a scathing truth bomb on the entirety of the Detroit media. In the piece, Petrella takes the writers covering the Red Wings to task for their refusal to even question a series of front office moves that were panned in seemingly every corner of the hockey world, save for the one those writers inhabit. The piece (published at Winging It In Motown, DetroitHockey.net, and The Malik Report) is a must-read for Red Wings fans, as well as any other sports fan with an interest in team-media relations. Additionally, Petrella's piece provided me something I had previously lacked: his contact information.
Tenure Often Valued Above Skill
Two weeks ago, I wrote Petrella and asked how he had become such a strident critic of Babcock, and whether he thought Babcock should be the head coach of the Red Wings after this season.
Throughout his response, Petrella emphasizes his respect for Mike Babcock the hockey coach. But he also raises sharp questions regarding the Red Wings' free agency failings:
"I think it's worth noting right from the top that I think Mike Babcock is one of the — if not the — best coaches in the world. There's no doubting he's a proven winner, with a drive that's unmatched. There's no questioning that. The question is, 'is he the right coach for this team right now?' and that's a little tougher to answer."
And that's where this becomes complicated. Few would take issue with the assertion that Babcock is a better coach than Jeff Blashill, Babcock's near certain successor should he decide to leave. But the question of whether Babcock is a better fit, right now, than Blashill is a fair one. Petrella doesn't think it beyond the realm of possibility that Babcock's ultra-demanding ways have worn on the Red Wings' current roster. Even more concerning to Petrella is Babcock's insistence that the younger Red Wings "earn their spots" over veteran members of the team, even when those veterans are less productive than their younger counterparts.
"It's no secret he's […] stubborn," Petrella writes "He'd even admit that. He's locked into his ways (and who can blame him — he's had success everywhere with them), but not all of those ways make sense for the Detroit Red Wings in 2014. Take, for example, his complete reluctance to play young players. He can't be blamed for [Gustav] Nyquist's season starting in Grand Rapids, but [Tomas] Tatar was only dressed for one of the first nine games last season, so that veteran guys could play ahead of him."

It's no secret that Mike Babcock is a demanding presence behind the bench. (Photo by Jim McIsaac/Getty Images)

 
Of even greater concern is that the upcoming season's roster doesn't appear to be shaping up much differently. If Daniel Alfredsson were to re-sign with the Red Wings, Tomas Jurco would almost certainly be forced to begin the season in Grand Rapids. This is an especially disconcerting prospect for a promising young player who has already fallen victim to Babcock's philosophy, having been scratched (probably wrongfully) in the playoffs last spring. Again, roster construction obviously does not fall solely on Babcock's shoulders, but one has to wonder how many more times the team can afford to upset its young players before one or more decide they've had enough.
Does Babcock Push too Hard?
Beyond these admittedly subjective methods of evaluating Babcock's current standing with the Red Wings, Petrella takes umbrage with a far more tangible matter: the annual rash of injured Red Wings. It's an issue that has become increasingly visible over the past several seasons, and one that Petrella believes could be more easily prevented.
"It's not really a secret that he pushes the players too hard in practice. And I know that sounds ridiculous, but hear me out. When you play an 82 game (plus whatever post-season and potential exhibition) schedule, not every practice can be high-tempo. From what I've been told by people close to the medical team there, a great deal of the injuries are born in practice because he keeps asking for more and more. I don't know if he's entirely to blame in that situation — perhaps the doctors need to tell him to back off it a bit — but the injury situation hasn't been an accident all these years in a row. The common denominator is the Red Wings."
When I questioned whether or not he thought some of the injuries could be attributed to age or even bad luck, Petrella responded strongly and referred me to The Production Line's extremely detailed game log chart.
Pavel Datsyuk and Darren Helm both suffered from lingering groin injuries in 2013-14. (AP Photo/Gene J. Puskar)

"[N]early the entire roster miss[ed] time due to injury. That's not luck, or age, that's poor management. The only players on the roster for half the season or more that did NOT get injured were Luke Glendening, Kyle Quincey, Brian Lashoff, and Drew Miller. Injuries like [Danny] DeKeyser's are going to happen… — it's bad luck that that happens more than once in a season. But TWENTY "regulars" injured in the same season. That's a problem."
What Happens Next?
Whether or not (and how much) you attribute the injuries to the practice regimen, there's no denying that this has become a trend over the past three seasons. And whether or not you think Babcock should coach the Red Wings, he has proven time and again that he is one of the best coaches on the planet, as Petrella so quickly noted. But this is where everything comes back to fit: Is Mike Babcock the right coach for the Red Wings in 2014? When I pressed Petrella for an answer he was non-committal, but he did offer a prediction.
"… I think Babcock walks at the end of this season. Just a gut feeling. If he DOESN'T leave, we absolutely lose Blashill to an NHL gig. I don't think Blashill is the better coach, but I'd really hate to lose him — particularly since he may very well be a better coach for THIS TEAM at this time… So, it may be best for all if there's a philosophical shift, and that means Babcock leaves. "
That last part has stuck with me since our exchange. I love Babs, and have written so before. But I've also noted that I'm not a "blind follower of the Church of Babcock." Until I talked to Petrella I had pretty firmly considered Blashill to be a solid backup plan to Babcock, as Blashill is a highly regarded coach and one the Red Wings will almost certainly lose to another job if Babcock re-signs. But I'd be lying if I said I hadn't also wondered if Babcock's message and methods were wearing thin on the players.
At the end of the day, we're talking about the man who has coached Canada to the gold medal at the last two Olympic hockey tournaments. That's not someone you generally just let walk out the door. It should be noted, however, that Blashill has coached many of these players before, and they are the next generation of Detroit Red Wings. The more I think about it, the more I can't help but wonder if a change is best for all involved. And the more I think about it, the less nostalgia and the next generation seem able to coexist. Perhaps Coach Babcock is better suited in a place desperate for the type of culture change he could immediately provide. And perhaps the next generation of players needs the next head coach of the Red Wings in order to truly thrive.