The Carolina Hurricanes have been on the outside looking in of the NHL's elite for the past five seasons. Jim Rutherford unexpectedly stepped down from the general manager position at the end of the last season paving the way for Ron Francis to take his spot. It was only a few years ago that the Canes struck gold by drafting Jeff Skinner and Justin Faulk in 2010, and it was only a few years prior to that that the team won its first Stanley Cup. Now it's time for Ron Francis to take a struggling team back to the pinnacle of the hockey world by turning to his prospects in the coming years.
Criteria:
Skaters can not have played more than 42 games.
Goalies can not have played more than 25 games.
5. Sergei Tolchinsky – OHL – Sault St. Marie Greyhounds – LW
The short-statured Russian's draft year came and went without hearing his name called on draft day. The fact he was skipped over lit a fire within Tolchinsky to prove his doubters wrong. There is a spot for smaller forwards in the league and Tolchinsky lit up the OHL this past season as a result. The Canes took a chance on him and signed him to an entry-level contract.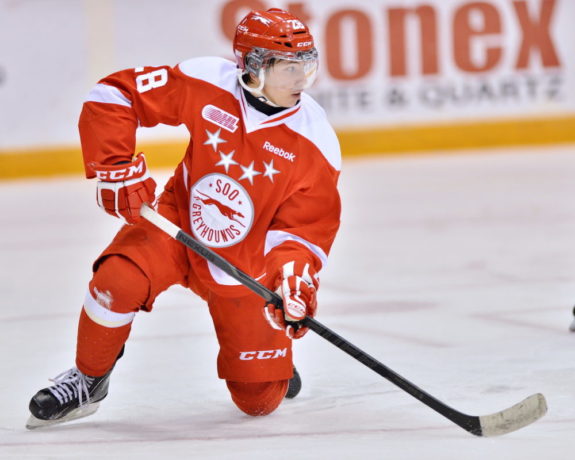 With the Greyhounds Tolchinsky has showcased his tricky stickwork and elusiveness with the puck. He does have the "boom or bust" label on him, but Tolchinsky projects to be a speedy, point-producing winger in the NHL. He has a strong puck pursuit which helped him score 31 goals this year. He'll rejoin the Greyhounds in 2014-15 where he will hopefully continue his production.
4. Victor Rask – AHL – Charlotte Checkers – C
Rask started the season strong with the Charlotte Checkers, but struggled in the middle of the year. He came on strong and started becoming more effective in the latter portion of the season. While it took time for him to adjust to the AHL game, he has become one of Charlotte's best two-way forwards and will have the 1st line center position next season unless he falters. His point total from last season is not indicative of the skill he has. He reads the game well and shows the capability to be adept at scoring goals and setting up plays like he did with the Calgary Hitmen a few years back.
3. Alex Nedeljkovic – OHL – Plymouth Whalers – G
Alex Nedeljkovic was the 3rd goalie taken in the 2014 draft and it couldn't have worked out better for him. With Cam Ward floundering in recent years and looking nothing close to what he was in the magical 2006 Stanley Cup Finals run, Anton Khudobin has become the go-to guy in Carolina. With a few seasons of junior hockey under his belt, Nedeljkovic could make his way to Charlotte and then to Carolina as a backup. Goalies take a little time to become serviceable in the pros, but Nedeljkovic isn't like many other goalies. While most goalies have size to fall back on, the Ohio-native is only 6'0″ and plays the game with skill and positioning to his advantage. In Plymouth last season he had a decent 26-27-7 record, but had an under appreciated .925 save percentage.
2. Brock McGinn – OHL – Guelph Storm – LW
A hard-nosed, physical winger, Brock McGinn was a reach in the 2nd round of the 2012 draft for the Hurricanes, but this season has made it look like a 2nd rounder was worth taking the risk. As a 19-20 year old for the Storm, McGinn polished his all-around game and was a major offensive factor for Guelph on their way to the Memorial Cup Playoffs. Many are still unsure what type of role McGinn will have with the team, but with his newly found offensive touch, he can be used as a versatile winger. He possesses the necessary NHL skills, but it'd be wise to spend at least a year in the AHL to play against men instead of kids.
1. Haydn Fleury – WHL – Red Deer Rebels – D
Blessed with NHL size, Haydn Fleury was one of the premier defensemen in a forward heavy 2014 draft. He turned a corner this season and began to put up points from the blueline. The large defender has a fluid skating stride, moves the puck out of his zone quickly, and is capable of quarterbacking the powerplay. A nice get for the Canes, Fleury may still need a few seasons before they allow him to join the team. After scoring an encouraging 46 points for his junior team, Fleury will probably rejoin his teammates in Red Deer and work on becoming an even better defenseman.