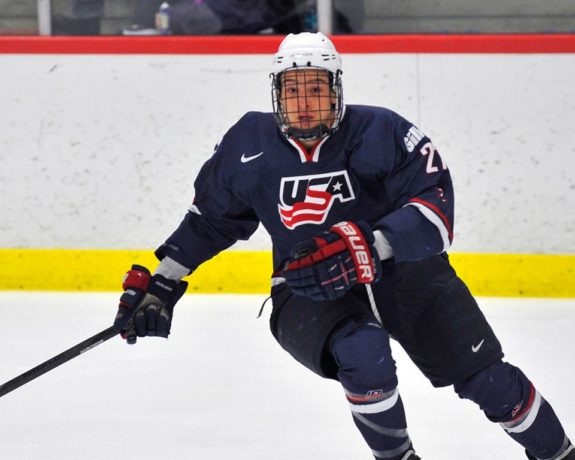 It's been well documented, the CHL and the NCAA are in direct competition with each other for the high-end, blue chip recruits. Some have even suggested that the CHL and the NCAA are at war with each other.
During the summer months, college hockey fans sit on pins and needles wondering if their favorite college hockey team is going to lose another recruit to the Canadian Hockey League.
During the 2014 NHL Draft, four college  bound players were drafted in the first round. It appears that one of these high-end, blue chip recruits could be headed to the OHL, instead of honoring his college commitment.
Yesterday, Jeff Marek of Sportnet Canada tweeted this…
Also, look for CBJ 1st rounder Sonny Milano to announce he'll forego playing at Boston College in favour of the Plymouth Whalers of the OHL.

— Jeff Marek (@JeffMarek) August 3, 2014
A familiar scenario
Unfortunately, this is a familiar scenario that has been played out hundreds of times before.
The scenario usually unfolds like this, a high-end, blue chip recruit is drafted by an NHL team. This same player has also been drafted by a CHL team. Shortly after the draft, rumblings begin to surface that recruited player is considering the CHL route, instead of honoring his college commitment. Comments are made by the player in question, telling us that he's still committed to playing at the aforementioned college team. Later, an announcement is made, telling fans that the player in question has decommitted from the college team, and is headed to the CHL. I hate to say this, but the Milano story sounds a lot like this.
This scenario is more problematic the later it happens in the summer. Decommitments leave holes on a team's roster that are usually replaced with a less talented player.
Anyways, since about 7 PM, multiple sources have indicated to me that the staff fully expects Sonny Milano to be on campus this September. In fact, Coach Ayers is up in Lake Placid with Milano for US World Jr team tryouts and no one from the BC camp has been informed that Milano is indeed gone. A handful of other trustworthy reporters such as Mike McMahon and Andrew Weiss have also stated that their sources indicated that Milano was going to BC this fall. (Boston College Hockey Blog)
Already this summer, the University of North Dakota lost a recruit to the CHL. Originally, Ryan Mantha was committed to UND, but he decommitted and signed with the Niagara Ice Dogs of the OHL. The scenario played out much like this one and no college hockey team is immune to this.
Like I've mentioned before, division I college hockey is in direct competition with the Canadian Hockey League.  There's really nothing college hockey teams can do to stop this. CHL teams openly recruit committed players even after they arrive on campus.
Today, Boston College Hockey fans are wondering if their prized recruit is headed to the Plymouth Whalers, or will he honor his commitment to Boston College Eagles? Milano said that he's committed to attending Boston College in the fall.  Only time will tell, and it will be interesting to see how this plays out.