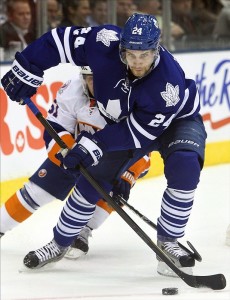 John-Michael Liles' career with the Toronto Maple Leafs got off to a great start in 2011-2012 but ever since Randy Carlyle took over behind the bench, his play has gone downhill. So much, in fact, that his time in Toronto appears to be limited.
The difference between the coaching systems of Randy Carlyle and former Maple Leafs bench boss Ron Wilson have been well-documented. Wilson liked to see his players jump into the rush whenever possible and, especially during the latter stages of his Toronto tenure, encourage a high-tempo, offensive game. This is one that suited Liles very well.
Liles, 32, is known as an offensive defender that can sometimes be shaky defensively. That hasn't seemed to matter too much during his career, though, as his impressive skills while in possession of the puck have outweighed his defensive inefficiencies. For a quick example of what Liles can do with the puck, skip to the 24-second mark of the video below.
Not only can he score off the rush or single-handedly just like that, Liles can also effectively work a power play from the back-end and get an offensive play going with the first pass out of the defensive zone.
Unfortunately for Liles, all of the above attributes are ones that Carlyle isn't really looking for out of his defencemen unless they can also play sound defence night in and night out. This is one reason why Liles, who used to be a regular in the Maple Leafs' lineup, now finds himself as a healthy scratch on an all-too-regular basis. His last appearance came on February 16 when the Maple Leafs hosted the Ottawa Senators.
Not helping Liles' situation is the logjam the Leafs have on defence. Accompanying Liles on the back-end are Cody Franson, Mark Fraser, Carl Gunnarsson, Korbinian Holzer, Mike Komisarek, Mike Kostka and Dion Phaneuf. That gives the team eight NHL calibre defenders, while Jake Gardiner is down with the Marlies as he gets ready for his shot with the big club.
[Related: Maple Leafs Panel: Defence, Trade Bait and Buyouts]
Dave Nonis is currently in a tough spot with defenceman. Liles and Komisarek combine for a $8.375 million cap hit and both come with modified no-trade clauses according to Cap Geek. The only thing that remains is the fact that Komisarek's contract seems to be the more unlikely candidate to get moved given that his cap hit is larger, there is still another year on it after this year (although Liles has three more) and he hasn't quite played to the standard Liles has. In fact, Komisarek has only managed to appear in four games.
All of this makes Komisarek unattractive to potential trade partners.
If it's not possible for a Liles Toronto Maple Leafs trade by the league-wide April 3 deadline, they have the option to buy him out this summer or next without having to take on a salary cap hit. You may ask, why would the Maple Leafs wait until next summer to buy out his contract if they really wanted to, allowing them the chance to see if he turns into a Carlyle player? Simple: the 2013 free agent crop has the potential to be a very juicy one.
Liles' current contract, which he signed a little over a year ago, tags $3.875 million against the Leafs' salary cap and will continue to do so until the summer of 2016 if the team doesn't act on it. No matter when the Leafs decided to buy out Liles' contract, the option remains a very tempting one.
It doesn't matter how you look at it. One would have to believe that John-Michael Liles' career with the Toronto Maple Leafs is in jeopardy. Not because of poor play, but because his style doesn't coincide with head coach Randy Carlyle's system.
Twitter: @LukasHardonk | Email: lukas.hardonk@gmail.com | Lukas' archive
Visit The Hockey Writers: Maple Leafs Edition, 'Like' it on Facebook and follow on Twitter.
Check out Maple Leafs Central, a THW Network site.