The additions of Matt Niskanen and Brooks Orpik this summer to the Washington Capitals defense put the future of Mike Green in question. The 29-year-old Calgary native has had a tremendous start to the 2014-15 season, playing his best hockey over the past couple seasons.
Green ranks 13th in defensemen scoring in the NHL with 12 points on the season, tied with fellow right-handed blue liner John Carlson for the team lead. Green is second on the time in shots on goal (38) albeit in a minimized role (20:44 TOI/game), playing the fourth most minutes per game on the Capitals' blue line. He's assumed a role on Washington's third defensive pairing with University of Minnesota product Nate Schmidt, who was signed out of college by former Caps GM George McPhee.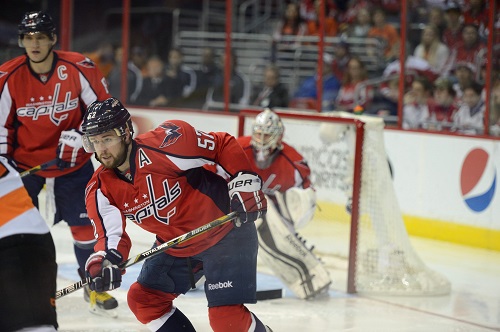 Green is finishing off a three-year pact with the Capitals; with a cap hit slightly over six million dollars per season.  Washington has five defensemen signed for next season, with Matt Niskanen and Brooks Orpik locked in the nation's capital to at least the 2018-19 season. Niskanen's deal runs through the 2020-21 campaign.
The Capitals have 15 players signed to deals for next season that are on the current roster now, with some crucial impending free agents, both restricted and unrestricted, heading into the offseason. RFA's Braden Holtby, Marcus Johansson and Evgeny Kuznetsov will all be seeking long-term deals. Joel Ward and Eric Fehr highlight Washington's UFA class. With eight spots available and over 18 million in cap space available for the 2015-16 season, Washington will be able to spend about 2.25 million per player to fill out their roster. Green is one of the various decisions Brian MacLellan will have to make over the next calendar year.
"Is it going to work for us as an organization, as a team, are we going to have success with Mike Green playing where he's playing and doing what he's doing, and is that a big part of our team moving forward? Just as he needs to evaluate, do I like this coach, do I like this situation, am I comfortable here? I think we're both going through an evaluation period and we'll come to a decision at some point." –Brian MacLellan on Mike Green
Mike Green will arguably be the top unrestricted defenseman on the market this summer. He leads a class that includes Paul Martin, Mar Staal, Christian Ehrhoff, Johnny Oduya and Johnny Boychuk. There's no reason other than the risk of injury to sign long-term with the Capitals in-season. If healthy and productive throughout the year, a five-year, 30 million dollar contract could await Green.
"Green has made nearly $42 million in his 10 seasons in Washington and the Caps may try to keep him in the $4 million range, maybe even lower if they are convinced Connor Carrick or Madison Bowey is ready for the NHL next season. If Green believes he's worth more than the Caps are offering – and chances are his offensive numbers will dictate he is – then MacLellan has his first hard decision as the Caps' GM."  –Chuck Gormley, CSN Washington
Once again we see overwhelming statistical evidence that Mike Green is one of the best 3 or 4 players on the Capitals.

— RockTheRed (@RockTheRed) November 18, 2014
The Capitals have various internal options that could still give Washington a formidable defense without a high-priced blue liner like Green. Second year pro Connor Carrick will be back following a year in the AHL after he struggled in some areas under former Capitals head coach Adam Oates. Madison Bowey, arguably Washington's best defensive prospect, will enter the pro game and features a dynamic offensive game and strong play on the power play.
Dmitry Orlov will likely be in the mix as well. Green's partner, Nate Schmidt, could round out Washington's blue line with Orlov, creating two cost-effective options outside the Capitals top four defensemen. Away from Green, Schmidt has posted a 48.3 corsi-percentage, compared to a 53.7 CF% with the long-time Capitals defenseman.
If the Capitals can't re-sign Green in season one idea that has been propped by fans and a few in the media has been, should Washington consider trading Mike Green? If MacLellan has any hope for his club to reach the Stanley Cup playoffs, Green must stay in Washington for the duration of this season. Although Washington could potentially attain a sizeable return, Green is one of the Capitals top players. The lack of depth due to injures (Dmitry Orlov and John Erskine) limit any confidence in possible remaining options following a trade of Mike Green.
Green is a damn good defenseman, but the market will be catered to him and the Capitals need to move on. They have relatively cheap options available in the future and should worry about finding additional secondary scoring to support their blue line and goalies long-term. A business decision is required and it's up to MacLellan to deliver.