Rankings:
Boston College
Minnesota
Wisconsin
Clarkson
Quinnipiac
Boston University
Harvard
Bemidji State
Minnesota Duluth
Cornell
Game of the Week
#4 Clarkson (9-3-1) at #5 Quinnipiac (9-0-1), Fri. 11/21 at 7 p.m. EST
Since getting swept by Boston University in mid-October, the Golden Knights are undefeated in their last seven games with a 6-0-1 record. Over that stretch, they've averaged 4.29 goals per game while yielding an average of 0.71 per game. This is at the very least comparable to Quinnipiac's goal margin per game of +3.10 (from a 3.50 goals for per game and a .40 goals against per game). Breaking through the Bobcats' defense will be tough, but Clarkson's Shannon MacAulay, Cayley Mercer, and Geneviève Bannon are all top-10 scorers nationally. Rookie netminder Shea Tiley's numbers may be worse off than those of Quinnipiac's Chelsea Laden, but she's posted her 1.18 goals-against average and .946 save percentage while facing 261 shots. Laden has yet to see 100.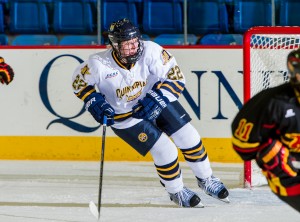 The low shots-against totals are perhaps the biggest reason for the Bobcats' dominance so far this year. The defense has given up very little, while the offense is receiving contributions from a number of different players, which is always a great sign. It's sort of cheating to say that this is Quinnipiac's first real test of the year, since the Bobcats already defeated Cornell, 3-0. But Clarkson in current form looks much more threatening than Cornell three weeks ago without its top two players, so it is fair to call this Quinnipiac's toughest match-up yet. The highest number of shots the Bobcats have given up this year is 18, to Penn State on Oct. 12. If their defense stands as tall as it has all year, they'll be good to go; but the real key for Quinnipiac here will be in managing the game even if it's not dominating play for 60 minutes.
Top-10 Teams in Action
Connecticut at #1 Boston College, Fri. 11/21 @ 7 p.m. EST; #1 Boston College at Connecticut, Sat. 11/22 @ 3 p.m. EST; #1 Boston College at Yale, Tues. 11/25 @ 7 p.m. EST
#2 Minnesota at Minnesota State, Fri. 11/21 @ 7 p.m. CST; Minnesota State at #2 Minnesota, Sat. 11/22 @ 4 p.m. CST; #2 Minnesota vs. St. Cloud State, Mon. 11/24 @ 7 p.m. CST
#3 Wisconsin at St. Cloud State, Fri. 11/21 @ 3 p.m. CST & Sat. 11/22 @ 3 p.m. CST
#4 Clarkson at Princeton, Sat. 11/22 @ 4 p.m. EST
St. Lawrence at #5 Quinnipiac, Sat. 11/22 @ 3 p.m. EST; #5 Quinnipiac at Princeton, Tues. 11/25 @ 7 p.m. EST
#7 Harvard at #6 Boston University, Fri. 11/21 @ 7 p.m. EST; New Hampshire at #6 Boston University, Sun. 11/23 @ 3 p.m. EST
#10 Cornell at #9 Minnesota-Duluth, Fri. 11/21 @ 6 p.m. CST & Sat. 11/22 @ 6 p.m. CST
What to Watch For
Cornell heads to Minnesota Duluth for a series against the Bulldogs, and the Big Red are looking to climb to .500 after starting out the season with four losses in a row. They looked much better last weekend, scoring 11 goals in two games against Union and RPI, and they'll want the same kind of strong offensive effort this weekend against Minnesota Duluth. The Bulldogs will be tasked with shutting down Brianne Jenner and Jillian Saulnier, but if they can do that successfully, their depth stands a good chance of winning out against Cornell's. The goaltending battle should be interesting, with neither team's starter being much more than inconsistent.
Harvard takes on Boston University in its only game of the week, after going winless last week against Clarkson and St. Lawrence. Both games went to overtime, and the second ended in a loss to the Saints, so the Crimson are certainly holding out for a better result here against the Terriers. Marie-Philip Poulin is back in the line-up for BU, which makes things that much harder for Harvard's defense, which could still afford to clean up some breakdowns. But the Terriers' defense will also have its hands full with the Crimson's top-six, and Harvard has a clear edge in goal with Emerance Maschmeyer between the pipes.
Here's a #tbt from our 2012 Beanpot win over Harvard – @jennwake9 celebrates her goal with Caroline Campbell! pic.twitter.com/MmoEPXiQnK

— BU Women's Hockey (@TerrierWHockey) November 20, 2014
Princeton has a very tough week coming up with games against St. Lawrence, Harvard, and Quinnipiac. It's still very early, but the Tigers currently sit in second in the ECAC with a 4-0-0 conference record (6-1-1 overall). There is very little margin for error, however, and that will likely be extremely apparent in all three of these games. The Saints already have wins against Harvard and Clarkson, and a tie against Boston College. Tigers goaltender Kimberly Newell will be a key player all week; she's capable of keeping them in any game and swaying it in their favor.
Boston College will play a home-and-home series against Connecticut, and then travel to Yale for a midweek match-up. Barring a tie against St. Lawrence, which they were dominant in anyway, the Eagles have had next to no problem handling opponents so far. Things should go the same way this week, but that game against the Bulldogs could prove tougher than expected. Yale has so far held up fairly well with a 3-3-1 record, and they've gotten contributions from several different players up front. Jaimie Leonoff made 43 saves in the Bulldogs' loss to BC last season, but her ability in net could give them a legitimate chance at an upset.
Gabriella is now in her third season of covering NCAA and international women's hockey for The Hockey Writers. She is the founding editor of At Even Strength, a website dedicated to providing full-time coverage and analysis of women's hockey. She is currently working towards a degree in Communication at the University of North Dakota, and is also interning with UND Athletic Media Relations. She can be reached on Twitter (@gabfun) or via e-mail (gfundaro10 [at] gmail [dot] com).