On November 20th, 2014, the Edmonton Oilers and Vancouver Canucks completed a minor trade.
Oilers Aquire: Kellan Lain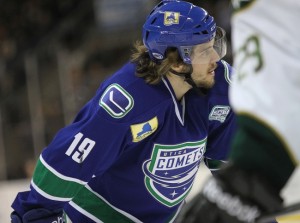 The Oilers aquired Kellan Lain, a six foot six, 210 pound forward who can play left wing as well as centre.Lain, 25, had spent his time this season with the Vancouver Canucks' American Hockey League affiliate, the Utica Comets. In ten games played, Lain had registered one assist as well as 20 minutes in penalties.
Lain also played nine games with the Canucks in 2013-14, scoring one goal.
In Kellan Lain, the Oilers recieve a strong checking forward who plays a good two-way game. However, Lain is not tremendously skilled offensively and should not be expected to score on a consistent basis.
In all likelihood, Lain will begin his stint with the Oilers AHL affiliate, the Oklahoma City Barons.
Canucks Aquire: Will Acton
Heading to the Canucks is Will Acton, a six foot one, 200 pound centreman.
At the age of 27, Acton has NHL experience, having played 33 games in his career, all of which with the Oilers, registering three goals and two assists.
Acton has split time between the NHL and AHL this season, appearing in six games with Oklahoma City, scoring a goal and an assist, as well as three games with the Oilers, registering five penalty minutes.
As a centreman, Acton uses his good hockey sense, his faceoff skills and his ability to kill penalties to remain an effective NHL player. However, similar to Lain, Acton isn't a strong player offensively, a facet of his game which tends to hinder his abiity to remain at the NHL level.
Acton will likely begin his time with the Canucks at the AHL level, yet could be a quick call up should Vancouver need a centreman.
Brett Slawson is a four-year veteran of The Hockey Writers who covers the Toronto Maple Leafs, NHL prospects, and the OHL's Mississauga Steelheads.
Contact Brett on Twitter @brettslawson92, or by email at brett_slawson@hotmail.com.